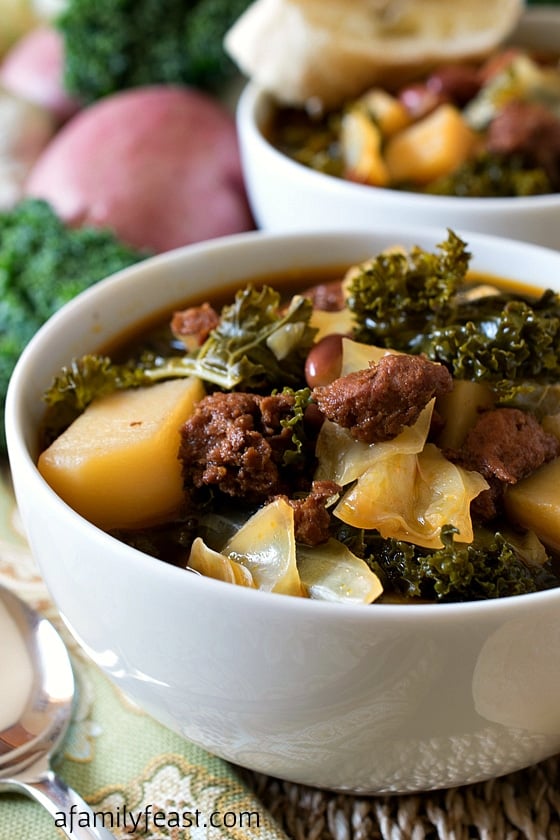 Although my husband Jack's family is Italian, he grew up in the midst of a large Portuguese community.  Because of that neighborly influence, Jack has made, served and eaten kale soup most of his life!
Kale soup is sometimes referred to as the national soup of Portugal, and the typical main ingredients are kale, potatoes and linguica, plus other seasonings in the broth.  Jack likes his Portuguese kale soup extra spicy and makes his with chourico (pronounced 'sha-rees') but using the traditional linguica will lend the soup a slightly milder spiciness!
I should note that there are many, many variations of recipes for Portuguese kale soup – and they are often passed down from generation to generation.  Some versions are partly puréed, while others are not.  The variations are endless!
This recipe also includes parsley and mint as somewhat non-traditional ingredients to add to a Portuguese kale soup!  A number of years ago, Jack was friendly with a guy named Mike (who, by the way, attended culinary school with Emeril Lagasse) and Mike gave Jack this recipe which included the addition of those two herbs.  While adding the parsley and mint is optional (with or without will be delicious), including them brings out a very different and delicious flavor profile – so give them a try in your next batch of Portuguese Kale Soup!
Print
Portuguese Kale Soup
Prep Time:

30 mins

Cook Time:

30 mins

Total Time:

1 hour

Yield:

6-8 servings
---
Description
Really good Portuguese kale has large broad leaves and is very different from the kale found in most American supermarkets. This recipe uses the common curly kale found locally at the supermarket – but if you are able to find Portuguese kale, please use that! Also, this soup is actually better the next day, after the flavors have a chance to combine overnight, but it can be eaten the same day that you make it.
---
2 tablespoons

extra virgin olive oil

1 cup

chopped onions

2 tablespoons

chopped garlic

1

pound chourico or linguica, removed from casings and broken up

1

6-ounce can tomato paste

8 cups

chopped fresh kale (see note above)

1 quart

vegetable stock

1 quart

beef or chicken stock

2 quarts

water

½ teaspoon

salt

¼ teaspoon

freshly ground black pepper

2

bay leaves

1 teaspoon

gravy color such as Kitchen Bouquet

½ cup

chopped Italian parsley, optional

¼ cup

chopped fresh mint, optional

4 cups

large cut up green cabbage

3 cups

peeled red skinned potatoes cut into

½

inch cubes

1

15-ounce can small red or kidney beans rinsed and drained
Crusty bread, for serving
---
Instructions
In a heavy bottomed pot or Dutch oven, sauté onions in oil over medium high heat for three minutes. Add garlic and sauté for one minute. Add chourico and sauté for two minutes. Reduce to medium and add tomato paste and kale and sauté for five minutes, stirring frequently so it does not stick or burn.
Add stock, water, salt, pepper, bay, gravy color, optional parsley and optional mint and bring to a boil. Reduce to a fast simmer and cook for five minutes. Add cabbage and potatoes and continue to cook until tender, 5-10 minutes.
Add drained beans, bring to hot, adjust seasonings and serve with crusty bread.
---
You may also like:
Nourishing Rice (Arroz con Sustancia)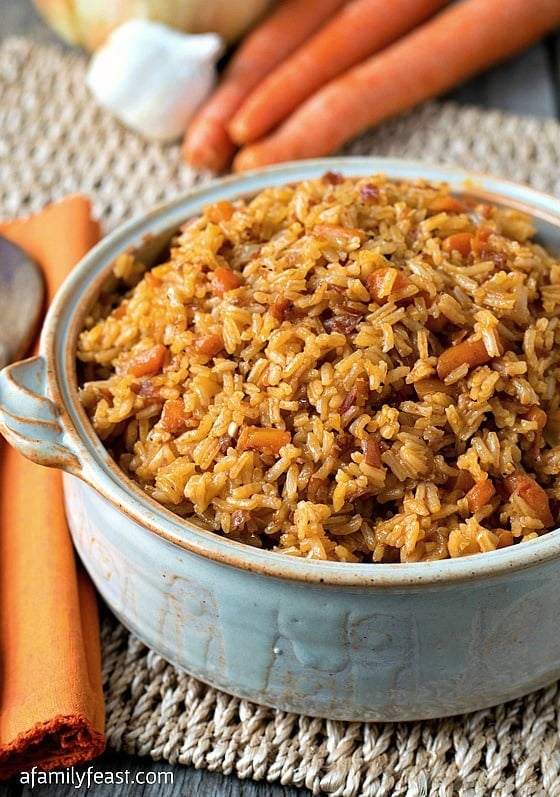 Marinated Green Beans with Cilantro and Garlic