Happy New Year everyone!  2014 promises to be an exciting year for our family because our oldest daughter Courtney is getting married in August!  And we're so thrilled to welcome her wonderful fiancé, Kenny, into our family!
Kenny comes from a large, close-knit Portuguese family – and Jack and I have been planning to have his family over to our house for dinner now that the holidays are over, so we can all get to know each other a little better before the wedding!  So, in hopes of impressing Kenny's family, we've been trying out a few new recipes like this one for Pork Medallions Portuguese.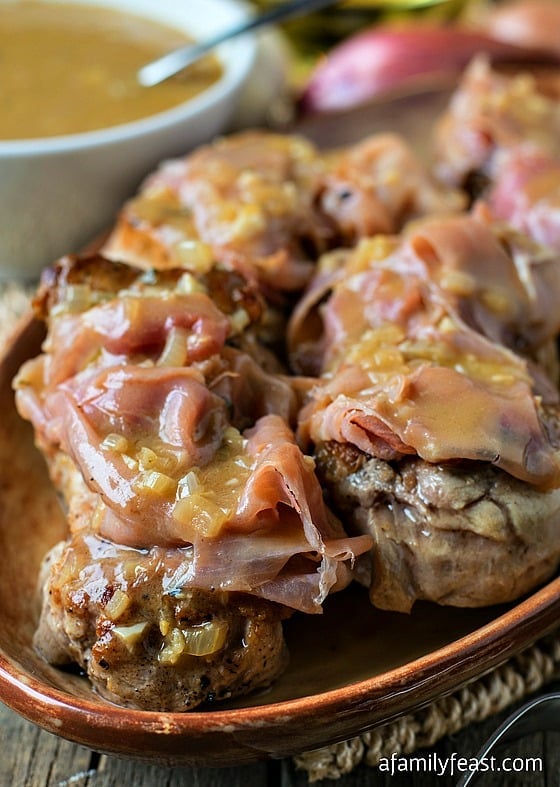 This recipe uses pork tenderloins that are cut into large medallions and seared in a very hot pan until golden brown.  Then a wonderful and super flavorful sauce made from beef and chicken stock, white wine, vinegar, shallots and bay leaf is poured over the seared meat.  Finally paper-thin slices of prosciutto are layered over the medallions and then the whole pan is put into the oven to bake until the pork is perfectly cooked!
This method of cooking pork – a meat often used in Portuguese cooking  – was inspired by some recipes that my husband Jack's staff shared with him back during his former food-service management career.  At the time, he was working in Portsmouth, Rhode Island – an area of New England with a large Portuguese population.   To this day, Jack speaks fondly of his staff – three sisters, all named Maria (a traditional name in many Portuguese families)!  To keep things straight, they called one by the name Maria, and the other two by their middle names – Gracey and Greta.  Jack remembers these three sisters as great to work with – strong work ethic, honest, hardworking, and generally happy, friendly people with strong family ties!  This recipe for Pork Medallions Portuguese is an adaptation of one of the recipes the three Maria's shared with Jack many years ago.
These Pork Medallions Portuguese are terrific served alongside our Nourishing Rice (Arroz con Sustancia) and Marinated Green Beans with Cilantro and Garlic!
Print
Pork Medallions Portuguese
Prep Time:

15 mins

Cook Time:

30 mins

Total Time:

45 minutes

Yield:

4-6 servings
---
Description
There are a few different ways to cut the medallions of pork. If you have a very thick tenderloin, you can cut one six ounce piece, turn it on its side, flatten it a bit and that is what you will use. If however your tenderloin is thin, as most are that are sold in the supermarket, when you cut your six ounce piece, you can butterfly it by cutting halfway through in the center and opening it up like a butterfly to have one single six ounce piece. If this proves too difficult, you can just cut three ounce thick slices from the tenderloin and serve two to a portion. The cooking time will be less for a smaller medallion.
---
1 ½

pounds pork tenderloin (buy the thickest tenderloins you can find. You may need

two

tenderloins to get

four

thick cuts)

½ teaspoon

salt

½ teaspoon

freshly ground black pepper

4 tablespoons

butter, divided

2 tablespoons

flour

1 cup

beef stock

1 cup

chicken stock

3 tablespoons

dry white wine

2 tablespoons

white wine vinegar

2 tablespoon

minced garlic

½ cup

minced shallots

4

large bay leaves

2 tablespoons

extra virgin olive oil

8

paper-thin slices of prosciutto
---
Instructions
Lay your prepared medallions out on a plate and sprinkle both sides with the salt and pepper. Allow to sit at room temperature for 30 minutes while you prepare the sauce.
In a medium to large sauce pan, melt 2 tablespoons of the butter with the flour and cook over medium- low heat for about four minutes. Add both stocks and stir with a wire whisk to smooth out. Add wine, vinegar, garlic, shallots and bay leaves. Bring to a boil then reduce heat to a simmer. Cook uncovered for 20 minutes, stirring occasionally. After 20 minutes, stir in the last two tablespoons of butter and then remove from heat and set aside.
Preheat oven to 350 degrees.
Heat a cast iron skillet or heavy bottomed oven-proof pan with the olive oil to scorching hot. When the oil starts to ripple from the heat, place the pork medallions in with long handled tongs, being careful not to burn yourself. Sear on one side for about two minutes, flip and sear for 30 seconds. Add the sauce into the pan with the pork (again being careful since the sauce will bubble up). Lay two slices of prosciutto over each medallion, spoon a little sauce over each and then place the pan in the oven. Bake for about five minutes, then remove the pan from the oven and place a probe thermometer into the thickest medallion. If the temperature of the pork reads 140 degrees or higher, remove the pan from the oven and proceed to the next step. If not, put the pan back in the oven for another five minutes. (Depending on how thick your medallions are and how you like your pork cooked, this step will vary. We like our pork slightly pink but some people don't, so your choice.)
Remove the bay leaves and discard. To serve, divide into four serving plates and spoon sauce from the pan over each portion.
---
You may also like:
Nourishing Rice (Arroz con Sustancia)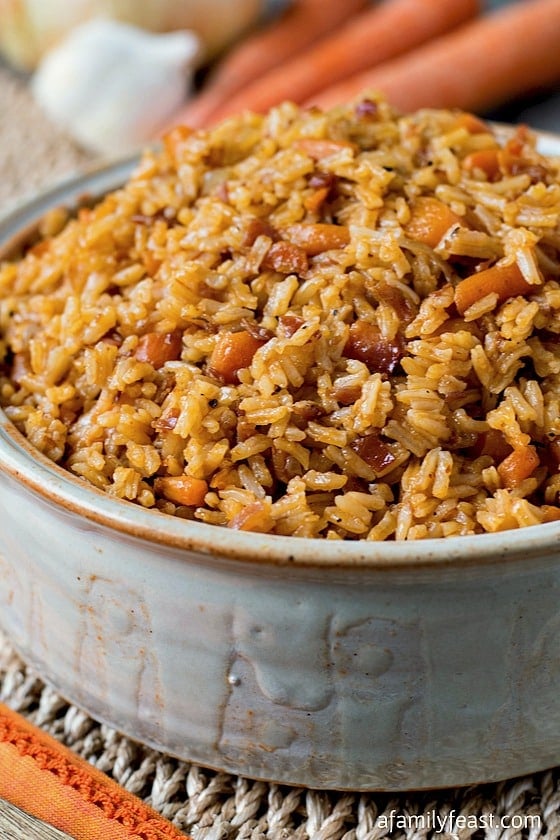 Marinated Green Beans with Cilantro and Garlic