This recipe for Portuguese Rice Pudding is a popular dish that my husband Jack has served many, many times over the years.  It's a sweet and creamy, vanilla-infused rice pudding and a wonderfully comforting dessert!  There's a hint of orange in this rice pudding, as well as warm cinnamon sprinkled on top.  It's so good!
Years back, during his food service career, Jack worked directing meal preparation at a facility in Rhode Island that fed about 4,500 military and civilian personnel on a daily basis.  The area was home to many people of Portuguese decent, so when word got out that Portuguese rice pudding was going to be on the menu, his customers flocked to lunch and the rice pudding sold out completely in about five minutes!
Several of Jack's customers shared their own family recipes for Portuguese rice pudding after that first day, and this delicious recipe was refined to the version we're sharing with you today.  It was served often, and whenever it appeared on the menu – Jack's customers loved it so much – he and his chefs always made a whole lot of this Portuguese rice pudding to meet customer demand!
Print
Portuguese Rice Pudding
Prep Time:

15 mins

Cook Time:

45 mins

Total Time:

1 hour

Yield:

6-8 servings
---
Description
Short grain white rice comes in a lot of different varieties. The grains are twice as long as they are wide. Some have more starch than others and some take longer to cook. You need to just watch this as it cooks and make a judgment when to add the milk. For my recipe, I used Korean sweet sticky rice which is very starchy and only took 20 minutes before adding milk. Others may take longer. As a result of the many varieties of rice, it may be necessary to add more milk if the mixture cools too thick. Just add a little at a time to the finished cooled pudding until you reach the desired consistency.
---
4 cups

of water

1

orange peel

1

cinnamon stick

2 tablespoons

butter

½ teaspoon

salt

1 cup

short grain rice (see note above)

1 cup

milk

¾ cup

heavy cream

¾ cup

white sugar

¼ cup

brown sugar

1 teaspoon

vanilla

4

egg yolks beat in medium bowl
Cinnamon for garnish
---
Instructions
In a medium sauce pan, bring water to boil along with orange peel, cinnamon stick, butter and salt. When it reaches a full boil, add in the rice. Reduce heat to a low simmer and cook for 20-25 minutes (this time will depend on which type of short grain rice you use) Gently simmer until almost all of the water has been absorbed. Stir often.
While rice is cooking, heat milk and cream to very hot but not scorched. (You'll need to time this so the milk gets heated just before you add it to the rice mixture.)
Pour hot milk into rice mixture and stir. Simmer for 5 minutes. Now stir in both sugars and vanilla and turn off heat.
Slowly whisk in hot rice mixture into eggs a tiny bit at a time to temper the eggs. After three or so cups of rice have been whisked into eggs, pour egg mixture back into rice and whisk.
With tongs or a fork, remove and discard orange peel and cinnamon stick.
Place pudding back on stove and simmer gently for 10 minutes to allow mixture to thicken.
Cool mixture in one large serving dish or into individual servings. Top with powdered cinnamon.
---
You may also like:
Arroz con Sustancia (Nourishing Rice)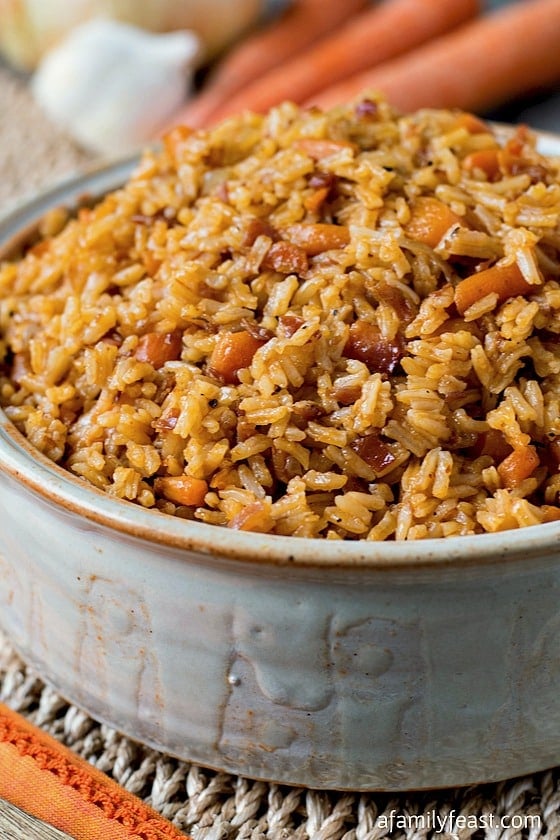 Marinated Green Beans with Garlic and Cilantro
Portuguese Tomato Rice (Arroz de Tomate)