Last month, we spent a few days visiting some friends on Cape Cod. One evening, we ventured over to Provincetown for dinner – followed by dessert at a little gelataria. It was there that I had my first taste of some amazing Sweet Corn Gelato!
Fast forward a few weeks – and I've been dreaming of that Sweet Corn Gelato ever since! It was fantastic…sweet, with a distinctive corn flavor that reminded me a little of Captain Crunch cereal, but with a luxurious, creamy texture. I've also been plotting the perfect opportunity to try making Sweet Corn Gelato at home. 🙂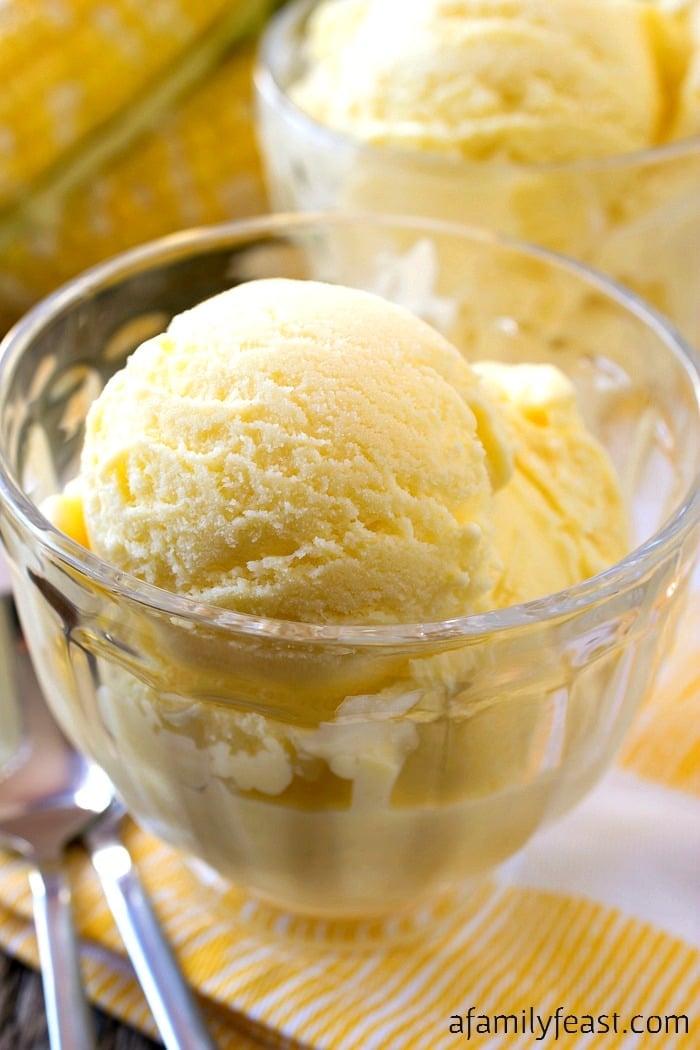 So the other day, I saw some great-looking fresh sweet corn in the produce aisle at my local supermarket.  Another shopper was standing next to the bin, shucking some ears of corn before loading up a big bag.  As I walked up, she commented to me that she had bought some of that corn the day before, and it was so sweet and delicious – she came back to buy even more!
That endorsement was all I needed to grab more than a few ears of fresh corn on the cob for myself – with of course, the plan to (finally!) try making some Sweet Corn Gelato.
After looking around on line, I found a this Sweet Corn Gelato recipe by Mario Batali shared over on The Splendid Table. Just about every recipe of Mario's that we've tried in the past has been wonderful – and this one is no exception.
This Sweet Corn Gelato gets that unmistakable corn flavor by steeping corn kernels and cobs in hot milk before mixing it into a sweet, rich custard base. This recipe is just as good – if not better – than the gelato I enjoyed a few weeks ago.
Adapted from Molto Italiano by Mario Batali via The Splendid Table
Print
Sweet Corn Gelato
Prep Time:

12 hours

Cook Time:

55 mins

Total Time:

12 hours 55 minutes

Yield:

1 1/2 quarts
---
3

ears sweet corn, husked

3½ cups

whole milk, plus more if needed

1 cup

heavy cream

1½ cups

granulated sugar, divided

8

large egg yolks

1 teaspoon

salt
---
Instructions
Following this method, slice the corn kernels off the cob. Break the cobs into 2 or 3 pieces.
In a large saucepan over medium heat, bring the milk just to a simmer. Remove pan from heat, add corn kernels and the corncob pieces – pressing the cobs down into the milk, then cover and allow to steep for 45 minutes.
Once the 45 minutes has passed, remove the corncobs from the milk and discard. Carefully pour half of the corn and milk mixture into a blender and blend on high until the kernels are emulsified. Place a coarse strainer over a large bowl and pour blended mixture through the strainer. Discard the corn mush. Repeat process with remaining half of the corn and milk mixture.
Measure the amount of corn-infused milk – adding more milk if necessary to make 3½ cups. (Note: When we measured, we actually had closer to 4 cups of corn-infused milk. We used the entire 4 cups in our gelato.)
In a heavy bottomed saucepan, heat corn-infused milk, heavy cream and 1 ¼ cups of sugar, stirring occasionally until the sugar is dissolved and the mixture is hot. (This will take less than 5 minutes – do not bring to a simmer or boil.) Remove from the heat.
While the milk mixture heats, whisk the egg yolks and the remaining ¼ cup of granulated sugar, and the salt together in a medium heat-proof bowl.
Take about a cup of the hot mixture and very slowly drizzle it into the bowl with the egg yolks – constantly whisking while you add the hot mixture. (A slow drizzle will prevent the eggs from cooking as you add the hot cream mixture.)
Once your egg mixture is smooth, slowly pour the egg mixture back into the saucepan with the rest of the hot cream mixture.
Cook the mixture over medium heat, stirring constantly, until the it thickens a bit and coats the back of a spoon. (This will take less than 5 minutes as well, and again, do not bring the mixture to a simmer or boil, or it will curdle. If using an instant-read thermometer, you will want to stop when it reads 185 degrees F.)
Remove the pan from the heat and pour the mixture through a fine strainer into a bowl (a large measuring cup like this one works great because you'll have a spout for pouring the cooled custard into the ice cream maker once it has cooled).
Immediately place bowl into an ice bath to cool, stirring occasionally. Once cool, cover the bowl with a large piece of plastic wrap, pushing the plastic down to touch the top of the custard. (This will prevent a skin from forming on the custard as it cools.) Refrigerate overnight.
Churn in an ice cream maker according to manufacturer's instructions. After churning, freeze again for 4-6 hours before serving.
---
Disclosure: This post contains affiliate links.


You may also like:
Slow Cooker Creamed Fresh Corn