I was so surprised to see fresh corn being sold at the supermarket the other day!  It seems so early in the season – but the ears of corn in the bin looked very fresh, so I decided to grab a few ears to bring home for us to enjoy.
That corn was surprisingly sweet and delicious – and with some leftover corn kernels on hand, I decided to dig out a tried and true recipe from my old recipe binder for Buttermilk Corn Muffins.
I've made this Buttermilk Corn Muffin recipe many times, and it is one that you should keep on hand anytime a corn muffin craving strikes!  These muffins are lightly sweet so the corn flavor really shines through! And the batter is light and moist – with egg whites and buttermilk helping to give the muffins a wonderful texture.
Over the years, I've adapted the original recipe I clipped from the pages of The Boston Globe newspaper – adding fresh corn kernels to the batter.  Our latest adaptation from the original is adding a dollop of our fantastic Tomato Jam to the top of each muffin tin before the muffins are baked – adding a wonderful savory-sweet flavor that perfectly complements the buttermilk corn muffins.  (The original recipe called for raspberry preserves to be added before baking – which is sweeter, but also very delicious with the corn flavor.)
These Buttermilk Corn Muffins are wonderful for breakfast, and just as delicious served alongside a bowl of chili. Just slather on some melted butter and more of our delicious Tomato Jam!
Print
Buttermilk Corn Muffins
Prep Time:

20 mins

Cook Time:

25 mins

Total Time:

45 minutes

Yield:

12 muffins
---
1 cup

cornmeal

2 cups

skim milk buttermilk

3

egg whites

¾ cup

granulated sugar

2 cups

all-purpose flour

3 teaspoons

baking powder

1 teaspoon

baking soda

1 teaspoon

salt

1½ cups

fresh corn kernels, cut from the cob

12 teaspoons

Tomato Jam (or raspberry preserves)
---
Instructions
Preheat oven to 400 degrees F. Line a standard-sized, 12-muffin tin with paper liners. Generously spray each liner with non-stick cooking spray. Set aside.
In a medium bowl, combine cornmeal and buttermilk and stir to mix. Set aside.
In the bowl of a mixer, beat the egg whites until slightly frothy. Add the sugar and beat on high for 1 minute. Stir in the cornmeal buttermilk mixture and mix just enough to combine.
In a separate bowl, whisk together flour, baking powder, baking soda and salt. Add flour mixture and the corn kernels to the mixing bowl with the egg -sugar-cornmeal mixture and using a rubber spatula, stir just until the dry ingredients are moistened. (Do not overmix or the muffins will be tough.)
Spoon the batter into the 12 tins. (It's OK to fill the tins right to the top.) Place a teaspoon of Tomato Jam (or other preserves) in the center of the batter of each muffin.
Bake 20-25 minutes or until golden and center of the muffins springs back when gently pressed.
Remove the muffins from the oven and cool on a metal rack for 10-15 minutes. Using a knife, loosen the edges of each muffin (if necessary) and ease out of the muffin tin onto a rack.
Serve immediately with melted butter and more Tomato Jam.
---
You may also like: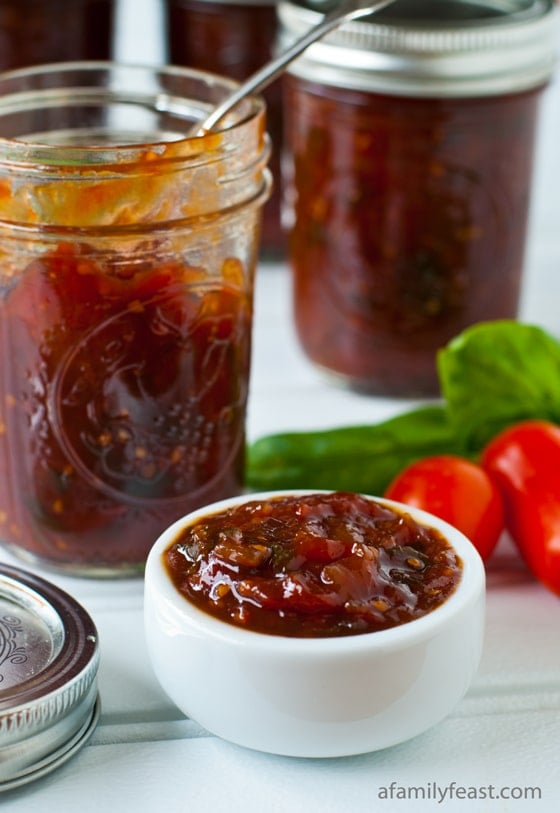 Grilled Polenta with Bacon Jam