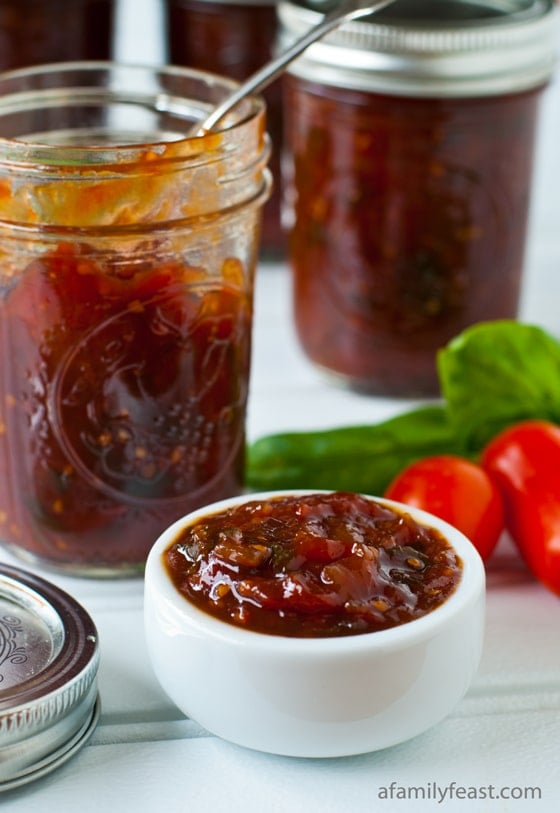 This Tomato Jam is a recipe we've been waiting anxiously to make (and share) for months!  My husband Jack first made this terrific jam last summer when we had more tomatoes from our garden than we knew what to do with.  We happily canned quite a few jars of this luscious and savory tomato jam last summer – thinking that they would last us all winter and spring until tomato season arrived once again!
But our tomato jam is so delicious we went through those jars much quicker than we anticipated!  First, we gave a few jars to our daughter Courtney, and her boyfriend Kenny loved it so much that we had to give them a few more jars!  (In fact, Kenny loves this so much – he claims full possession and ownership of any and all jars of tomato jam at their house, and only very unwillingly does he share it with anyone!)
We also gave a few jars away to our neighbor…and then some to my brother…and combined with Jack slathering this tomato jam on practically everything he ate, the last delectable jar of precious tomato jam was sadly used up months ago!
So with a garden full of tomatoes, onions and basil – it was (finally!) time to make more jam!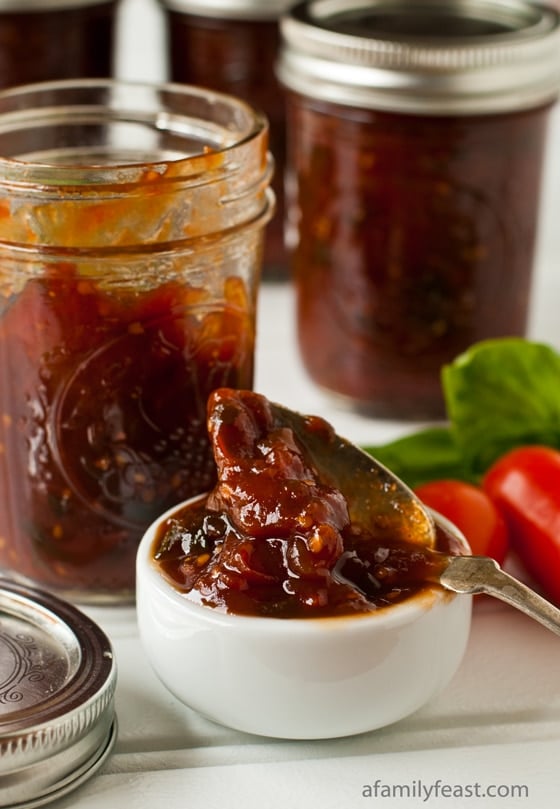 This tomato jam is both savory and sweet with a deep, rich color and flavors reminiscent of a chunky gourmet ketchup – but so much better!  Tomatoes and onions are slowly cooked down in a mixture of granulated and brown sugars, cider and balsamic vinegars, lemon juice, salt, coriander and cumin.  But Jack also adds a generous amount of chopped basil to the mixture which sends this tomato jam over the top!
I think it's safe to say that we'll be making numerous batches of this wonderful tomato jam for the rest of this summer while our tomato crop is flourishing!  We want to make sure we don't run out of it again!
Print
Tomato Jam
Prep Time:

30 mins

Cook Time:

3 hours

Total Time:

3 hours 30 minutes

Yield:

4 cups
---
Description
Note: We made the batch of jam shown here with grape tomatoes and left the skins on which helps give the jam some extra texture. If you use the plum tomatoes called for in the recipe, you should follow steps 1-4 in the recipe to remove the skin before chopping up the tomatoes.
---
4

pounds plum tomatoes, or other tomato varieties such as grape or cherry

1 cup

chopped fresh basil

1 cup

sweet onion such as Vidalia, chopped

½ cup

brown sugar

1 ½ cups

granulated sugar

1 teaspoon

salt

½ teaspoon

coriander

¼ teaspoon

cumin

1/8 cup

cider vinegar

1/8 cup

balsamic vinegar
Juice of

one

lemon
---
Instructions
Clean tomatoes, removing any stems. Cut an X in each tomato end with a sharp knife.
Prepare an ice water bath.

Bring four quarts of water to a boil in a non stick pot. Keep the heat on full and drop the tomatoes in. When the skin starts to peel, remove them to the ice bath. Empty the water, you will reuse the pot.

Work over a sheet pan and peel the skins off the tomatoes. Then squeeze the stem end to pop out the stem. (It's a squeeze, twist and pull motion to remove the stem. Depending on the variety of tomatoes, you may also need to squeeze out the seeds.) Roughly chop the tomatoes and place them back into the dry pot.

Add all of the other ingredients to the chopped tomatoes. Bring to a boil then reduce heat to a simmer. Cook the mixture for about two to three hours or until it reduces to a thick jam. Make sure you don't let it burn. The cooking time depends on the amount of liquid in the variety of tomatoes you use so the timing is not an exact science however the finished product will be about 4 cups (one quart).

Store in 8 ounce glass canning jars (follow complete canning steps shown here) or store in your refrigerator for up to two weeks.
---
You may also enjoy: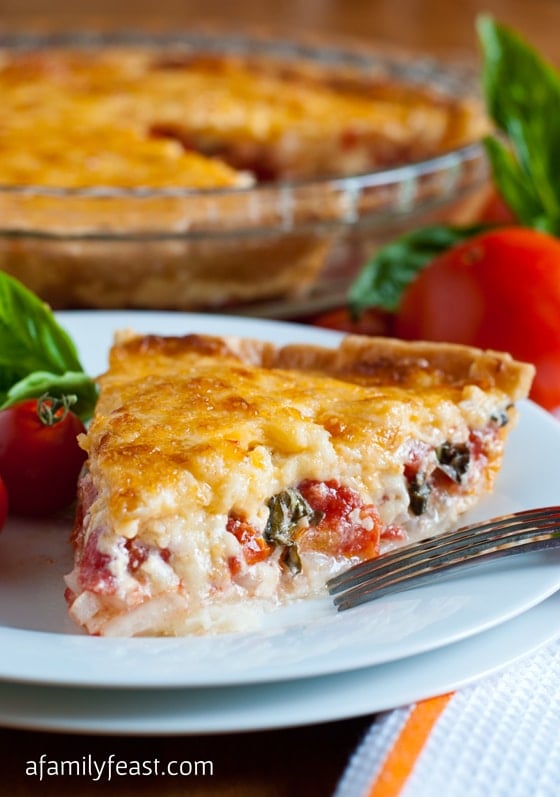 Poached Cod with Tarragon and Cherry Tomatoes