An authentic and delicious Italian Tomato Sauce that has been passed down through generations.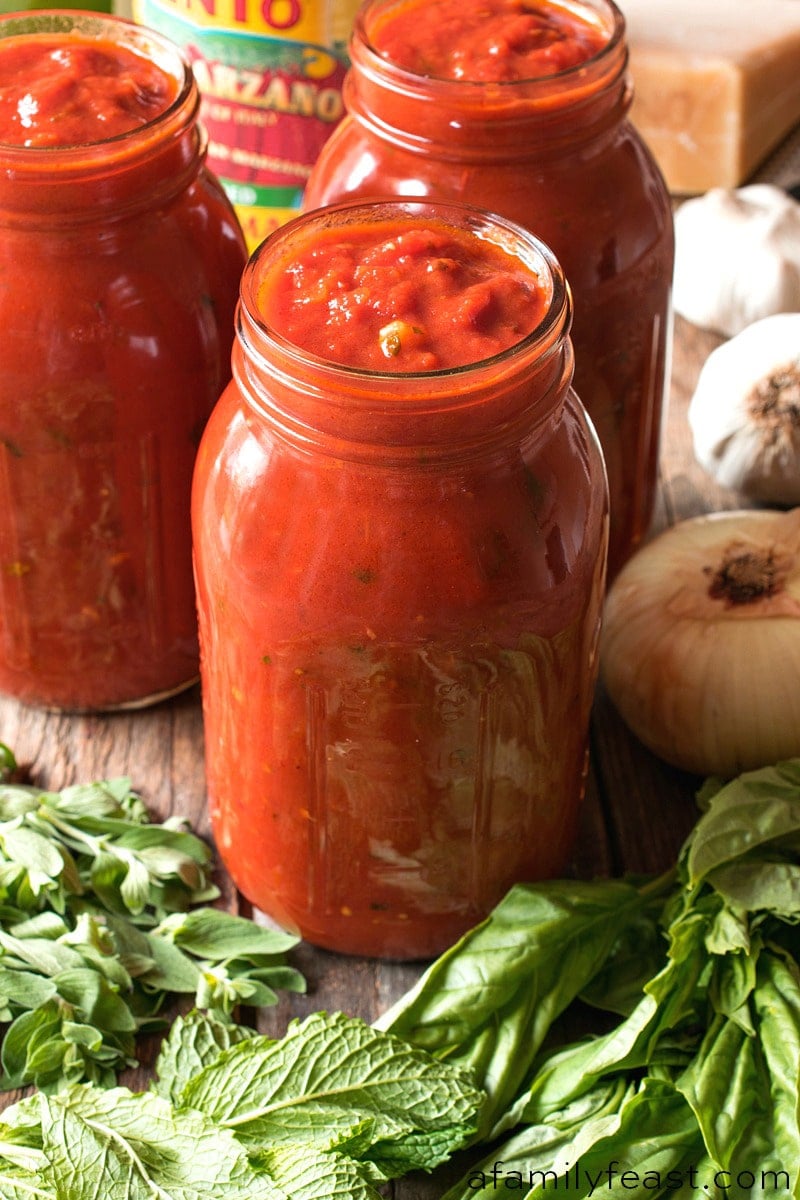 This recipe for Italian Tomato Sauce is a recipe that my husband Jack spent years perfecting. For Jack, knowing how to make a great Italian Tomato Sauce is a very personal thing – and it brings back fond memories of his childhood.
To this day, Jack clearly remembers the amazing smells coming from a pot of tomato sauce that was always simmering away on the stove anytime he visited his Italian grandparents. He worked hard to recreate that wonderful recipe in our own kitchen – and this is it!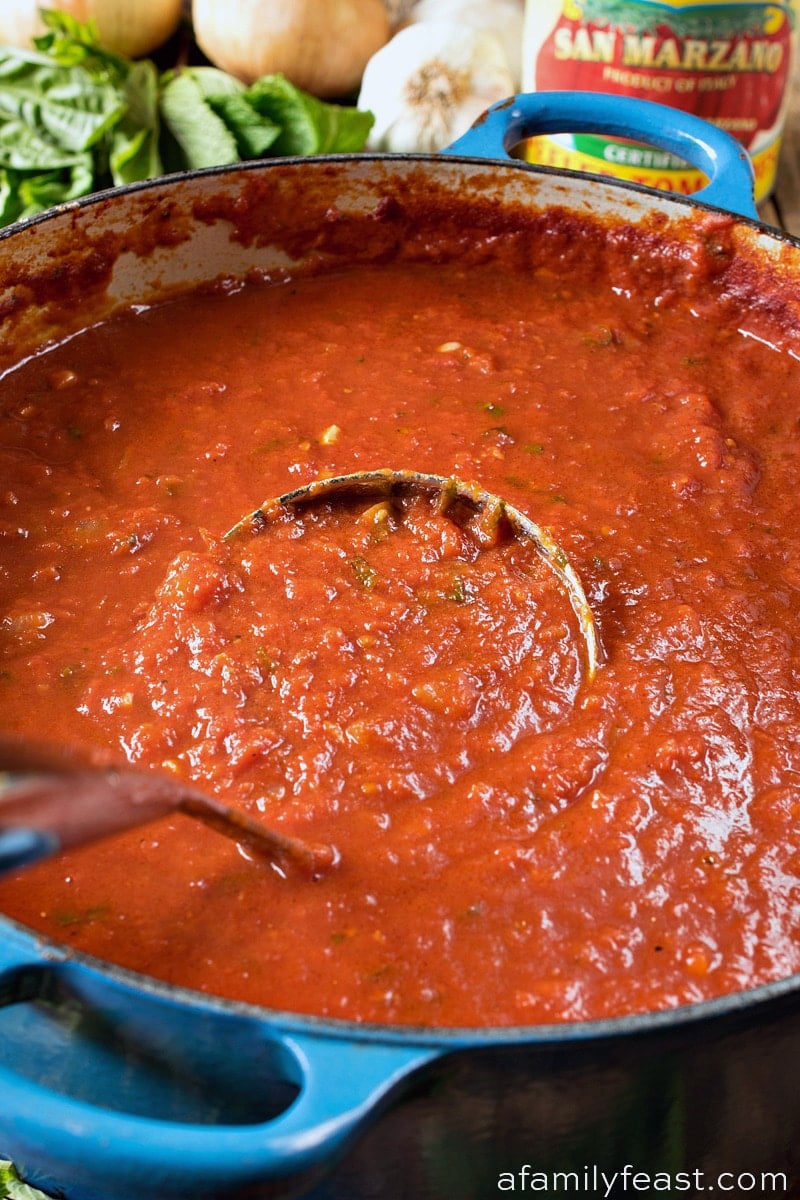 In fact, ever since posting this Italian Tomato Sauce recipe here on A Family Feast back in 2013, we've had so many readers write to us to tell us how much they love this sauce. And, many of our readers have told us that they now consider this their 'go-to' Italian tomato sauce recipe. (Note: We haven't made any changes to the recipe over the years, we just included some updated photos today!)
There are so many different ways to make an Italian Tomato Sauce and depending on whom you ask – and where their family originally came from – you will find many different family recipes. Some use different types of tomatoes, some with or without meat, some cooked for a long time giving the sauce a deep, rich taste and others cooked for just a short time for a light fresh taste. Some families even refer to their Italian tomato sauce as Sunday Gravy or Marinara. (Click on those links – we have our own version of those recipes too!)
What's the difference between Italian Tomato Sauce vs. Sunday Gravy vs. Marinara Sauce?
For Jack, an Italian Tomato Sauce is a tomato-based sauce that simmers for a long time on the stove so that the flavors really deepen and develop. (This recipe is a delicious example!)
A Sunday Gravy recipe is a tomato sauce cooked along with a variety of meats including meatballs, spare ribs, sausage, and pork chops, so the sauce picks up additional flavor from the meat.
Finally, Marinara is also a tomato-based sauce, but it's a quickly-cooked sauce, yielding a bright, fresh tomato flavor.
And – since we're talking about all types of tomato sauces – we also have a Roasted Tomato Pizza Sauce recipe AND an Easy No-Cook Pizza Sauce recipe you might be interested in checking out too.  Pizza sauces typically have a bold flavor that is meant to both complement and shine through the flavors of the dough, cheese and toppings on a pizza.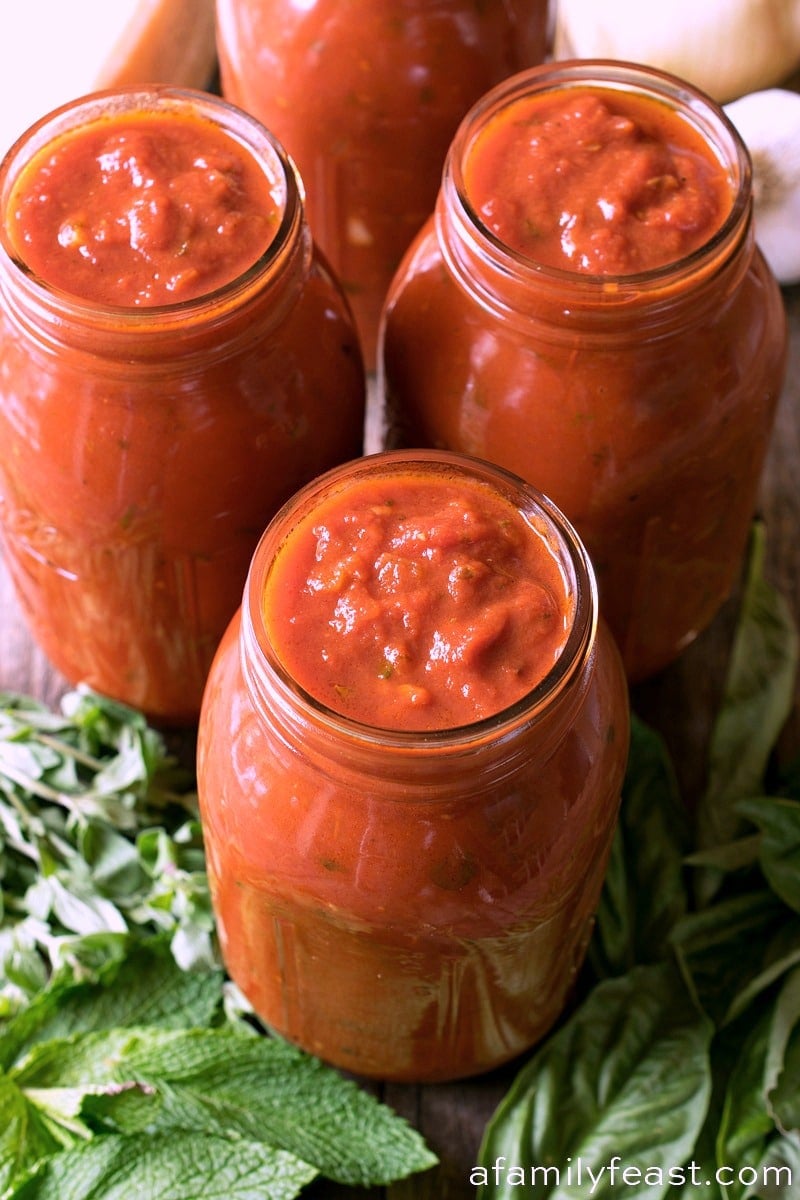 Today's recipe is originally inspired by a version of Italian Tomato Sauce that Jack grew up with, and he credits his Aunt Mary for this recipe, plus some additional influences from the sauce that Jack's father (aka Grampa) used to make. If you happen to be growing San Marzano Pomodoro tomatoes in your garden – definitely use those!  However, if fresh tomatoes aren't available, we think some of the best San Marzano Pomodoro canned tomatoes are made by Cento and Pastene – and both brands are readily available at most local grocery stores.
Mangia!
P.S. We freeze our Italian Tomato Sauce in gallon zipper seal bags for long-term storage, laying the bags flat after filling and squeezing out any excess air. Freeze the bags flat on a sheet pan, then once frozen you can fit them more easily in your freezer.  For information on how to can a high-acid food like tomato sauce, we suggest that you visit the Ball Canning website here.  Here is another interesting link about canning tomato sauce which suggests that the pressure method should be used to ensure safe canning of any homemade tomato sauce.
You may also like these other Italian family classics:
Disclosure: This post contains affiliate links.


Print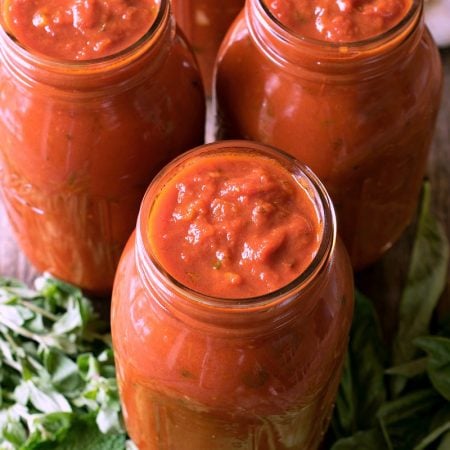 Italian Tomato Sauce
Author:

Prep Time:

15 mins

Cook Time:

1 hour 30 mins

Total Time:

1 hour 45 minutes

Yield:

1 1/2 quarts

Category:

how-to

Method:

stovetop

Cuisine:

Italian
---
Description
An important first step to note when making this sauce is to bring the olive oil up to temperature very slowly with the garlic, herbs, and spices, and cook for about five minutes to brown the garlic. This is a step that Jack has seen referenced in a number of great Italian cookbooks and although not clearly stated why, we believe this slow heat-up process allows the oil to be infused with the seasonings providing a really delicious base to your sauce.
---
1/3 cup

good quality extra virgin olive oil
Pinch of red pepper flakes

4

crushed garlic cloves

¾ cup

chopped onion (optional)

1 teaspoon

fresh chopped oregano, divided, or

½ teaspoon

dried

1 tablespoon

chopped fresh basil, divided, or

½ tablespoon

dried

1 teaspoon

fresh chopped mint, divided

1 teaspoon

sugar

1 teaspoon

salt

¼ teaspoon

freshly ground black pepper

2

28-ounce cans of whole tomatoes or

two quarts

of freshly canned garden tomatoes

¼ cup

freshly grated Parmesano Reggiano cheese

2 tablespoons

unsalted butter
---
Instructions
Before you begin, pour your two cans of tomatoes into a bowl and crush with your hand. Don't break them up too small, you want large chunks.
In a large heavy bottomed pot with a lid, on a burner with no flame, pour in olive oil and add red pepper flakes, garlic, onion, most of the oregano, basil and mint (save a little bit of each for the end), sugar salt and pepper. Turn on the burner and slowly bring up to hot. When the onions and garlic start to cook, stir and heat for five minutes.
Remove the pot from the burner and place a heat diffuser over the burner. Place the pot over the heat diffuser and add the tomatoes. Turn burner to medium high and stir until they start to boil. Then reduce to simmer, partially cover and simmer 90 minutes.
After 90 minutes, remove from heat and add the reserved herbs and Parmesan cheese. Add the butter to round out the flavors. Stir again and serve.
Notes
The old saying about the sauce tasting better the next day reheated is true. It gives the flavors a chance to blend and mellow out.
Keywords: Italian Tomato Sauce