Grandma Gennaco's Beef Braciole is a very special dish! This delicious recipe has been in our family for over 100 years.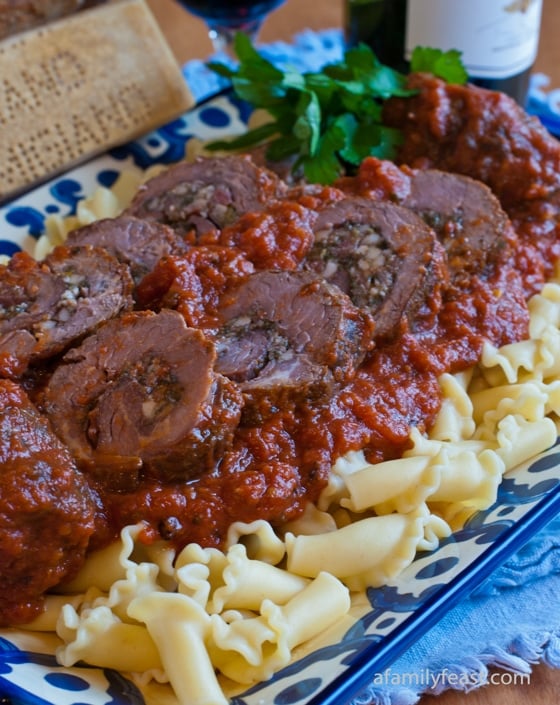 Today we're sharing a very special family recipe for Beef Braciole that was passed down to our family from my husband's grandmother.  This recipe originated from her mother, Grandma Gennaco, and it has stood the test of time for over 100 years.
What is Beef Braciole?
To make the beef braciole (pronounced bra'zhul which means 'slices of beef'), a tender flank steak is pounded or butterflied to an even thickness and then rolled with a flavorful filling of salt pork, garlic, pesto, parsley, prosciutto and Pecorino Romano cheese.
After being cut into smaller pieces and tied with a string to hold them together, the rolls of meat are seared in a pan until browned.  Then the beef rolls are placed in tomato sauce to cook through to fork-tender perfection, then sliced and served over pasta.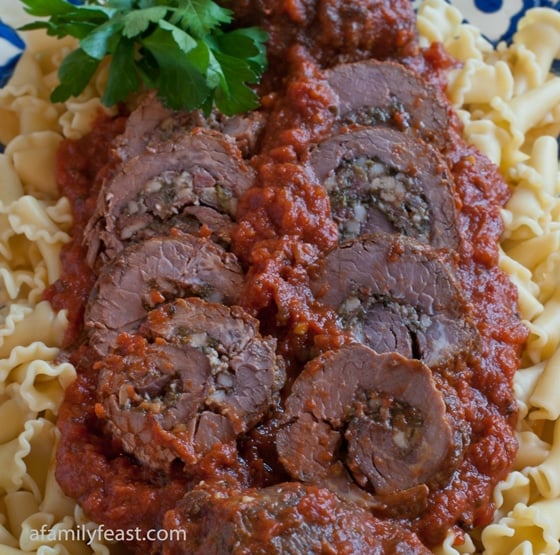 Over the years, this beef braciole was served as a special Sunday meal at my husband's family gatherings.  While dinner was cooking, Jack's boyhood job was to walk down to the local Italian bakery to get bread for the meal.  When he returned, he was so happy to see his grandfather – always dressed in a shirt, tie, and grey cardigan sweater.  Jack would run over to greet him because he knew hidden in those sweater pockets were M&M's or Life Saver candies that Grandpa had hidden in there specifically for Jack to find.
This recipe brings back some very happy family memories for my husband – what are some of your own long-standing family recipes?  We'd love to hear about them!
You may also like these other Italian Family favorites:
Print
Grandma Gennaco's Beef Braciole
Prep Time:

45 mins

Cook Time:

2 hours

Total Time:

2 hours 45 minutes

Yield:

6-8 servings
---
For the rolled meat
2

pounds of flank steak only (do not use top or bottom round)

4 ounces

salt pork (

7 ounce

piece with skin)

5

garlic cloves roughly chopped

½ cup

roughly chopped Italian parsley

1 tablespoon

extra virgin olive oil

5

slices prosciutto chopped

2 ounces

pesto

¼ cup

shredded Pecorino Romano
Salt
Pepper

1/3 cup

extra virgin olive oil
For the tomato sauce
4

cloves sliced garlic

4

–

6

basil leaves minced

2 tablespoons

mint minced

½ teaspoon

red pepper flakes

3

28-ounce cans ground or whole tomato (if possible, use Pomodoro San Marzano tomatoes such as Cento or Pastene brand)

28 ounces

of water (use tomato can to measure)

2

bay leaves
Salt and pepper to taste
Butter to round out flavor if too acidic
---
Instructions
Depending on how thick your flank steak is, you may have to butterfly the meat (run a long sharp knife horizontal to meat and board from one end to the other so you end up with two equal flat pieces) If the piece of flank is too thin to butterfly then pounding to desired thickness will do. Regardless, either method will still require further pounding to get the meat to the desired thinness.
Cut cross marks every 2-3 inches on the beef against the grain about half way through. Cover with plastic and pound to about ¼ – ½ inch thick.
In a small food chopper or mill, make a paste out of salt pork, garlic, parsley and olive oil. (Do not use the salt pork rind.)
In a small bowl, mix prosciutto, pesto and Romano. Add pureed salt pork mixture and mix.
Sprinkle pounded beef with salt and pepper and spread filling on meat, leaving one long edge free. Roll ending on side with no filling and finish with seam side down.
Then, cut beef into six separate rolls. Using butcher's twine, seal each end of each roll.
Place olive oil in 10 quart Dutch oven and heat over medium to medium high heat. Brown braciole rolls until browned on all sides. About 2-3 minutes per side. Set seared beef aside.
In same pan, lower heat to medium and add slice garlic, basil, mint and red pepper flakes. Cook for only a minute or less until garlic just starts to turn color.
Add tomatoes, water, bay leaves, salt and pepper. Reduce to low heat to simmer. Ideally, place a heat diffuser between pan and flames (indirect heat will prevent the sauce from burning in the bottom of your pan; a diffuser is an inexpensive purchase). In a pinch you can use flattened aluminum cans with the paper label removed and both ends cut off.Bring to a simmer and place seared beef into sauce. Cover slightly and simmer gently for 90 minutes.
Remove beef, clip off strings and cut each piece into about four slices for serving. (Alternately the individual rolls may be served as a portion without slicing.)
At this point, you have a choice. During cooking, a lot of the fat from the salt pork will float to the top. Remove it if you don't want all of that pork fat in the sauce (although the flavor is fantastic!). We ladled off about half of it and stirred the rest into the sauce. Puree the sauce with an immersion blender if you used whole canned tomatoes. If the sauce is too acidic for you, add a little butter to smooth out the flavor. Serve beef and sauce over your favorite cooked pasta.
---