We're enjoying the last hurrah of our fresh garden tomatoes – and we've saved one of the best recipes for last…this fantastic Tomato Pie!
This delicious savory pie combines fresh tomatoes, basil and sweet onions in a pie crust with a zesty topping of sharp cheddar cheese, mayonnaise and a little bit of hot sauce.  This tomato pie is so delicious – it's almost addictive, and Jack and I often fight over who gets to eat the last piece of pie!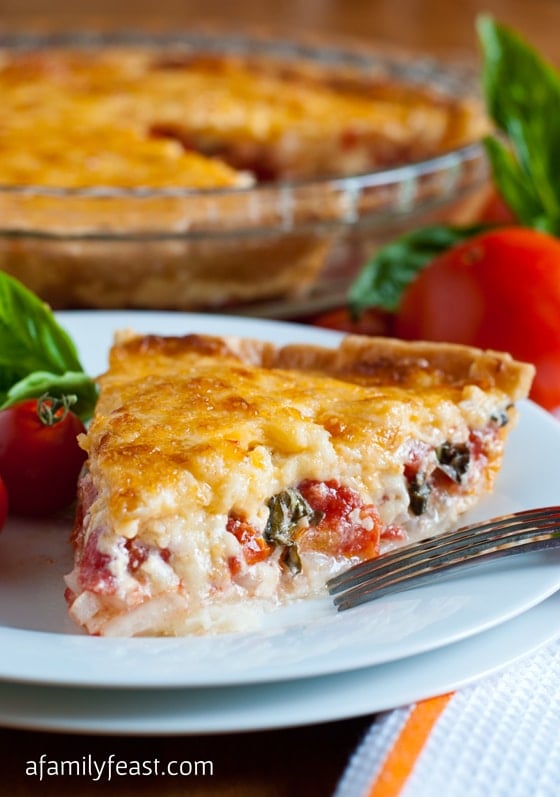 This tomato pie is perfect at this time of year and the aromas filling the house as it bakes in the oven are amazing!  There are many variations of tomato pie recipes – some adding a Ritz cracker topping – but we like this version the best.
I do want to note that one very important step in making this tomato pie is to make sure that you remove as much liquid as possible from the tomatoes before baking.  Too much juice – and your pie will end up soggy!  But not to worry – we share an easy tip in the recipe.  After you've diced the tomatoes, place them in a sieve or strainer over a bowl and sprinkle the tomatoes with some salt.  Allow the tomatoes to sit for several hours, stirring occasionally, and you'll be amazed at how much liquid drains out of the tomatoes!   This step takes a little bit longer than just squeezing the tomatoes to remove their juices, but the end result is so much better – it's worth the extra time.
Adapted from Simply Recipes
Print
Tomato Pie
Prep Time:

6 hours

Cook Time:

35 mins

Total Time:

6 hours 35 minutes

Yield:

6 servings
---
Ingredients
4

–

5

fresh tomatoes, cut in half horizontally and squeezed to remove seeds and excess juices, and chopped into 1-inch pieces (yield approximately

3 cup

s)
Salt

1

partially-baked 9-inch pie crust (see instructions here)

½ cup

finely diced sweet Vidalia onion (about

½

a medium onion)

¼ cup

finely sliced basil (

8

leaves)

2 cup

s grated sharp white cheddar cheese (or other cheeses of your choice)

¾ cup

mayonnaise

1 teaspoon

sriracha (or other hot sauce of your choice – adjust amount according to your tastes)
Freshly ground black pepper
---
Instructions
About 4-6 hours before baking (or overnight), place the diced tomatoes in a sieve or strainer over a bowl and sprinkle generously with the salt. Stir to combine. Allow the tomatoes to drain of their liquid, stirring occasionally and gently pressing down on the tomatoes (use a large spoon or a small flat bowl to press the tomatoes against the sieve), until the tomatoes are very well drained. Blot with a paper towel if necessary to remove extra moisture.
While the tomatoes are draining, pre-bake your pie crust. (See instructions here
When ready to bake, preheat the oven to 350 degrees.
Spread the diced onion in the bottom of the pie crust. Spread the well-drained tomatoes over the onions, then sprinkle the basil over the tomatoes.
In a medium bowl, combine the grated cheese, mayonnaise, sriracha and a generous grind of black pepper. Mix to combine (the mixture will be very thick). Spread the cheese mixture over the tomatoes in the pie plate.
Bake in the oven until golden brown and bubbly – approximately 25-35 minutes.
Let sit for 10-15 minutes to firm up before serving.
---
You may also like:
30+ Recipes for your Garden Tomatoes
Pappa al Pomodoro (Bread and Tomato Soup)