I mentioned yesterday that we just came home from an end-of-summer vacation and when we got home, we found our garden over-run with ripe tomatoes!   Over the weekend alone, we picked more than 40 pounds (wow!) of various varieties including cherry and grape, Roma, baby plum, Sun Glow, Big Girl, Big Boy and Beefsteak.
So – in addition to enjoying some simple fresh tomato sandwiches  (YUM!) and salads, as well as giving some tomatoes away to our neighbors, we've been working on some quick and easy tomato recipes to share here on A Family Feast – like today's Stewed Tomatoes!
Stewed tomatoes are a great way to cook with fresh tomatoes that are just a little too over-ripe to eat in other dishes! In fact, when my husband Jack worked in food service management years ago – his staff made these stewed tomatoes many times and they are great served as a hot vegetable alongside almost any entrée of the day. (We also love adding stewed tomatoes to this family recipe!)
You can use pretty much any variety of large, ripe tomatoes or plum tomatoes in this recipe (we like a mix of both) and they are cooked until tender along with onion, celery, bell peppers, jalapeño pepper – plus a variety of fresh herbs including parsley, basil and mint, as well as touch of sugar, salt and red pepper flakes.
These stewed tomatoes can be stored in the refrigerator for up to four days – or you can freeze them in zipper seal bags for up to six months and enjoy the fresh taste of summer tomatoes once colder weather arrives!
Print
Stewed Tomatoes
Prep Time:

45 mins

Cook Time:

20 mins

Total Time:

1 hour 5 minutes

Yield:

3 quarts
---
Description
A Few Notes: Once the tomatoes are peeled and seeded, the yield will be 2 quarts (64 ounces) including liquid. The hardest part of this recipe is preparing the tomatoes. Once they are done and the vegetables chopped, the cooking process is only 20 minutes. When this recipe is finished and cooled, it freezes very well in zip lock bags with all the air squeezed out. Depending on the type of plum tomatoes you have, some have few seeds and the skin is not that tough so if you wanted, you could just cut them into thick slices and leave the seeds and skin on. The larger tomatoes however do need to be skinned and seeded. Finally, this recipe can easily be cut in half or doubled depending on how many tomatoes you have. We list the total volume of the cleaned tomatoes in the event you wanted to make this using canned whole tomatoes in place of fresh. Cooking times would remain the same.
---
5

pounds ripe plum tomatoes

2

pounds ripe large tomatoes, any variety

¼ cup

extra virgin olive oil

2 cups

medium diced onion

1 ½ cups

medium diced celery

3 cups

medium diced bell pepper (green or red or a combination is fine)

1

large jalapeño, seeded and stemmed and diced fine

¼ cup

fresh parsley, chopped

¼ cup

fresh basil, chopped

2 tablespoons

fresh mint, chopped

1 ½ tablespoons

sugar

1 ½ tablespoons

salt

½ teaspoon

red pepper flakes
---
Instructions
Bring a large pot of water to a boil and have a large bowl with ice water and a spider or strainer standing by. Also have a tray ready for when you remove the tomatoes from the ice bath.
Pull the stem off each tomato and make an X on the bottom of each.
A few at a time, drop the tomatoes into the boiling water. After a minute or so, you will see the skins pull away from the X. With the spider or strainer, remove to the ice bath and then to the waiting tray. Repeat for all tomatoes adding more ice as needed.
Place the tray of tomatoes on your counter and have a bowl with a strainer and a second bowl standing by. One at a time, pull the skin and place in strainer. Hold the tomatoes over the strainer as you seed them. For Roma, dig into the sides and scrape the seeds out, letting the seeds fall into the strainer. Pull the green inner stem and place with the seeds. Place the meat of the tomato into the other bowl. For the large tomatoes, after skinning, cut them in half on the horizon and reach in each half and scrape out the seeds letting them fall into the strainer. Pull the green hard inner stem out and place with the seeds. Place the meat in the bowl with the Roma's.
Once all the tomatoes have been cleaned, squeeze the seeds and skin to get every last bit of juice or pulp through the strainer. Discard seeds and skin. The liquid in the bowl can now be added to the tomato meat in the other bowl. You should have about two quarts. There is no need to cut the tomatoes any further (the larger the better)
In a large pot or Dutch oven over medium high heat, place olive oil, onion, celery, bell peppers, jalapeno, parsley, basil, mint, sugar, salt and red pepper flakes. Sauté mixture for 10 minutes.
Add tomatoes, bring back up to a low boil, reduce to a simmer and cook for 10 more minutes. (Try not to break up the tomatoes too much while stirring)
Taste, adjust seasoning and serve, refrigerate for up to four days or freeze in zip lock bags for up to six months.
---
You may also enjoy: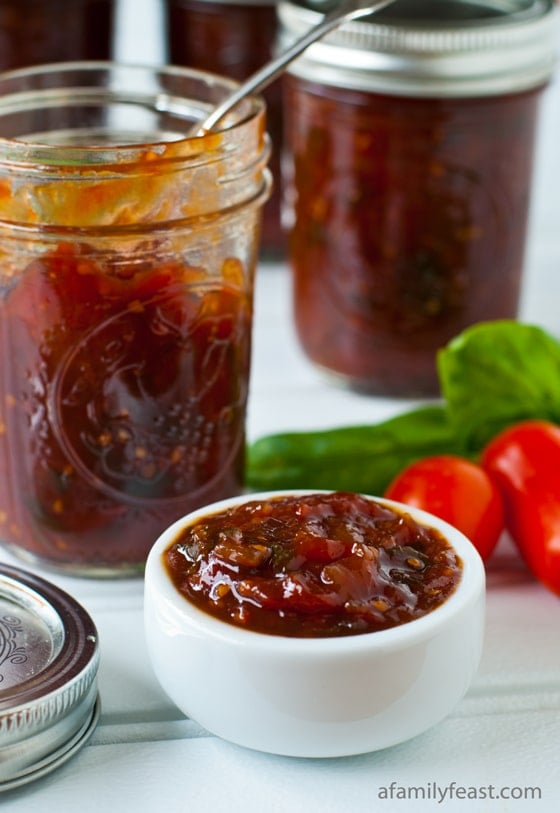 Pappa al Pomodoro (Bread and Tomato Soup)