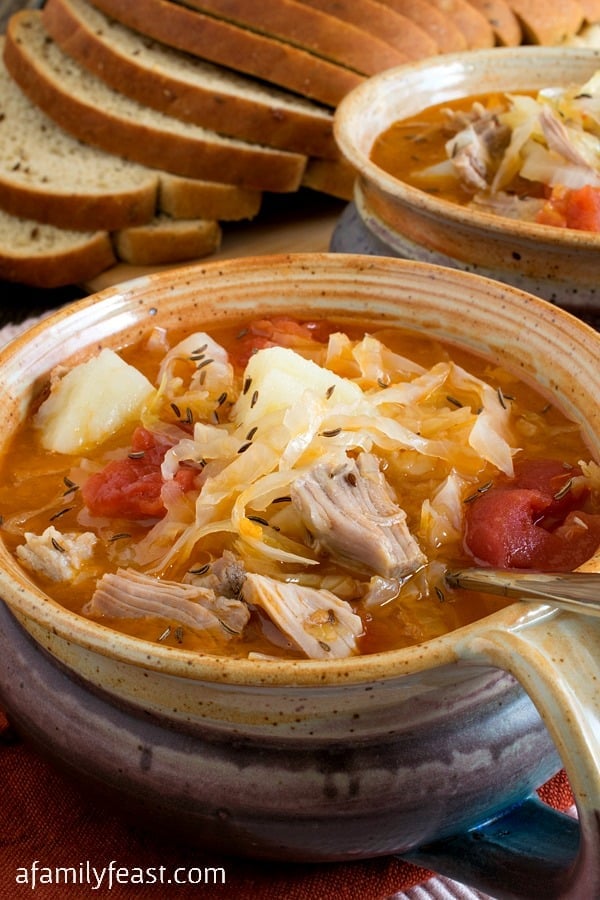 Every Sunday, as a child growing up, we spent the afternoon visiting my Babci.  Babci means grandmother in Polish,* and she was my mother's mother.  Like most women of her generation, she often made dishes that originated from the 'old country' and the distinctive tastes and flavors of those dishes are hardwired in my memory.
Even today, I can immediately go back in time whenever I smell certain foods or certain dishes cooking.  One of those dishes is Kapusta**, a traditional Polish cabbage soup.  We were always really psyched when Babci made her delicious Kapusta for us for dinner.
Years later, I discovered that my husband Jack – who pretty much loves all-things cabbage – had never eaten Kapusta!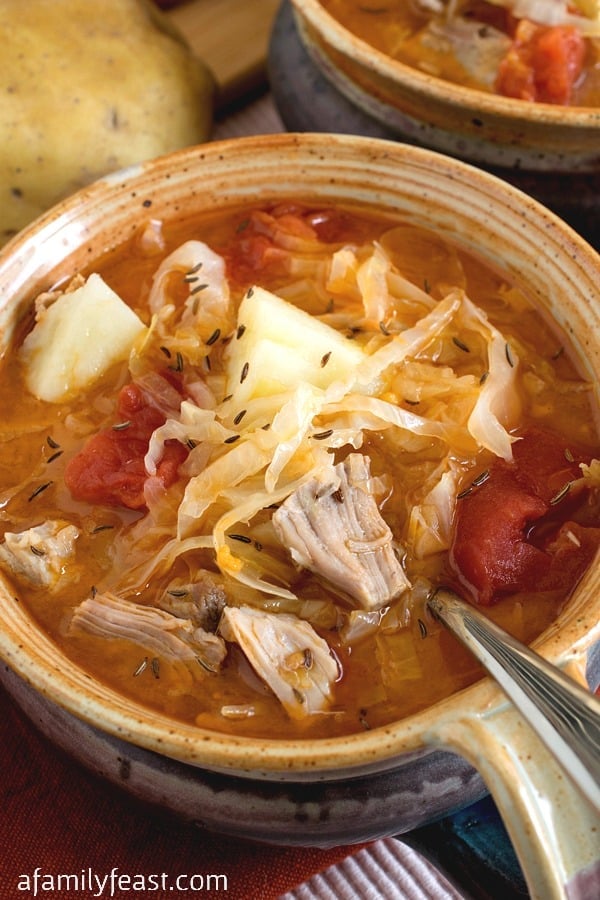 Since I didn't have my Babci's actual recipe (it was one of those recipes that was cooked from memory and never written down), I've done my best to recreate it from my own memory, and I think I've gotten it pretty close with this version.
Although not traditionally a Polish ingredient, my Babci added canned stewed tomatoes to her Kapusta which gives it an additional layer of flavor and really enhances the other ingredients in this dish.  Served with rye bread and butter, Kapusta is one of those dishes that just sends me back in time.  And Jack, who can't get enough of this, wonders how on earth he missed out on this terrific Polish classic until he met me!
This post was originally published on A Family Feast in November 2012.
*Since originally publishing this recipe, several comments below have let me know that "Babcia" is the correct word for grandmother in Polish.  In my family, we simply called her Babci.
**Since originally publishing this recipe, a reader has let us know that this soup is also known as Kapusniak, or according to Wikipedia, Kapusta kiszona duszona.  Kapusta is the name that many Polish-American families like mine have given this soup.
Print
Kapusta (Polish Cabbage Soup)
Prep Time:

20 mins

Cook Time:

1 hour 45 mins

Total Time:

2 hours 5 minutes

Yield:

8-10 servings
---
Description
A traditional Polish cabbage soup made with pork, cabbage, sauerkraut, onion, carraway seed and my Babci's secret ingredient…stewed tomatoes to really enhance the flavors in this soup.
---
3

–

4

pounds of meaty pork ribs such as country style ribs

6 ounces

diced salt pork (

4 ounces

after removing skin. The fatty type not the meaty type)

1 ½ cups

onion, about

one

large onion

1/4 cup

all-purpose flour

1

pound fresh sauerkraut with juice (found in the refrigerated section of most supermarkets)

1

medium head of cabbage, shredded (about

1 1/2

–

2

pounds)

2

14½-ounce cans of stewed tomatoes

1 tablespoon

caraway seeds

1 teaspoon

salt

4

pounds all-purpose potatoes
Rye bread and butter
---
Instructions
Place pork ribs in a large 8 quart heavy pot and cover the ribs with water almost to the top. Bring to a boil uncovered, lower to a fast simmer (low boil) and cook for 45 minutes, skimming off foam as they start to boil. Shut off burner and let them sit in the water for 15 minutes.
While the pork is cooking, in a medium frying pan, cook the diced salt pork on a medium high flame for 2-3 minutes or until just starting to brown. Add onion to the pan and sauté for 2-3 minutes until just starting to get tender. Reduce to medium heat, stir in the flour and sauté for 3 minutes. Turn off heat and set aside.
Once cooked, remove ribs from the pot and let cool. Save the liquid in the pot.
To the pot of liquid, add the sauerkraut and juice, shredded cabbage, stewed tomatoes, caraway seeds and salt as well as the cooked salt pork and onion mixture.
Cook over medium high heat until cabbage is cooked, approximately 30-35 minutes. While the cabbage mixture is cooking, remove the meat from the bones, shredding the meat into bite-sized pieces. Return the cooked pork to the pot once the cabbage is tender and heat to serving temperature.
Peel and quarter potatoes and place in cold sated water while cabbage mixture is cooking. Bring to a boil and over a medium boil, cook potatoes for 5-10 minutes or until tender. Drain water and cool potatoes to room temperature. Once the cabbage mixture has finished cooking, cut cooked potatoes into bite sized pieces and either add to the finished cabbage dish or serve on the side. (cooking in quarters and cutting after the fact will make them more firm and less mushy since less of the surface touched the boiling water.
Serve with rye bread and butter for a traditional Polish meal.
---
You may also like: