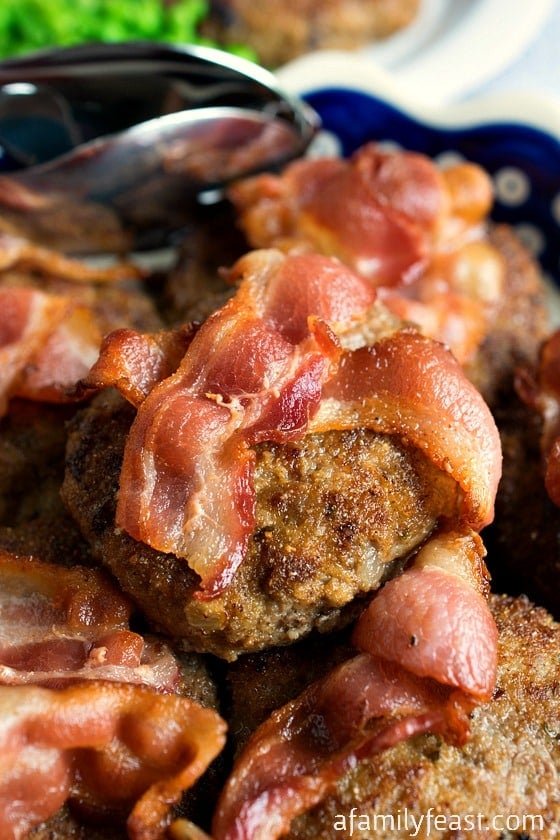 My husband Jack has been quite enamored lately with an old, classic Polish cookbook that was my mother's called, The Art of Polish Cooking
by Alina Zeraska. Jack loves recipes that combine simple, common ingredients in a delicious new way – and these Polish Hamburgers are exactly that!
These burgers start out almost as if you were making a meatloaf or meatballs – a mix of ground beef and ground pork are combined with eggs, soft white or wheat bread that has been soaked in milk, and simple seasonings of salt and pepper.
But the different (and delicious!) twist is that these Polish Hamburgers are coated in seasoned bread crumbs before they are sautéed in rendered bacon fat – both of which give a simple burger some really fantastic flavor!  Then you layer the burgers with the cooked bacon slices on top from the earlier rendering step (In Polish cooking – as in many cultures – nothing goes to waste!) and bake in the oven until cooked through.
The flavor and texture of these burgers are reminiscent of individual-sized meatloaves, and they are a perfect mid-week family supper. The cookbook recommends that you serve these Polish Hamburgers with mashed potatoes and cooked green peas – which is exactly what we did at home! Enjoy!
Disclosure: This post contains affiliate links.
Print
Polish Hamburgers
Prep Time:

20 mins

Cook Time:

40 mins

Total Time:

1 hour

Yield:

4-8 servings
---
8

slices of uncooked bacon, about

½

pound

3

slices soft white or wheat bread, crusts removed

½ cup

milk

1 cup

onion, diced small

1

pound 80/20 ground beef

½

pound ground pork

1

whole egg, beaten

1 teaspoon

kosher salt

½ teaspoon

freshly ground black pepper

1/3 cup

seasoned bread crumbs
---
Instructions
In a large sauté pan, cook bacon slices about half way to done. You want at least 4 tablespoons of bacon fat reserved. The bacon will cook further in the oven so don't cook to crisp. Reserve both the bacon and the bacon fat separately.
Preheat the oven to 350 degrees F.
In a small bowl, soak bread in the milk.
Place one tablespoon of the fat back in the pan and sauté the onions over medium heat until cooked through and nicely browned. Add to bowl with the bread and milk to cool onions.
In a large bowl, place ground beef, ground pork, the beaten egg, salt and pepper. Add the bread and onion mixture and mix to combine. The mixture will be somewhat loose.
Divide the mixture into eight patties.
Pour the bread crumbs into a plate or platter and press both sides of each patty into the crumbs pressing slightly.
In the same sauté pan, heat half the remaining bacon fat over medium to medium high heat.
Have a 9X13 pan or glass baking dish standing by.
Place four of the coated patties into the hot oil and cook for about 3-4 minutes on each side or until browned. Transfer to the baking dish.
Repeat for the remaining bacon fat and last four patties and transfer to the baking dish once browned.
Cut each bacon strip in half and place two halves over each patty.
Bake for 20 minutes and serve immediately.
---
You may also like: