Deconstructed Stuffed Cabbage is a quick and delicious weeknight meal the entire family will love!
When Jack and I start to plan out our upcoming recipes, to share here on A Family Feast, we always spend a lot of time talking about old family recipes.
On Jack's side of the family – Italian fare was the standard, so recipes like beef braciole and lasagna were part of the menu.  On my side of the family – being Polish – we always served kielbasa, pierogi, kapusta, and golumpki (pronounced (gaw-WOHMP-kee) – or what is more commonly known in the United States as Stuffed Cabbage.
This recipe for Deconstructed Stuffed Cabbage is what my mom would have called "lazy golumpki."  Making stuffed cabbage rolls can be somewhat time consuming, and working with the large cabbage leaves can be tricky – but this deconstructed version is so quick and easy, even a novice cook can easily make it!
How do you make Deconstructed Stuffed Cabbage?
You'll start by cooking up some rice. My mom used white rice, but you could use brown rice if you prefer.
While the rice cooks, blanch chunks of green cabbage in boiling water – then set aside to cool.
Next, saute bacon and onions until cooked-through and tender.
Then add ground meat to the skillet to cook through and brown. We used a mixture of ground beef, pork and veal – but if you prefer not to use veal, just replace that with additional ground pork. Or, use all ground beef – this recipe is very flexible!
Next, we made a simple but flavorful sauce with tomato juice, tomato paste, vinegar, and seasonings – then we added the cooked cabbage and some fresh sauerkraut to the skillet.
Stir to combine – and you've got a wonderful one-pot meal that's ready to serve!
This Deconstructed Stuffed Cabbage recipe makes a generous amount – about ten to twelve servings – so it's a great, inexpensive way to feed a hungry crowd at dinnertime. But feel free to cut the recipe in half if you'd like.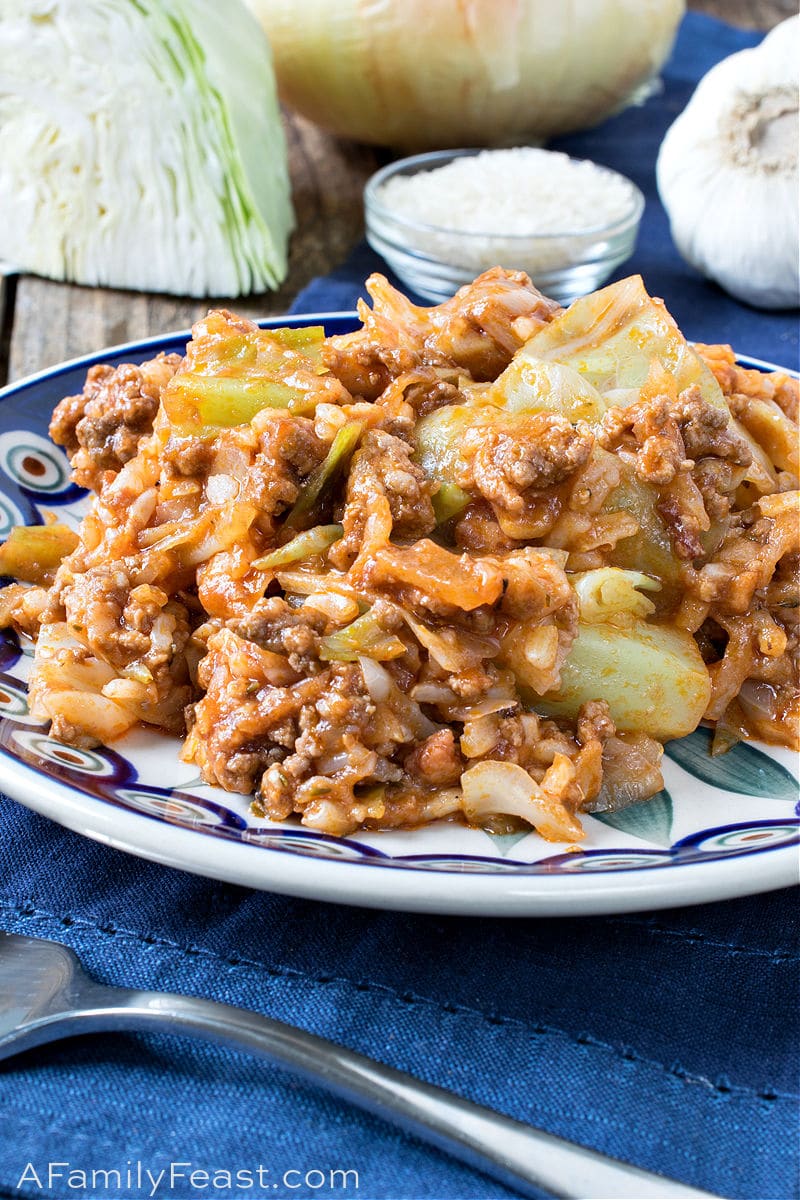 Can I freeze this recipe?
Cooked cabbage will get very soft and mushy after freezing and thawing – so, unfortunately, the answer is no. (Unless a softer texture doesn't bother you.) If this large recipe is too much food for you, you'd be better off cutting the recipe in half.
This post originally appeared on A Family Feast in December 2013. We've updated the post and photos.
You may like these other Polish recipes:
Print
Deconstructed Stuffed Cabbage
Author:

Prep Time:

40 mins

Cook Time:

20 mins

Total Time:

1 hour

Yield:

10-12 servings

Category:

entree

Method:

stovetop

Cuisine:

Polish
---
1 cup uncooked white rice (or any rice of your choice)
2 pounds green cabbage, cleaned, cored and cut into two-inch chunks
2 tablespoons extra virgin olive oil
4 ounces raw bacon diced
1 cup chopped onion
1 tablespoon garlic, minced
2 tablespoons tart red wine such as Merlot
1 pound lean ground beef (90/10)
½ pound ground pork
½ pound ground veal (if you can't get ground veal, increase ground pork to one pound)
3 cups tomato juice (or for a more intense flavor, use V-8)
1 6-ounce can tomato paste
2 tablespoons white wine vinegar
1 tablespoon sugar
1 teaspoon dry thyme
¼ teaspoon paprika
1 teaspoon salt
¼ teaspoon freshly ground black pepper
1 cup drained sauerkraut
---
Instructions
Cook rice according to package directions. Try to time the rice so that it finishes cooking as the preparation of the dish nears the end. If rice is finishes too soon, fluff and leave at room temperature to cool.
Bring a large pot of salted water to a boil and blanch cabbage chunks for five minutes. Drain, cool and set aside.
In a large sauté pan over medium heat, place olive oil and bacon and cook until bacon is almost browned, about 4 minutes. Increase heat to medium high and add onions and sauté for three minutes. Add garlic and sauté for one more minute. Add red wine and deglaze the pan.
Move the cooked onion mixture to the edges of the pan and place all three meats into the center. Keep moving the meat around to brown and slowly work in onion mixture until the meat is fully browned.
Add tomato juice, tomato paste, vinegar, sugar, thyme, paprika, salt and pepper. Reduce to medium and simmer for five minutes.
Add in sauerkraut, cooked rice and cooked cabbage. Bring back up to heat and simmer for five more minutes.
Adjust seasoning and serve.
Keywords: Deconstructed Stuffed Cabbage, Lazy Golumpki