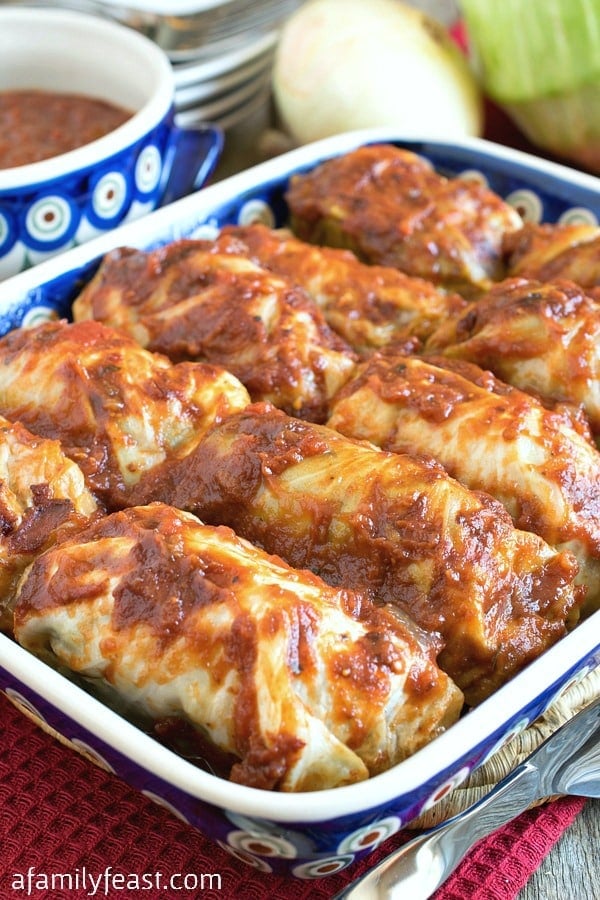 Starting a food blog three-plus years ago has been one of the best things that my husband Jack and I have done together – aside from getting married, having a family, and building a wonderful marriage and life together of course! A Family Feast has become our family business, plus a way to do something that we love – cook great food and share our recipes with others!
But you may have noticed that 'new phrase' in front of today's recipe: Whole30 Stuffed Cabbage. As of today, Jack and I are on Day 9 of The Whole30 Program, and we've developed this delicious Stuffed Cabbage recipe that anyone will love – even if you aren't on a low carb eating plan or following The Whole30 Program.
And – let me say right here that if you've been following us for our comfort food recipes and decadent desserts – we will still be sharing those too! But you will start to see some more healthier and lower carb recipes in the mix of recipes we share here on A Family Feast.
So what is Whole30 and why are we doing this program? I can't start to fully explain The Whole30 Program in just one blog post (you can read much more about it here if you'd like) but to quote the program: "Think of it as a short-term nutritional reset, designed to help you put an end to unhealthy cravings and habits, restore a healthy metabolism, heal your digestive tract, and balance your immune system."
I'm doing the program to jump start a weight loss program. Since we started blogging, I'm embarrassed to admit that I've gained quite a bit of weight, and have found myself losing the balance I once had in my diet.
For my husband Jack, the stakes are much higher! Diabetes runs in his family – and Jack has it too. So to get his blood sugar back in control, he needs to do something drastic – and changing the way he eats is one huge and important step!
I'm happy to report that delicious recipes like today's Whole30 Stuffed Cabbage are making it totally doable to stick to the plan, and even make this a long term shift in our food lifestyle! We swapped in 'riced' cauliflower for the rice that you typically find in a stuffed cabbage recipe, and we added (Whole30 compliant) prosciutto to the ground beef and pork mixture – resulting in fantastic flavor!
Jack also made an incredible tomato sauce for this Whole30 Stuffed Cabbage – sweetened a bit with Mission figs which also adds a wonderful rich, deep flavor to the sauce. This Whole30 Stuffed Cabbage is a dish we would gladly eat even if we weren't on the program!
P.S. Our goal here isn't to push the Whole30 program on any of our readers. It's a strict program, but I will say that Jack and I are both feeling fantastic since we started the program. This has also been a great culinary challenge for us – creating blog-worthy recipes that anyone would love, but especially others on Whole30 or those looking for low carb and whole food recipe ideas. If you'd like to learn more, we recommend reading this book. (Affiliate link.)
Print
Whole30 Stuffed Cabbage
Prep Time:

30 mins

Cook Time:

1 hour 30 mins

Total Time:

2 hours

Yield:

7 servings
---
Description
It took some experimentation to make this recipe Whole30 compliant but honestly this recipe rivals any good stuffed cabbage recipe, Whole30 or not. You can of course alter this to be non-whole 30 by using regular cooked rice instead of cauliflower rice, use regular ground beef and pork instead of organic or grass fed, regular prosciutto or bacon instead of whole 30 compliant prosciutto, etc.
---
1

head organic cabbage, at least 3 pounds or larger
Sauce
½ cup

Mission figs

1 tablespoon

extra virgin olive oil

1 cup

sweet onion diced, such as Vidalia

2 tablespoons

red wine vinegar

1

28-ounce can crushed tomatoes (To be Whole

30

compliant, can ingredients should list only tomato and salt. We used Cento brand tomatoes.)

1 ½ tablespoons

tomato paste

½ teaspoon

kosher salt

¼ teaspoon

freshly ground black pepper

½ teaspoon

dry basil

¼ teaspoon

garlic powder
Filling
3 cups

grated cauliflower (about

1

pound head)

2 tablespoons

extra virgin olive oil

½

pound diced prosciutto (To be Whole

30

compliant, ingredients list should be just pork and salt – we found ours at Whole Foods Market)

1½ cups

onion, diced

½ teaspoon

whole fennel seeds

1

pound grass fed or grass finished ground beef

1

pound organic ground pork

2

whole eggs (to be Whole

30

compliant, look for pastured eggs)

1 teaspoon

kosher salt

½ teaspoon

freshly ground black pepper

1 teaspoon

dry basil

1 teaspoon

dry oregano

½ teaspoon

garlic powder

½ cup

almond flour
---
Instructions
Place an 8-quart pot filled ¾ of the way with water over high heat to boil.
Using a small pointed knife such as a boning knife, remove core of cabbage and discard, leaving head of cabbage intact.
Once water is boiling rapidly, carefully place head of cabbage in water cut side up. Push down with a wooden spoon so the cavities fill with water.
Keep heat on high and have a pair of tongs handy and a sheet tray.
In about five minutes, you will be able to start removing the outer leaves onto the sheet tray using the tongs. Make sure the leaves are pliable enough to roll. Continue gently peeling off each outer leaf until you reach the last center leaves, pausing as you go to make sure each leaf is pliable and somewhat tender. The whole process should take approximately 10 minutes. Set them aside to cool.
Make the sauce by pulling the stems off the figs and discarding. Place the figs into a glass two cup measurer and fill water to the one cup mark. Microwave on high for about a minute and a half or until the water just starts to bubble.
Remove from the microwave and place a cover over the measuring cup to keep the heat in.
In a large sauce pan or medium pot over medium high, add oil and onions and sauté for three minutes.
Add red wine vinegar to deglaze for about one minute.
Add tomatoes, tomato paste, salt, pepper, basil and garlic powder.
Place the figs and water in a blender or food processor and puree, then add to tomato mixture.
Bring to a high bubble, lower heat and place a heat diffuser under the pot. Cover and simmer for 30 minutes.
While sauce is cooking, make filling.
Using a box grater, grate the cauliflower on the large holes to make three cups of shredded cauliflower.
Place a large non-stick sauté pan over high heat and add the cauliflower. Do not add any fat, just the dry cauliflower. Toss and shake continuously for ten minutes. This step is needed to remove moisture from the cauliflower and have it act as the rice that would normally be put in traditional stuffed cabbage.
After 10 minutes, the cauliflower rice will be golden brown. Pour out onto paper towels where it will cool and give up some more liquid. You will have half the volume you started with. Set this aside.
In the same pan over medium high heat, add oil and prosciutto and sauté for 2 minutes.
Add onions and fennel seeds and sauté for 3 minutes. Remove from heat to cool.
In a large bowl, add ground beef, ground pork, eggs, salt, pepper, basil, oregano, garlic powder, almond flour, cauliflower rice and onion and prosciutto mixture. Mix thoroughly to combine.
Preheat oven to 350 degrees F.
Place one cup of sauce on the bottom of a 9X13 pan or glass baking dish.
Reserve two or three large dark outer cabbage leaves. You should have 14 good sized leaves left and some smaller scrap pieces. If not, try and divide up the filling by the number of usable cabbage leaves.
Take a cabbage leaf, curl up, with rib part towards you. Place a scoop of filling in center. If filling 14 leaves, each scoop should be about 3 ½ ounces each.
Roll away from you by tucking rib over filling and then folding each side towards the center. Push the roll forward so it lands on the seam and place seam side down in the prepared pan.
Continue for the remaining rolls.
Spoon about a tablespoon of sauce over each roll and brush to the edges of the roll so all of the cabbage tops are covered.
Then take the two or three large outer leaves and place over the cabbage rolls.
Top that with more sauce (about ½ a cup), saving the remaining sauce to serve on the side once they are cooked.
Cover with parchment and foil and bake covered for one hour.
Remove foil and parchment and bake for 30 minutes more. Watch the last 15 minutes to make sure they don't burn.
Serve immediately with sauce on the side.
---
You may also like these other recipes: