Chicken Marbella is roasted chicken with a fantastic sweet and sour Mediterranean-inspired flavor!
Every few weeks, Jack and I sit down together to plan out the recipes we feature here on A Family Feast.  Sometimes we decide upon recipes that are centered around an upcoming holiday, or we'll come up with a theme and then develop a week-long series of recipes.  Other times, we share recipes that you – our wonderful readers – have asked for over on our Facebook page or requesting in an email to us.  And other recipes are just favorites of ours that we've made over the years from some of our favorite cookbooks.
This Chicken Marbella recipe falls into that last category.  It's a recipe from one of my long-standing favorite cookbooks, The Silver Palate Cookbook
, which features recipes from the food shop that shared the same name for many years in New York City.  The intro to this recipe in the cookbook says that Chicken Marbella was the first main-course dish to be offered at the shop – and it was popular with Silver Palate customers for many years!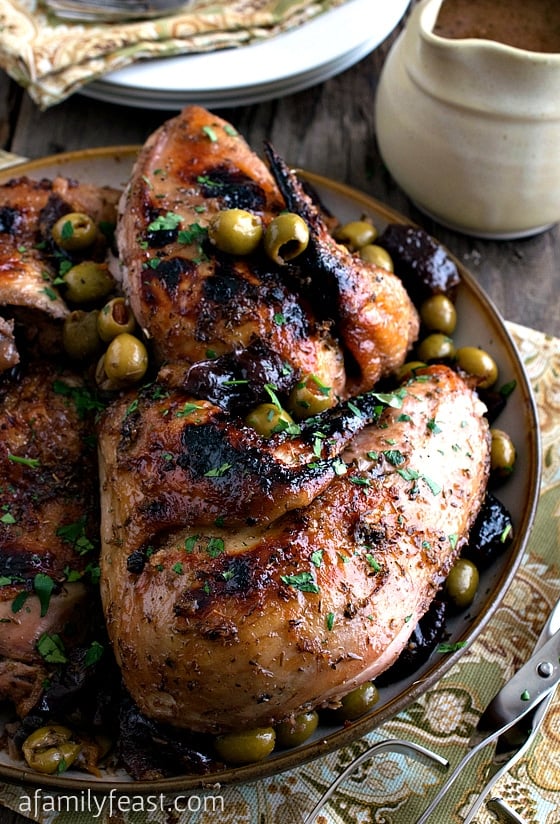 When I told Jack that I wanted to share this recipe here, he initially had his doubts about the combination of flavors.  The chicken is marinated in a combination of garlic, oregano, red wine vinegar, prunes, olives, capers and bay leaves – which is quite an eclectic combination of flavors!  But let me tell you – the end result is fantastic!
This Chicken Marbella is moist and tender with a crispy skin, and the marinade cooks into a wonderful sweet and sour sauce with Mediterranean-inspired flavors that is really delicious!  It's gorgeous to look at with it's deep caramelized skin against the bright green of the olives – making this perfect for a special dinner party.  But – it's a snap to make – so you can easily make this for a weeknight dinner as well!
The original recipe also suggests that this recipe can be adapted using wingettes and drumettes, and serving it as an appetizer.  This Chicken Marbella is also delicious served hot or cold!
You may like these other Chicken recipes:
Print
Chicken Marbella
Prep Time:

12 hours 15 mins

Cook Time:

1 hour

Total Time:

13 hours 15 minutes

Yield:

4-6 servings
---
Description
Note: The original recipe from The Silver Palate Cookbook uses four 2½ pound chickens – which serves a large crowd. We cut the amount of chicken back to one 2½ to 3 pound chicken but left the solids the same since the finished dish seemed like it could use more of the fruit and olives. Our version is a loose adaptation of the original recipe. In preparing this dish, make sure you leave enough time to marinate overnight.
---
1

whole chicken, 2½ to 3 ½ pounds in weight, or purchase already cut chicken pieces (Note: When we shopped for this recipe, the only chickens left at the market were large roasters so our photograph is actually from a large six-pound chicken. Your chicken pieces will look smaller if you use the size of chicken listed in the recipe.)

1 ½ tablespoons

garlic that has been passed through a garlic press (or finely minced)

1 ½ tablespoons

dry oregano

½ teaspoon

salt

¼ teaspoon

freshly ground black pepper

¼ cup

red wine vinegar

¼ cup

extra virgin olive oil

1 cup

pitted prunes, left whole

½ cup

green Spanish olives, pitted and left whole (stuffed or not doesn't matter)

¼ cup

capers with a little liquid

4

bay leaves

½ cup

brown sugar

½ cup

white wine

3 tablespoons

chopped fresh parsley or cilantro
---
Instructions
Remove the backbone from the chicken and freeze for later for stock. Cut the chicken into quarters with breast and wing together and leg and thigh together. Place quartered chicken pieces in a zip lock gallon size bag.
In a small bowl mix garlic, oregano, salt, pepper, red wine vinegar, olive oil, prunes, olives, capers, and bay leaves. Mix together and pour over chicken. Seal the bag and marinate overnight.
The next day, 90 minutes before you want to serve, preheat the oven to 350 degrees.
Place the chicken pieces in a shallow baking pan and pour marinate over chicken and let solids fall around the chicken pieces.
Sprinkle the brown sugar over the chicken pieces and pour the white wine around the outside of the chicken.
Bake uncovered for 50 minutes, basting every 15-20 minutes. Pierce thigh and if juices run clear, pull them out of the oven. If a little pink, cook for ten more minutes.
Note: Our giant six-pound bird took one hour. We also put ours under the broiler for a few minutes to crisp the skin up but this is your choice.
Remove to a platter and spoon prunes, olives and capers over each piece. Then sprinkle with chopped parsley or cilantro and serve the remaining liquid on the side.
Another Note: We put our liquid in a gravy separator and skimmed off the fat before serving. The liquid is quite tasty actually and was good for dipping the chicken pieces in as we ate.
---