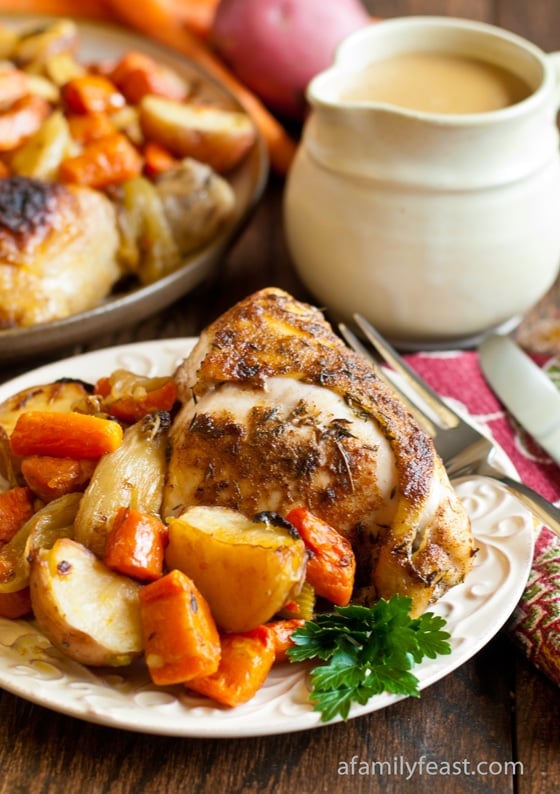 Today's recipe for Country Baked Chicken is pure, old-fashioned comfort food straight from the oven!  I'd gladly eat this terrific baked chicken for dinner every day of the week – it's so delicious!
Our country baked chicken starts with a spice rub blend of thyme, sage, paprika, garlic and a touch of cayenne, then baked with carrots, onions and celery to tender, juicy perfection.  And to top it off, a creamy, super flavorful country gravy made with a little sour cream adds the perfect finishing touch to this chicken.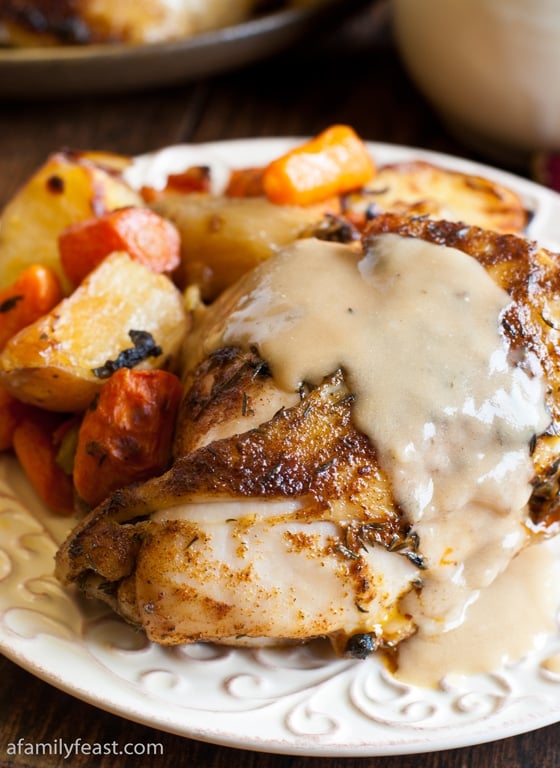 This is an old recipe that my husband Jack has made for years.  Jack's trick to ensuring tender, juicy country baked chicken is to brine the chicken before baking.  You'll want to start the prep for this special dinner the night before to allow time for the brining process – but it's easy to do and makes a world of difference so that your chicken comes out tender and juicy!
Print
Country Baked Chicken
Prep Time:

12 hours

Cook Time:

1 hour

Total Time:

13 hours

Yield:

6-8 servings
---
Description
If you are in a rush and need a meal done within an hour or so, feel free to skip the brining process in this recipe and buy a pre-cut up chicken at your local supermarket. Also skip the stock and the gravy, and just roast the cut up chicken with the butter or oil, the spice rub and vegetables. Note that the vegetables will require additional cooking if you chose this method so either roast them for 20 minutes before adding the chicken, or continue roasting while chicken rests. Either way the vegetables will take about 20 minutes or so longer than the chicken to cook.
---
For the Brine
1

whole 5 -7 pound roasting chicken

2 quarts

of water

½ cup

brown sugar

½ cup

kosher salt

12

black peppercorns

1

whole bunch of fresh thyme

4

whole unpeeled garlic cloves, smashed

2 quarts

ice
For the Spice Rub
2 teaspoons

salt

½ teaspoon

black pepper

2 teaspoons

dried thyme

2 teaspoons

dried sage

1 tablespoon

paprika

1 teaspoon

garlic powder

¼ teaspoon

onion powder
Pinch of cayenne
For the Stock
chicken scraps (back, wings, neck)

5

chicken feet (optional)

½

medium onion

2

celery stalks, left whole

3

medium carrots, cut in half

2 quarts

cold water

5

back peppercorns

2

garlic cloves, smashed

½

bunch parsley stems

1 teaspoon

salt
Other Ingredients
2

pounds carrots, peeled and cut into bite sized pieces

1

pound onions, cut in wedges

1 ½

pounds medium-sized new red potatoes, peels on and cut in quarters

2

stalks celery, cut into

2

inch pieces

½

stick plus 3 tablespoons butter, divided

2 ounces

flour

4 ounces

sour cream (

½ cup

)

½ teaspoon

gravy flavor color (such as Kitchen Bouquet)
Pinch of dried thyme
Salt and pepper to taste
---
Instructions
The day prior to serving, remove the gizzard bag from the chicken and save the neck but discard the organs. With a pair of kitchen shears, cut out the back bone of the chicken and reserve. With a sharp boning knife, cut off each leg quarter and separate the leg from the thigh. Do this for both sides. Remove keel bone that separates the two breast halves and set aside with back and neck. Remove each whole wing and set aside with back, neck and keel bone. Cut each breast half in half again so you end up with eight pieces. (Place chicken scraps in the refrigerator overnight)
In a 4 quart stock pot place water, brown sugar, salt, peppercorns, thyme and garlic and bring to a boil. Boil for 5 minutes and remove from heat to cool. (If you place your pot in a sink full of ice water, it will cool quickly). Add ice to cooled brine and combine iced brine and chicken parts in a large container (large enough to hold everything and the chicken should be covered with the brine). Place in the refrigerator overnight.
Combine spices for spice rub, seal in a zip lock bag and set aside for later.
Four hours before you want to serve, or the day before, place chicken scraps in a 6 quart stock pot along with optional chicken feet, onion, celery, carrots, cold water, peppercorns, garlic parsley and salt. Slowly bring to a boil, skim off any foam that floats to the top, reduce to a simmer and simmer for three hours. Discard solids and return stock to pot.
Add carrots, onions, new red potatoes and celery to stock. Bring to a boil then simmer covered 20 minutes. It is OK if the stock does not cover the vegetables.
Preheat oven to 425 degrees.
Strain out vegetables and place in a roasting pan around the outside edge of the pan. Reserve the stock for the country gravy.
Remove chicken from the brine, rinse and place on a cutting board. Discard the brine. Pat chicken dry with paper towels.
Melt the three tablespoons of butter and brush over chicken (skin side up). Take reserved spice rub and sprinkle all over top of chicken pieces.
Place legs and thighs in center of roasting pan and roast with vegetables uncovered for 30 minutes. Remove from oven and add breast portions and return to oven and cook for 30-45 minutes or until a probe thermometer inserted into the thickest part of the breast reaches 140 degrees.
Turn the oven to broil and broil for about 5 minutes to crisp up skin.
Remove chicken to platter and let rest for 15 minutes with a sheet of foil loosely covering the top.
Reheat oven back to 425 degrees.
Spread vegetables out flat in the roasting pan and return to oven to brown (10-15 minutes).
While the vegetables are browning, heat the stock back up to a low boil (there should be about one pint (2 cups) of stock). Melt the ½ stick of butter in a 2 quart sauce pan and add flour. Cook over medium heat for 3-5 minutes or until raw flour smell is gone. Add stock to butter/four mixture one third at a time whipping each time. Once all stock is in, add sour cream, gravy color, thyme and salt and pepper to taste. Reserve the gravy for serving.
If vegetables need more browning, broil for a few minutes.
To serve, place chicken portion on the plate with roasted vegetables and potatoes and serve country gravy on the side.
---
You may also like:
Perdue's Favorite Sweet and Smoky Chicken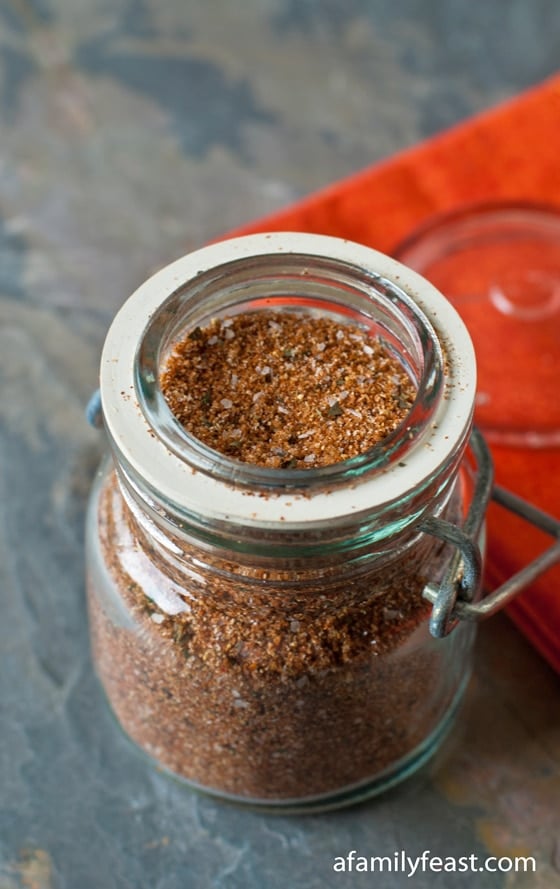 Bourbon Spice Barbecue Chicken Wings