This Marinated Grilled Chicken cooks up super juicy and delicious, and we're sharing our 'secret' marinade recipe with you today!
This Marinated Grilled Chicken recipe has been one of my long-standing, favorite ways to prepare boneless, skinless chicken.
Way back when – long before I met my husband Jack – I'd make this grilled chicken recipe just about every time I had friends or family over for dinner. It's easy to make, very delicious, and you can serve the grilled chicken breasts hot off the grill. Or, you can grill the chicken in advance, then slice and serve warm or chilled for buffets, sandwiches or salads.
This is one of those recipes that is so good, everyone always asks me to share it with them – and now we're sharing it with all of you today!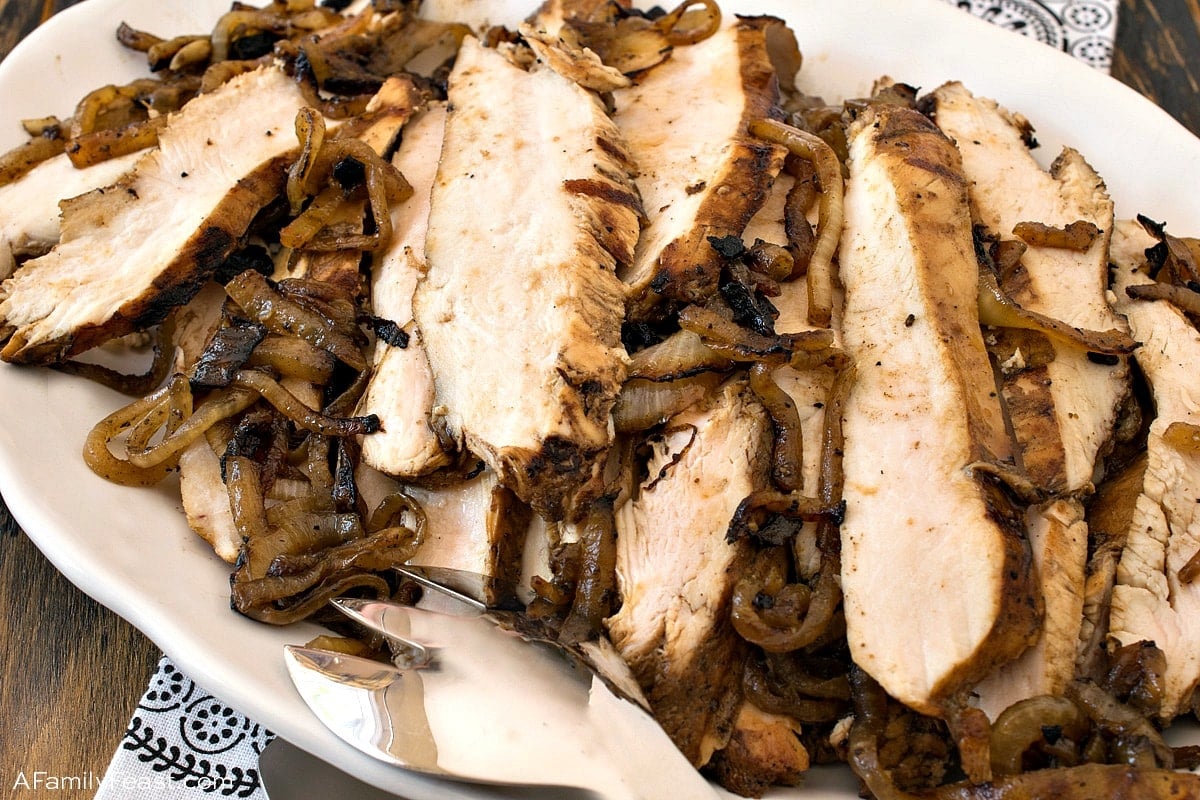 How do you make this easy Marinated Grilled Chicken?
This Marinated Grilled Chicken has a 'secret' ingredient. 😉 You'll simply mix a packet of Good Seasons Italian Salad Dressing & Recipe Mix
with with soy sauce, balsamic vinegar, oil, sliced onions and garlic.
Marinate the chicken, then grill it up – and the results are moist and delicious chicken with a wonderful, caramelized color and amazing flavor!
We also strained the onions and garlic used in the marinade, then sauteed those up in a pan until tender and caramelized. Then we served them with our grilled chicken.
How long should I let my chicken marinate?
In the recipe below, we marinate the chicken overnight in the refrigerator for the best flavor and results. But if time is tight, a general rule of thumb is that you'll want to marinate the chicken before grilling for at least six hours to give the meat a chance to absorb the flavor.
And never marinate chicken for more than two days, according to the USDA Food Safety and Inspection Service.
How do you keep this Marinated Grilled Chicken moist when grilling?
One of the best ways to ensure that your Marinated Grilled Chicken stays nice and moist when grilling is to use an instant-read food thermometer to check when your grilled chicken is done. Stick the probe thermometer into the thickest part of the meat, and remove your chicken breasts from the grill when the temperature reaches 160 degrees. Cover your chicken with foil while it rests – the internal temperature of the chicken will continue to rise a bit and it should reach an internal temperature of 165°F which is the USDA's minimum safe internal temperature for chicken. (If you cook the chicken longer and the internal temperature rises, it will dry out.)
Also, chicken breasts that are uniform in thickness cook more evenly so you avoid over-cooking the edges while the inside of the breast needs more time to cook. If your chicken breasts are very large or thick, butterfly them to achieve an even thickness.
Can I use this marinade with other meats?
Absolutely! This same marinade can used to marinate steak tips – and I also add about a quarter cup of brown sugar to the mix when using this recipe with beef. (It adds a nice caramelized sweetness to the grilled steak tips.)
This Marinated Grilled Chicken is a great way to feed a crowd this summer. And any leftovers are perfect in other recipes that call for cooked boneless, chicken breast meat.
This post originally appeared on A Family Feast in May 2013. We've updated the post and photos.
You may also like these other Grilled Chicken Recipes:
Print
Marinated Grilled Chicken
Author:

Prep Time:

8 hours

Cook Time:

20 mins

Total Time:

8 hours 20 minutes

Yield:

4-8 servings

Category:

chicken

Method:

grilled

Cuisine:

American
---
Description
This recipe makes enough to marinate up to 8 chicken breast halves.
---
4

–

8

boneless, skinless chicken breast halves

1

large onion, thinly sliced

4

large cloves of garlic, smashed

1/3 cup

oil (your choice – canola, vegetable, olive)

1/3 cup

soy sauce

1/3 cup

balsamic vinegar

1

package Good Seasons Italian Dressing Mix
---
Instructions
Trim all fat from the boneless, skinless chicken breasts. You may also want to 'butterfly' (see instructions here) the breasts if they are very thick so that they cook evenly on the grill. Place the trimmed chicken pieces in a large zipper seal bag.
Add the sliced onion, smashed garlic cloves, oil, soy sauce, vinegar and Good Seasons pack to the bag with the chicken. Seal the back tightly, removing as much of the excess air from the bag as possible.
Gently squeeze all of the contents of the bag so that the ingredients mix together and all of the chicken is coated. Place the bag in a large bowl or on a plate (in case the bag leaks) and place in the refrigerator.
Allow the chicken to marinate in the refrigerator overnight – or for a minimum of 6 hours.
When ready to cook, preheat your grill. Remove the chicken from the marinade and grill the chicken until cooked through – 10-20 minutes depending on the temperature of your grill.
If you wish, you may drain the onions and garlic from the marinade and sauté until caramelized.
Keywords: marinated grilled chicken