We made this Grilled Marinated Chicken with Tropical Salsa from Target Grocery Essentials as part of a sponsored post for Socialstars. #TargetCrowd
Every year at the beginning of June, we host "Emma's Big Play Date" – a fun backyard picnic for our 8-year-old daughter Emma and all of her friends! This big play date started four years ago (it was all Emma's idea originally!) and the party has been so much fun to host and attend that it is now an annual tradition!
At the party, my husband Jack and I always like to serve food that both kids as well as their parents will love – and a simple grilled chicken has been on the menu each year. But this year – we wanted to change things up a bit – so we're serving this fantastic Grilled Marinated Chicken with Tropical Salsa!
We found everything we need to prepare for our summer kids' party at Target – and it's so convenient to find it all in one place. I love shopping at Target because I know I'm going to find great products at great prices.
This Grilled Marinated Chicken with Tropical Salsa starts by marinating boneless skinless chicken breasts in a simple but super flavorful mixture of canned coconut milk, ginger ale, soy sauce, fish sauce, Thai red curry paste, cilantro and fresh ginger. (You want to do this step the night before your party.)
The next day, dice up some fresh pineapple, mangos, sweet red bell pepper, jalapeno, red onion and fresh cilantro. Then mix it up with the juice of lemons and limes and some freshly ground ginger. (I have to tell you – this tropical salsa is incredible!)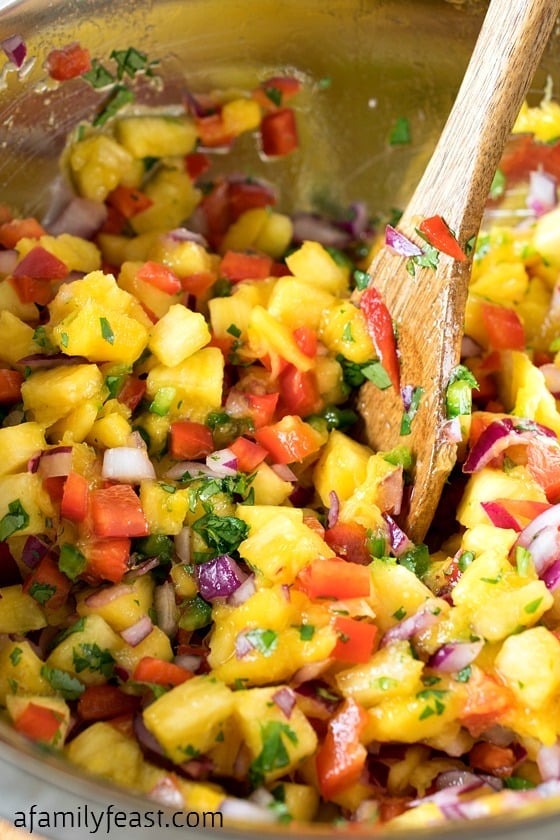 Once you've grilled the marinated chicken, spoon a generous amount of the tropical salsa over the top and serve.  The chicken comes out juicy and tender with fantastic flavor and the salsa is so good – your guests will be asking for seconds! (We served it with Archer Farm's Cilantro Lime Rice.)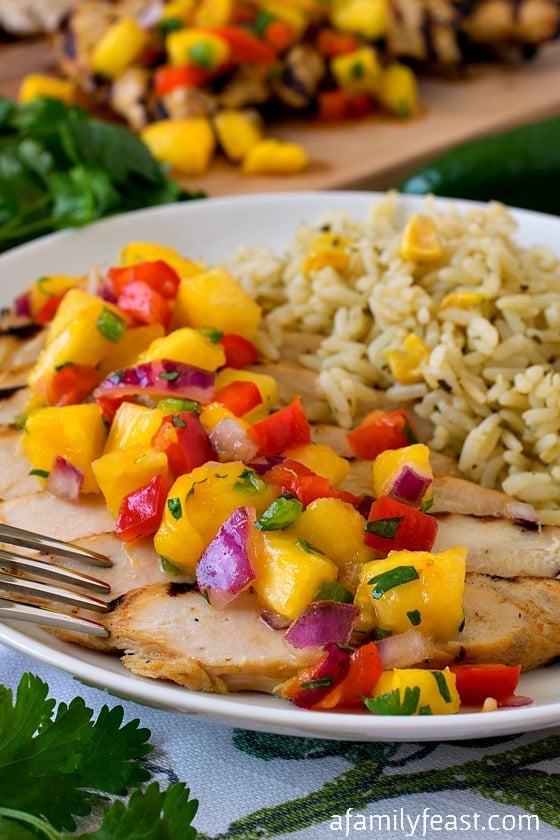 So whether you're hosting a summer party like us, or just looking for a delicious family meal – this Grilled Marinated Chicken with Tropical Salsa is sure to become a favorite!
For more information about Target Grocery Essentials, click here. And if you are looking for even more summer entertaining recipe inspiration, Target has you covered there too – see their recipe collection right here.
Print
Grilled Marinated Chicken with Tropical Salsa
Prep Time:

12 hours 30 mins

Cook Time:

10 mins

Total Time:

12 hours 40 minutes

Yield:

6-8 servings
---
Description
Note: Red curry paste is flavorful but not hot and spicy. Although this dish has Thai influence, it is not a hot and spicy dish. The coconut milk acts as the fat and the ginger ale acts as the acid (two key ingredients in a marinade)
---
For the Marinade
1

13.5-ounce can coconut milk

1

12-ounce can cold refrigerated ginger ale

3 tablespoons

fish sauce

3 tablespoons

soy sauce

3 tablespoons

Thai red curry paste

1 ounce

fresh cilantro left whole on stems

1 ounce

fresh ginger sliced

2

to

2 ½

pounds boneless skinless chicken breasts
For the Salsa
½

fresh pineapple, cored, cleaned and cut ½ inch dice, about

2 cups

1

whole fresh mango, stone removed, skinned and cut ½ inch dice, about

1 cup

1

whole sweet red bell pepper stemmed and seeded, cut ½ inch dice, about

1 cup

3 tablespoons

minced fresh jalapeno

½

red onion, small dice, about

1 cup

2 tablespoons

fresh cilantro, chopped
Juice from

two

fresh limes, about

¼ cup

Juice from

half a

lemon, about

2 tablespoons

1 teaspoon

kosher salt

¼ teaspoon

fresh ginger finely grated
Vegetable or canola oil for grill
---
Instructions
The night before serving prepare the marinade as follows: Note – The can of coconut milk separates in the can. Open upside down so the fat will be at the bottom and the liquid at the top. This makes it easier to remove from the can. Place the contents into a sauce pan and heat and stir until fat has melted and the coconut milk is blended. Pour this into a medium bowl.
Add cold ginger ale, fish sauce, soy sauce and red curry paste. Stir in cilantro and ginger. If the mixture is warmer than room temperature, allow to cool while you prepare the chicken. Stir with a whip occasionally so that the coconut fat does not congeal in the liquid.
Butterfly the chicken breasts. (Lay breasts flat with side that had skin down. Run a sharp knife horizontally from center out to almost the edge through the fatter part of the breast. Once done, the breast should be all the same thickness so it grills evenly).
Place chicken and marinade in a gallon zip lock bag and marinate refrigerated overnight.
The day of service mix all salsa ingredients as close to serving as possible. Once you put the salt in, the fruit will start to give up liquid so either leave the salt out until just before serving or prep the ingredients ahead and combine just before you are ready to grill. Once the fruit is cut, it does start to weep, salt or no salt, the closer to serving the better.
Heat grill to high on one side and medium on the other.
Remove chicken from bag and discard marinade. Lay out breasts on paper towels and pat dry.
Place on a platter or pan and generously coat both sides with oil. (always oil your food and not the grill)
At this point, this is where I made my salsa.
Place breasts on hot side and sear about 1 ½ to 2 minutes. Turn and sear on the other side. Move to the cooler side, close grill cover and cook a few more minutes until no longer pink. (use a small knife to slice open and check the thickest piece).
Transfer to a clean platter and serve with the salsa.
---