Grilled Basil Garlic Chicken combines a few simple ingredients into one fantastic, flavorful meal!
Today's recipe for Grilled Basil Garlic Chicken Breasts is one of our go-to recipes for summer grilling. Skin-on chicken breasts cook up super tender and juicy on the grill, and a generous amount of garlic and basil give this skin-on chicken really fantastic flavor!
How do you make Grilled Basil Garlic Chicken Breasts?
You'll start by making a very flavorful wet rub of minced garlic, salt, chopped fresh basil, and extra virgin olive oil. My husband Jack likes to mash the garlic and salt together first with a mortar and pestle to get the most garlic flavor out as possible, but you can also just stir the ingredients together.
Next, slather the garlic mixture all over skin-on boneless chicken breasts, then gently place the chicken in a zipper seal bag and allow it to marinate for at least four hours (or you can marinate it overnight – up to 12 hours). Then fire up the grill!
Before grilling, we wiped off the excess marinade – mostly so the little bits of garlic and chopped basil don't burn while the chicken breasts cook over the high heat. We seared the chicken skin-side down, then moved the chicken to the cooler side of the grill to finish cooking through.
The skin on these Grilled Basil Garlic Chicken Breasts really helps keep the chicken super moist as it grills.  The simple coating of garlic, basil, and extra virgin olive oil adds a ton of flavor to this dish, and the skins crisps up to a wonderful golden color. Even if you choose not to eat the skin, leave it on while you grill this chicken to ensure that it stays moist and delicious!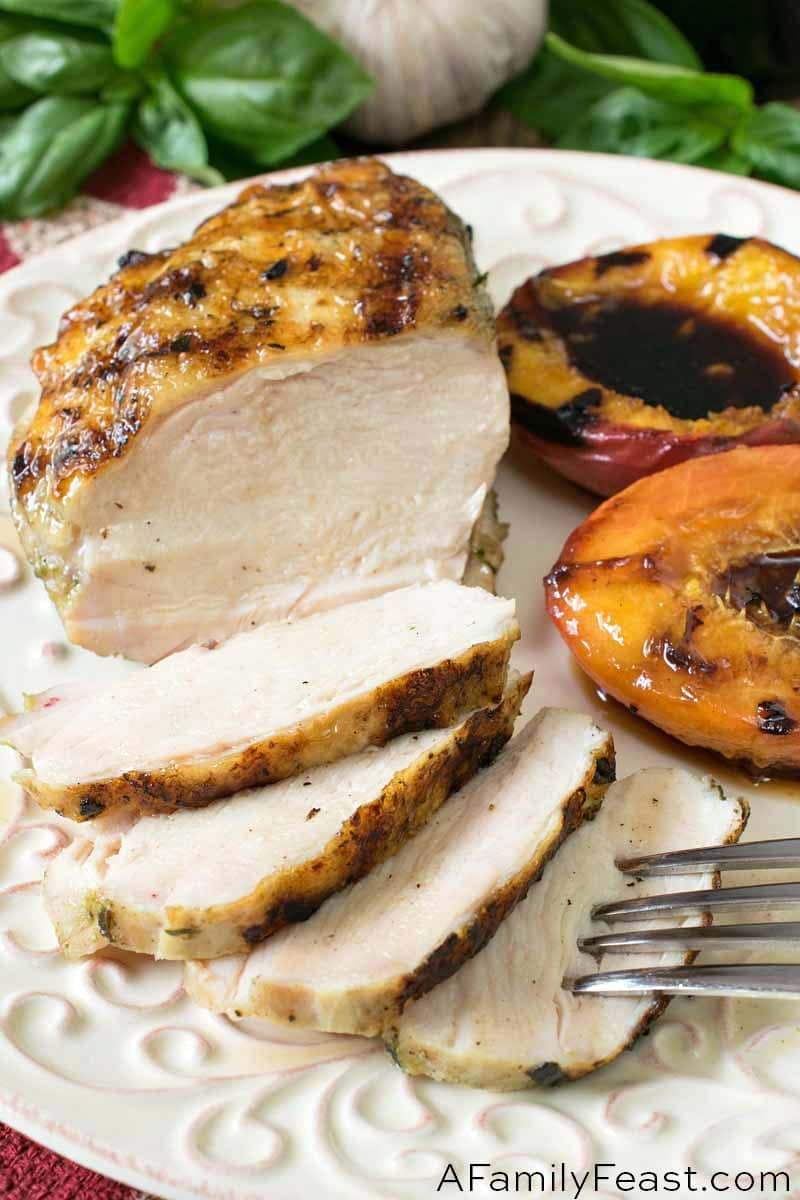 Can I use other cuts of chicken in this recipe?
We strongly recommend using skin-on, boneless chicken breasts for this recipe as it will give you the best flavor and the juiciest cooked chicken in the end.  (Unless you are very careful, skinless, boneless chicken breasts can to dry out on the grill.)
If finding boneless, skin-on chicken breasts at the local supermarket is a challenge – buy skin-on, bone-in chicken breasts – then simply remove the bone. With a sharp small knife such as a boning knife, run the blade along the rib cage to separate the breast from the bone. (You can freeze the bones for the next time you make homemade chicken stock.)
This garlic-basil marinade also work really well with bone-in thighs, chicken legs or chicken wings.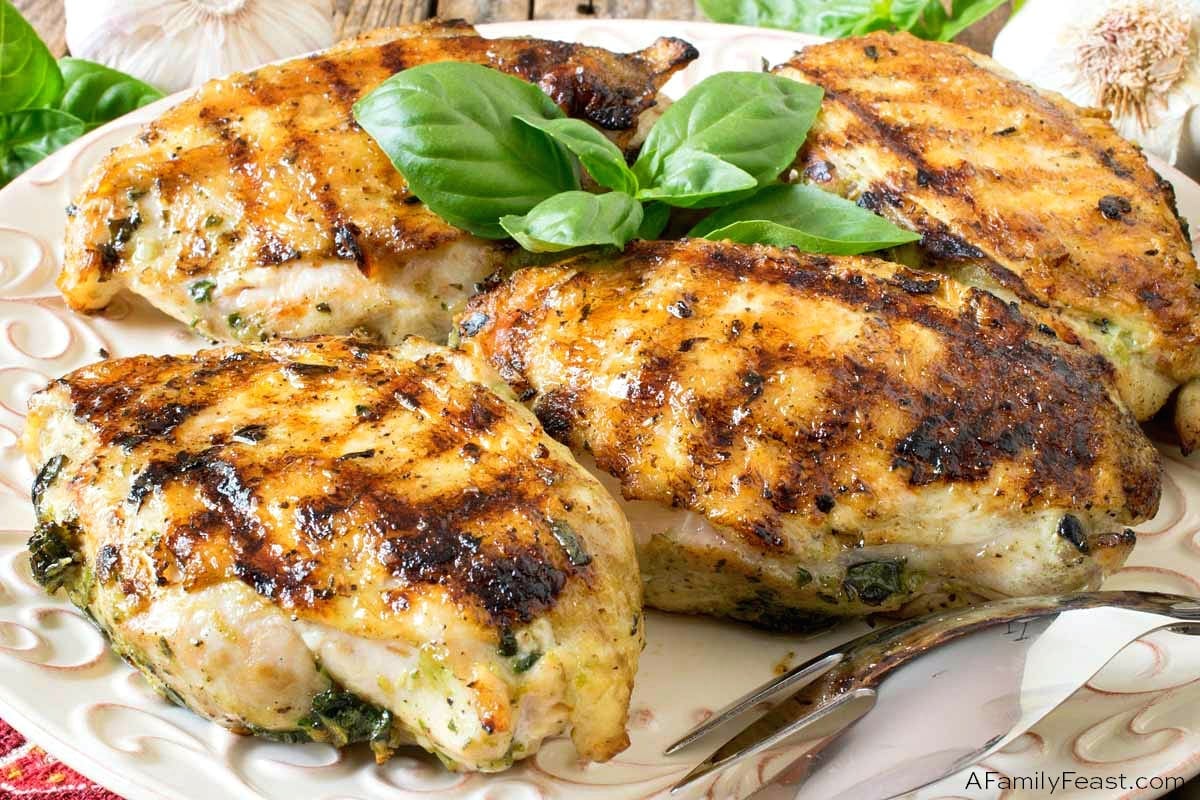 What do I serve with Grilled Basil Garlic Chicken Breasts?
We think the perfect accompaniment to this recipe is our Grilled Balsamic Peaches. While the grill is hot – just grill the peaches too!
Some roasted asparagus or a side salad of fresh greens would be delicious too!
Grilled Basil Garlic Chicken Breasts are great for a weeknight family meal, but it's also delicious and impressive enough to serve for a summer dinner party as well.  Enjoy!
This recipe was originally published on A Family Feast in July 2013. We've updated the photos and post, but the recipe remains the same.
Print
Grilled Basil Garlic Chicken Breasts
Prep Time:

15 mins

Cook Time:

30 mins

Total Time:

45 minutes

Yield:

4 servings
---
4 large boneless skin-on chicken breast halves (10–12 ounces each)
3 tablespoons finely minced garlic
1 teaspoon kosher salt
½ cup chopped fresh basil
¼ cup extra virgin olive oil
Olive oil, salt and freshly ground black pepper for skin
---
Instructions
In a small bowl, mix garlic, 1 teaspoon of the salt, basil and the oil. Add additional oil if necessary. (I found a mortar and pestle to work best. Adding the salt to the garlic will help mash the garlic to a paste. Then just add basil and oil and use the pestle to finish)
Smear the mixture on both sides of the chicken breasts being careful to leave the skins intact.
Gently place the breasts into a gallon zip lock bag and marinate refrigerated for four hours and up to 12 hours.
When ready to grill, remove from the bag and wipe just the skin side free of the marinade. Then brush on olive oil, and sprinkle on salt and pepper (wiping the skin side helps the skin to brown without burned basil pieces).
Over a medium fire, place chicken skin side down to crisp skin, about 8-10 minutes, turning 90 degrees half way through to get cross hatch marks.
Once the skin is crisp, flip each piece over and move to a cool side of your grill and cook for 8-10  minutes with the cover closed. Try to maintain an internal grill temperature of 425 degrees F. by adjusting burners on or off to keep to that temperature.
Remove chicken when the internal temperature reaches 155 degrees F. using a probe thermometer.
Cover loosely with foil allow to rest for 5 minutes before serving. The internal temperature will rise above 160 degrees F. as they rest.
Serve either whole or sliced for your family or guests with our Grilled Balsamic Peaches.
---