Get ready to enjoy the best Caesar Salad with Grilled Caesar Chicken ever! And you won't believe how easy it is to make either!
My husband Jack and I debated whether or not to post this recipe for our Caesar Salad with Grilled Caesar Chicken – because really, it's so simple, it can hardly be called a recipe!  But every time we serve this Caesar Salad with Grilled Caesar Chicken, or even if we just serve the Grilled Caesar Chicken on its own, we get asked for the recipe.
Are you ready to learn our 'secret' recipe?!?
Here it is…
Yes – that's right…the marinade for the Grilled Caesar Chicken, and the dressing for the Caesar Salad are just a combination of two brands of Caesar salad dressings you can find on just about any  grocery store shelf:
Both are excellent salad dressings on their own – but combined – they are a fabulous combination of flavors!
And used as a marinade for the chicken before grilling, the chicken comes out incredibly moist, super flavorful and so tender, you can cut it with a fork!
Now – if you've been following A Family Feast for a while, then you know that Jack and I cook mostly from scratch, and we even have our own homemade Caesar dressing recipe here.  But there is nothing at all wrong with taking a shortcut now and then, especially when a Caesar Salad with Grilled Caesar Chicken tastes as good as this one! (Jack made this meal for me back when we were first dating, and it has been on regular rotation at our house anytime we want a quick and delicious meal.)
But, in order to ease our guilt about combining two bottled salad dressings and passing that off as a recipe, we have also included a recipe for homemade croutons which brings this delicious salad to a whole new delicious level! (You can also use store bought croutons if you prefer.)
We hope you enjoy Caesar Salad with Grilled Caesar Chicken as much as we do – and the secret behind your new recipe is safe with us! 😉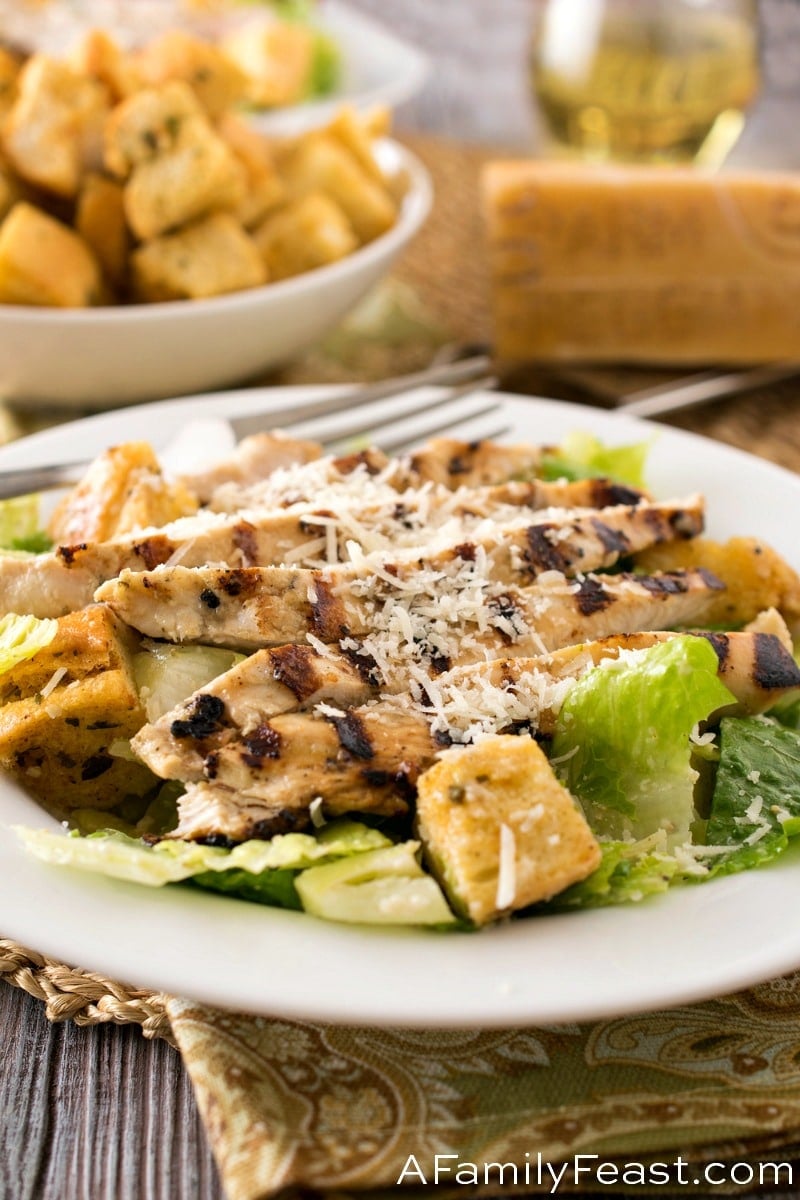 This post was originally posted in December 2012. We've updated the photos.
You may also like these other salad recipes:
Disclosure: This post contains affiliate links.


Print
Caesar Salad with Grilled Caesar Chicken
Author:

Prep Time:

15 mins

Cook Time:

10 mins

Total Time:

25 minutes

Yield:

2 servings

Category:

salad

Method:

grilled

Cuisine:

Italian
---
For the marinated chicken
Note: Both dressings together should be 1½ cups, or more to coat chicken
For the croutons
1

baguette cut into 1" cubes (or for a different flavor crouton,

1

loaf of unsliced marble – rye and pumpernickel – bread)

1

stick of butter, melted

1 teaspoon

garlic powder

1 teaspoon

paprika

1 teaspoon

dry parsley flakes
For the salad:
---
Instructions
To Marinate the Chicken:
Trim any visible fat from the chicken.
Note: Chicken breasts cook better if they are the same thickness all the way through. We slightly butterfly the breasts by opening up the thickest part and folding it open. The finished breast should be all one piece roughly the same thickness. This step is optional however it assures even cooking.
In a large plastic zip lock bag, place chicken breasts and the cup and a half of the dressings. Zip the bag and with your hands, work the dressing into all sides of the breasts.
Place the bag in the refrigerator and marinate for at least four hours or overnight.
To Prepare the Croutons*:
Preheat oven to 350 degrees.
Place diced baguette (or marble bread if you prefer) in a large bowl and toss with melted butter, garlic powder, paprika and parsley flakes until well coated.
Pour coated croutons onto a sheet pan and bake for 20 minutes, turning halfway through.
Cool completely and store in a zip lock bag until ready to use.
To Grill the Chicken:
Heat a ribbed grill pan on your stovetop or heat an outdoor grill (preferred) until very hot.
Remove chicken from the marinade (discard the marinade – do not use for dressing the salad) and grill 3-5 minutes on both sides. If they are not done, move to a cooler part of the grill so they don't burn, or turn flame down if you are using your stove top, and continue to cook until done.
Helpful hint: Use the poke test to test for doneness: Poke in thickest part of the breast with your finger. If it bounces back it is done.
Cover chicken loosely with foil and let rest for five minutes.
To Prepare the Salad:
In a large bowl, toss romaine leaves with 2-3 tablespoons of the mixed dressings, croutons and the grated Parmesan.
Cut rested chicken into one inch strips, cutting on the bias to get wide, meaty slices.
Place romaine mixture in a serving bowl or plate and lay sliced chicken over top and serve.
Helpful hint: Shredding or shaving additional Parmesan cheese over the top of the salad before serving makes for a nice presentation.
---
Notes
*Note: This recipe makes enough croutons for several servings. Any leftovers will store well at room temperature for later use – not to mention they are delicious to munch on!
Keywords: Caesar salad, grilled chicken