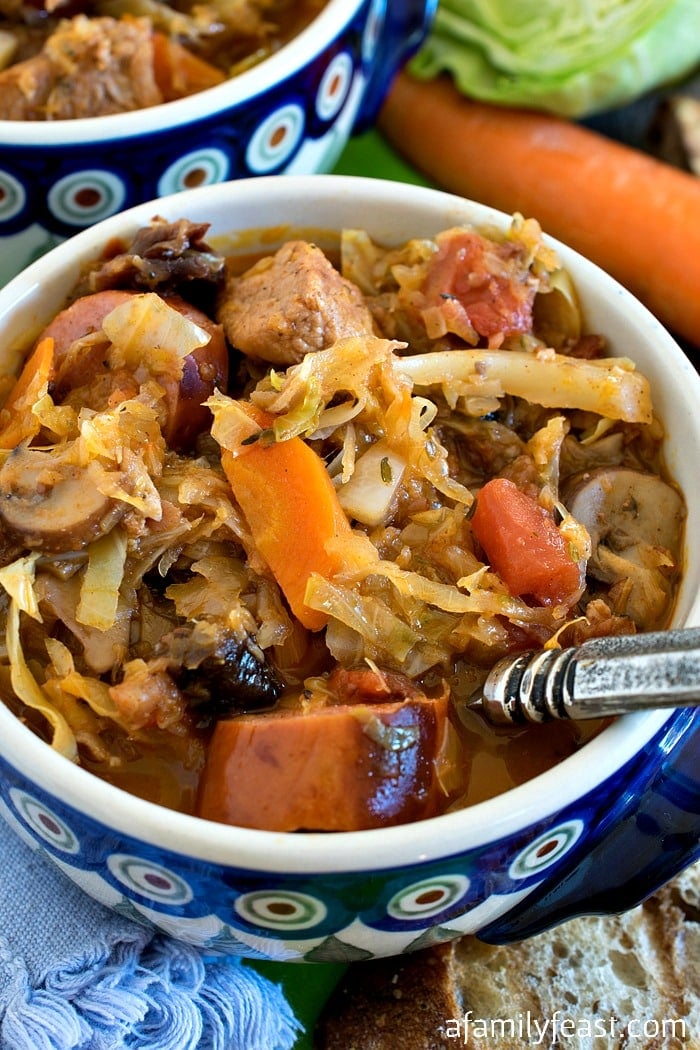 Bigos is a traditional Polish dish made with a variety of meats that have been cut into bite-sized pieces and stewed with sauerkraut and cabbage. Also sometimes called "Hunter's Stew" – this delicious, hearty meal can be made with just about any sort of meat including pork, poultry, beef, or game, plus a variety of vegetables.
There are many recipes for Bigos – and really you can use any ingredients you have on hand. Our recipe today is made with chunks of pork, kielbasa, and bacon, plus onions, carrots, mushrooms, tomatoes and (of course) sauerkraut and cabbage.
Bigos has a wonderful smoky flavor that complements and balances the zesty bite of the sauerkraut in this soup. A  blend of seasonings including paprika, allspice, caraway seeds, thyme, marjoram and bay leaf add a wonderful depth to the broth in this soup.
As you work your way through your bowl of Bigos, you might also be surprised to find some chunks of pitted prunes in and among the meat and vegetables! The rich, sweet prunes  are another great contrasting flavor and texture in this dish – and it will keep you coming back for more!
Like most Polish family recipes, this Bigos recipe feeds a crowd and it is often served for the holidays at Christmas and Easter with some rye bread on the side. Feel free to cut the recipe back if you'd like – but Bigos will keep just fine for several days in the refrigerator. We also think it tastes even better when reheated and the flavors have a chance to meld together.
Print
Bigos (Polish Hunter's Stew)
Prep Time:

1 hour

Cook Time:

2 hours

Total Time:

3 hours

Yield:

10-12 servings
---
2 tablespoons

extra virgin olive oil

1

pound pork stew meat (best from a pork butt)

1

pound good quality kielbasa, quartered (it gets sliced at the end of the cooking process)

¼

pound thick cut bacon, cut into half inch strips

3 cups

yellow onion, diced (about

one

very large onion)

2 cups

carrots cut into half circle slices, about

½

pound

1

pound baby bella mushrooms (cremini) sliced

3 tablespoons

fresh garlic, chopped

6 cups

shredded cabbage (about

one

small head)

1 cup

red wine, such as Burgundy or merlot

3

14.4-ounce cans sauerkraut, drained

1

14.5-ounce can diced tomatoes in juice

1 quart

beef broth

1½ teaspoon

dry thyme

1½ teaspoon

dry marjoram

1 teaspoon

allspice

1

bay leaf

2 tablespoons

paprika

1/8 teaspoon

teaspoon cayenne pepper

1 teaspoon

caraway seeds

½ teaspoon

kosher salt

½ teaspoon

freshly ground black pepper

1 cup

pitted prunes, quartered
Rye bread for serving
---
Instructions
In a large 5 – 6 quart Dutch oven, heat oil over high.
Pat the pork stew meat dry and fry half to sear both sides, about 4-5 minutes per batch. Remove to a bowl and reduce temperature of pot to medium high.
Add the four Kielbasa quarters and brown all sides, about five minutes. Remove to the same bowl.
Add bacon and onions and sauté for three minutes. You do not want the bacon crisp.
Add the carrots and sauté two minutes.
Add the mushrooms and garlic and sauté two minutes.
Add the cabbage and cook two minutes.
Add the wine and scrape up brown bits from the bottom, if any.
Add the drained sauerkraut, canned tomatoes, beef broth, thyme, marjoram, allspice, bay leaf, paprika and cayenne pepper.
In a mortar and pestle, place caraway seeds with the salt and pepper and crush until the seeds are fine, then add to the mixture.
Add the seared pork and Kielbasa.
Raise the heat to high then once bubbling, reduce to low and cook partially covered for 90 minutes, stirring occasionally to make sure it doesn't stick.
Remove four whole pieces of Kielbasa to your cutting board.
Remove and discard bay leaf.
Add the prunes and simmer ten minutes.
Slice the kielbasa into bite sized slices and add back to pot and serve in bowls with the rye bread.
Store leftovers in the refrigerator. Great reheated the next day.
---
Disclosure: This post contains affiliate links.
You may also like: