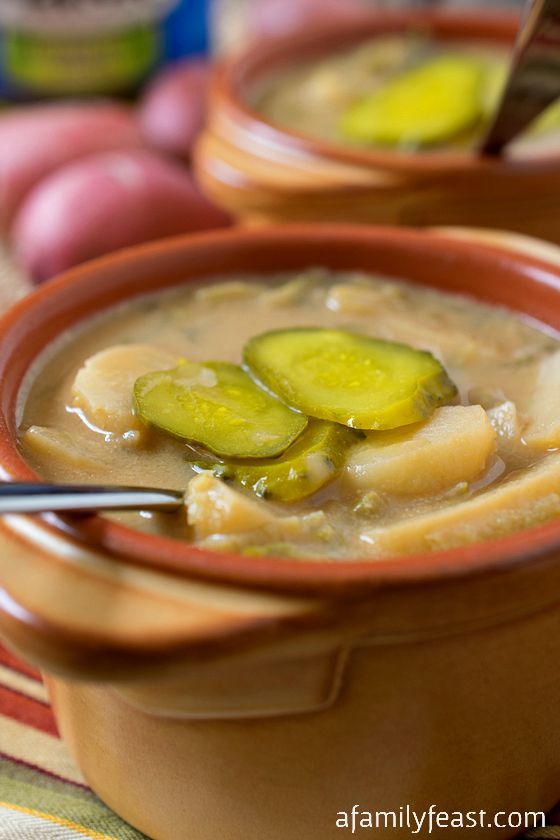 This Polish Dill Pickle Soup will likely stand out as one of the most 'unusual' recipes we share here on A Family Feast – but I tell you – it's also one of the most addictively delicious too!
As you can tell from the title of the recipe, this is another Polish family classic – and this particular dill pickle soup recipes comes from an old, very traditional Polish cookbook that was once my grandmother's.
In Poland and other Eastern European countries, pickling is a common method used to preserve vegetables, fruits, eggs and even meats. So a dill pickle soup may sound unusual by standards here in the United States, but it's actually very common elsewhere in the world.
And thank goodness – because this soup is incredible – especially if you are a dill pickle fan!
We stayed completely true to the dill pickle soup recipe from the cookbook – a few simple ingredients, cooked simply – just as it would have been back in the day when my grandmother was alive. (It also only takes about 30 minutes to prepare!)  We were tempted to update the recipe a bit by adding some carrots and fresh dill (which would be delicious additions!) – but after one taste of this Polish Dill Pickle Soup – it was absolutely perfect as is!
I should point out that this recipe made a fairly large quantity, so feel free to cut the recipe in half.
Adapted from The Art of Polish Cooking  (Affiliate Link)
Print
Polish Dill Pickle Soup
Prep Time:

15 mins

Cook Time:

15 mins

Total Time:

30 minutes

Yield:

8-10 servings
---
4 cups

beef broth

2 cups

vegetable broth

1½

pounds new red potatoes, peeled and sliced into bite-sized slices

2 tablespoons

butter

3 tablespoons

all-purpose flour

1 cup

whole milk

2

egg yolks

2 cups

shredded dill pickles (shred on large holes of a grater)

2/3 cup

pickle liquid
---
Instructions
In a medium to large pot, heat both broths and add potatoes. Cook until potatoes are just about tender and remove to a bowl using a spider or strainer. Set potatoes aside but keep broth hot.
In a larger pot, melt butter over medium heat and add flour. Cook for three minutes.
Add hot broth one third at a time, whipping each third to combine.
In a medium bowl, mix milk with egg yolks to combine. Temper this egg mixture by adding ladles full of broth into the egg mixture, whipping each time until the egg mixture is hot, then add back into the pot.
Add pickles, cooked potatoes and pickle juice and heat just to serving temperature but do not boil.
Garnish with uncooked pickle slices, optional.
---
You may also like: