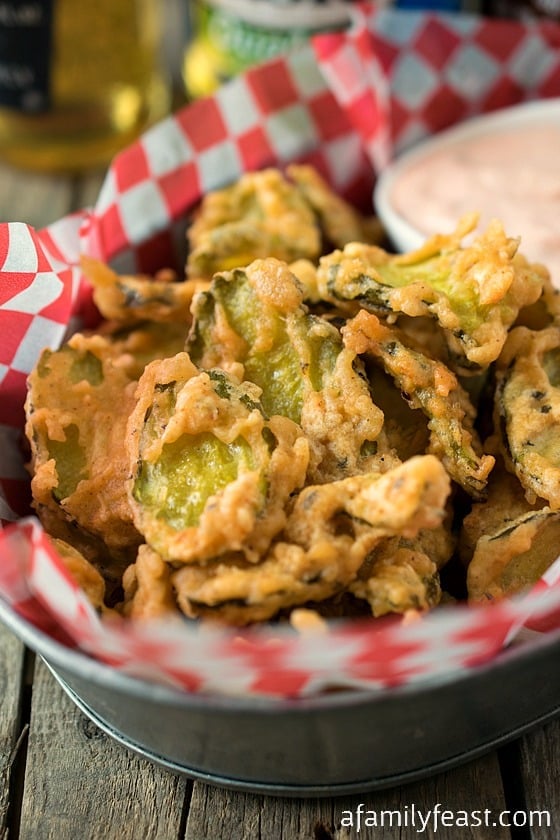 Here in Massachusetts – particularly in the Boston area – many people (including my husband Jack) use the term "wicked" in place of the word "very" to describe something. For example: "That movie was wicked awesome!" or "That kid is wicked smart!" (And to get the full effect, picture this in your mind, all said with a strong Boston accent!)
Even the Massachusetts Department of Transportation has a "wicked good" sense of humor as you can see here:

Photo courtesy of http://www.massholesports.com/
So in the tourist town where we live (about an hour south of Boston) a local pub and restaurant gets in on the fun by serving an addictively good appetizer called "Wicked Pickles!"
Wicked Pickles are spicy, battered and deep fried dill pickle slices served with a creamy, spicy dipping sauce. Every bite is zesty, salty, briny, a little sweet, and crunchy with a dill after bite – and they are wicked good! (Sorry – I couldn't resist!) 😉
Inspired by that local restaurant, we decided to try making our own version of Wicked Pickles at home – and we're sharing our recipe with you today!  Enjoy!
Print
Wicked Pickles
Prep Time:

10 mins

Cook Time:

5 mins

Total Time:

15 minutes

Yield:

4 servings
---
Description
Wicked easy and delicious!
---
For The Dip
¼ cup

mayonnaise

¼ cup

sour cream or Greek yogurt (whichever you have on hand)

1 tablespoon

Catalina dressing (ketchup is fine as a substitute)

2 teaspoons

prepared horseradish

2 tablespoons

sweet pepper relish

2 tablespoons

buttermilk

¼ teaspoon

paprika

1/8 teaspoon

cayenne

¼ teaspoon

Srirarcha (liquid sriracha or dry Sriracha spice powder)
For the Batter
1 ½ cups

flour

1 teaspoon

dry basil

1 teaspoon

kosher salt

1 teaspoon

hot Mexican chili powder

2 teaspoons

granulated sugar

1 teaspoon

garlic powder

½ teaspoon

hot paprika

1 ½ cups

beer (we used Corona but any mild beer will work)
To Prep the Pickles
1

16-ounce jar of dill pickle slices (we used Vlasic Ovals for a wider surface), drained and patted dry on paper towels

½ cup

flour to dust pickles in prior to placing in batter
Vegetable for frying
---
Instructions
Mix all dip ingredients and hold.
Mix all batter ingredients, ending with beer. Batter should be like a light pancake batter.
Lay out half cup of flour in a plate or bowl and toss dried pickle chips to coat.
Heat oil in a heavy bottomed pan to 350 degrees using a candy thermometer.
Dip one pickle chip from flour into batter and drop in hot oil. It should cook up like tempura. You want a light coating that crisps up with some of the pickle showing. Cook to crisp and remove to a paper towel (about 2 – 2 ½ minutes). Taste pickle and adjust batter based on how spicy you like the batter. Also add more flour or beer to get a perfect tempura type batter.
Fry in two batches and serve with sauce on the side.
---
You may also like:
Zesty Salmon Burgers with Dill Spread