This post is sponsored by Farmer's Garden® by Vlasic®. All opinions are 100% mine.
My husband Jack and I are huge fans of pickles, and at any given time, we have several jars in the refrigerator! Our newest favorite are Farmer's Garden® pickles by Vlasic® – artisanal-quality, premium pickles made with honest ingredients and no artificial flavors. Jack and I first tried these fantastic pickles a few months ago (they are so good – they were voted Best New Product for a reason!) and we were thrilled when Farmer's Garden by Vlasic asked us to share one of our favorite July 4th recipes using Farmer's Garden pickles!
Our Zesty Salmon Burgers with Dill Spread are a great addition to any traditional barbecue menu! The burgers are made from a mix of salmon, shrimp and panko bread crumbs – but they get their fantastic, zesty flavor from Farmer's Garden dill pickles! And – to make this dish even better – a wonderful, creamy dill spread is served with the zesty salmon burgers, which is also made using Farmer's Garden pickles!
Farmer's Garden pickles are made with the finest, specially selected ingredients – deliciously ripe cucumbers, whole garlic cloves, slices of red bell peppers, rounds of carrots, and fresh herbs and spices – all harvested at the peak of freshness! Each Farmer's Garden cucumber is hand-packed in a traditional mason jar and pickled using home-style canning techniques that lock in bold, fresh flavor!
Farmer's Garden pickles come in five delicious varieties including Zesty Garlic Chips, Bread & Butter Chips, Kosher Dill Spears, Kosher Dill Chips, and Dill Chips (which we used in our recipe) – all flavors you are sure to love!
Farmer's Garden is also celebrating the authentic taste of #FarmtoJar with their Savor Simplicity Sweepstakes running now through July 31, 2014. Enter here for your chance to win a weekend cooking adventure or a summer entertaining package, each worth $1,500!* You can also follow along on Twitter using the hashtag #FarmToJar, on Facebook, or on the Farmer's Garden Savor Simplicity Blog.
And – because we're so sure that you'll love Farmer's Garden pickles as much as we do, we're also giving away a free jar to one lucky reader**! To enter, just comment on this post below and tell me what simple moments you savor in your life and be sure to use the hashtag #FarmtoJar.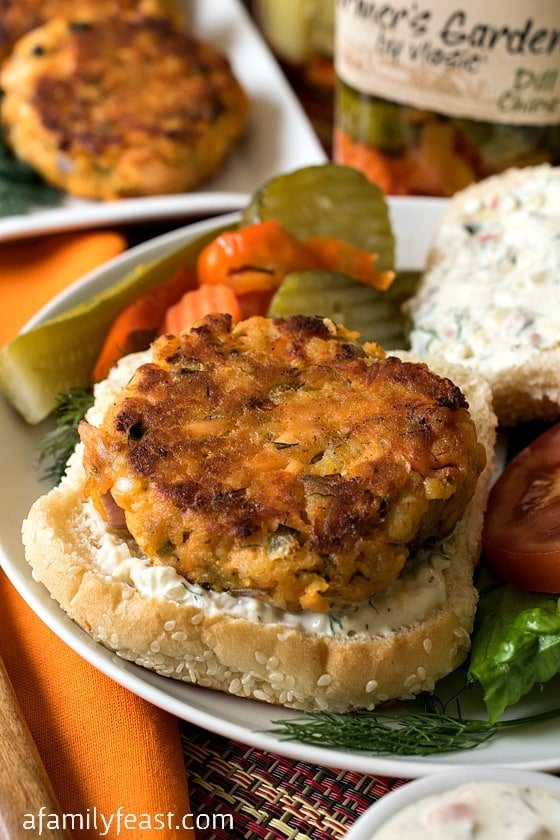 So be sure to enter for your chance to win — and don't forget to try our fantastic Zesty Salmon Burgers with Dill Spread, made using Farmer's Garden pickles by Vlasic!
*One winner chosen each month in the Savor Simplicity Sweepstakes. A $1 off coupon will also be given to all entrants immediately following the entry. See http://sweepsteaks.farmerschoicevlasic.com/ for more details.
**A Family Feast will select one winner of a free jar of Farmer's Garden pickles at random on July 31, 2014 from all comments received. Open to U.S. residents only.  Free jar will be in the form of a free product coupon redeemable at stores selling Farmer's Garden by Vlasic pickles.
Print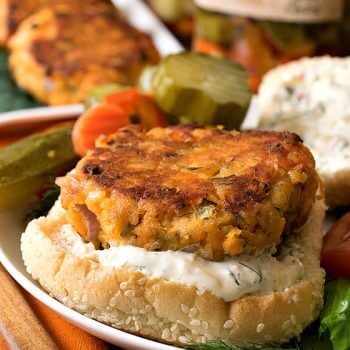 Zesty Salmon Burgers with Dill Spread
Prep Time:

25 mins

Cook Time:

10 mins

Total Time:

35 minutes

Yield:

8 salmon burgers (4 ounces each)
---
Description
Farmer's Garden dill pickle slices come packed with garlic, peppers and carrots. Use a few of those garden vegetables in your ½ cup measurement. Also, you will need a grill pan if preparing these on your outdoor grill (see here
). A grill pan has small holes to let the heat through and is used for small or delicate food items.
---
For the Salmon Burgers
1¼

pounds thick cut salmon filet, skin on

½ cup

Farmer's Garden® by Vlasic® dill pickles (include a few of the other pickled vegetables in the jar as well as the pickled cucumbers), diced fine

¼

pound raw shrimp, diced very fine

1

egg

¼ cup

shallots, diced fine

1½ teaspoons

red curry paste

2 tablespoons

mayonnaise

1 teaspoon

red chili pepper flakes

½ teaspoon

salt

2 teaspoons

sugar

2 teaspoons

corn starch

1 tablespoon

finely chopped fresh dill

½ cup

panko bread crumbs

1 cup

dry potato flakes

8

sesame seed burger rolls
Lettuce for sandwiches
Tomato slices for sandwiches
Additional Vlasic Farmer's Garden dill pickles to serve on the side
Vegetable oil for brushing grill pan
For the Dill Spread
2 tablespoons

finely chopped Vlasic Farmer's Garden dill pickles

2 teaspoons

finely minced shallots

1 tablespoon

finely chopped fresh dill

¼ cup

sour cream

¼ cup

mayonnaise

½ cup

finely shredded Swiss cheese

2 teaspoons

agave nectar

2 teaspoons

fish sauce
---
Instructions
Place a steamer basket into a medium-sized pan and fill the pan with just enough water to reach the bottom of the steamer. Spray the steamer basket with non-stick cooking spray and set the salmon filet skin-side down into the basket. (If your steamer basket has a stem in the center, poke a hole in the salmon filet and slide it down over the stem.) Cover the pan and bring water to a boil, then reduce to a simmer and steam for 15 minutes covered. Once done, discard the water. Remove and discard the skin of the salmon and the dark layer just below the skin, leaving cooked salmon intact. Pick out any visible bones if any. You should end up with about one pound of cooked salmon after discarding the skin.
While salmon is steaming, mix diced Farmer's Garden dill pickles, raw shrimp, egg, shallots, curry paste, mayonnaise, pepper flakes, salt, sugar, corn starch, dill, bread crumbs and potato flakes. Mix to incorporate all ingredients.
Flake cooked salmon into bowl with other ingredients and gently mix just to combine.
Form into eight 4-ounce patties and place on a parchment or plastic lined tray and refrigerate covered for at least one hour or longer to help set up mixture.
While salmon burgers are setting up, mix all of the spread ingredients in a small bowl and refrigerate.
When you are ready to serve, heat your grill to a medium heat and preheat grill pan. If your grill does not have a cover, make a tent from tin foil.
Once the grill and grill pan are ready, liberally oil the grill pan and using a spatula, gently place the eight patties on the pan. Brush the tops with oil so that when you flip them, they won't stick to the grill pan. (If your pan is smaller in size, cook in two batches)
Cook for about a total of ten minutes with the lid closed and turning as the bottoms brown. If they start to get too dark too fast, lower heat or raise the grill rack. You want to cook them so the center cooks through but keeping the outside golden brown. (They will be soft and delicate as they cook but once they are cooked through, they firm up and stay formed like a burger.)
Alternatively, if you are baking these in your oven, cook in a 350 degree oven for about the same cooking time on an oiled sheet pan.
If you wish to grill your rolls, do that while the salmon burgers are cooking.
To serve, place the dill spread on the inside top and bottoms haves of the roll and serve with lettuce, tomato and plenty of Farmer's Garden dill pickles on the side.
---
Disclosure: This post contains affiliate links.
You may also like: