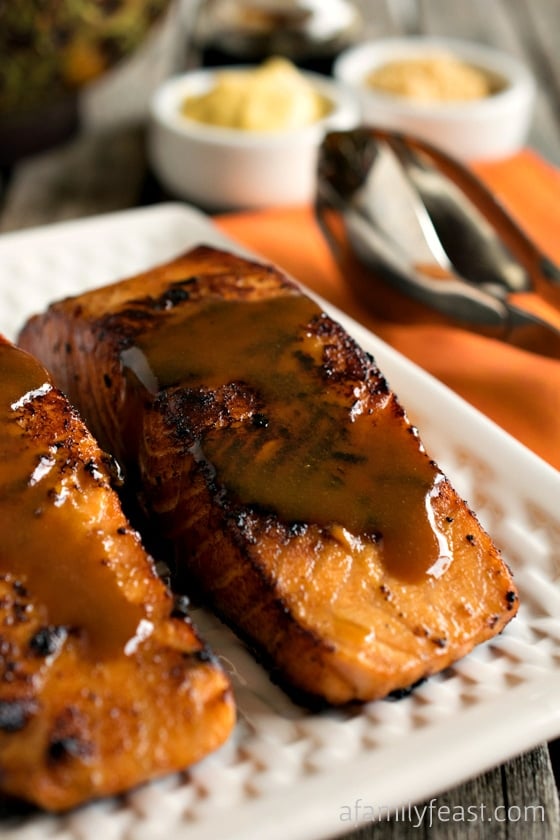 A terrific dinner doesn't have to mean hours in the kitchen, or a long list of ingredients to buy at the grocery store…and our delicious and Easy Glazed Salmon is a perfect example!
Just stir together some Dijon mustard, soy sauce, brown sugar and extra virgin olive oil – and use half of the mixture as a marinade on some salmon fillets.  This will create a wonderful glaze that is slightly sweet and slightly savory – and a wonderful complement to the flavors of the salmon!
Next quickly sauté the salmon in a pan – turning frequently so all sides of the fillet cook evenly and turn a wonderful golden color.  Serve and use the remaining marinade as a delicious sauce over this easy glazed salmon!
This easy glazed salmon would be wonderful served with a delicious salad or fresh asparagus, as well as our popular homemade rice pilaf.  Enjoy!
Print
Easy Glazed Salmon
Prep Time:

5 mins

Cook Time:

12 mins

Total Time:

17 minutes

Yield:

2 servings
Ingredients
1 pound thick end, skin on salmon fillet
1 tablespoon Dijon mustard
1 ½ tablespoons soy sauce
1 ½ tablespoon brown sugar
2 tablespoons extra virgin olive oil
Instructions
Cut salmon in half to form two equal portions and place in appropriate sized bowl.
In a small bowl, mix Dijon, soy, brown sugar and 1 tablespoon of olive oil. Pour half of marinade over salmon and let sit at room temperature for 1 hour. Reserve the remaining marinade – it will be used as a sauce when serving the salmon.
In a medium to large sauté pan, heat remaining tablespoon of oil over medium to medium high heat and place salmon skin side down. Discard marinade that fish was sitting in. Brown 1-2 minutes and turn one quarter turn and brown salmon side 1-2 minutes. Continue this method until the fish has been turned and browned on all sides and ends back on skin down (four turns). Lower heat to low, cover and cook four minutes until done. Poke the top; if it doesn't spring back, it needs to cook for longer. (We prefer our salmon slightly rare which reduced the final cooking time to three minutes for our two pieces.)
Serve immediately and spoon reserved marinade over the fish. (Do not use the marinade that touched the uncooked salmon as a sauce.)
See the rest of our series of terrific recipes made with five ingredients or less: