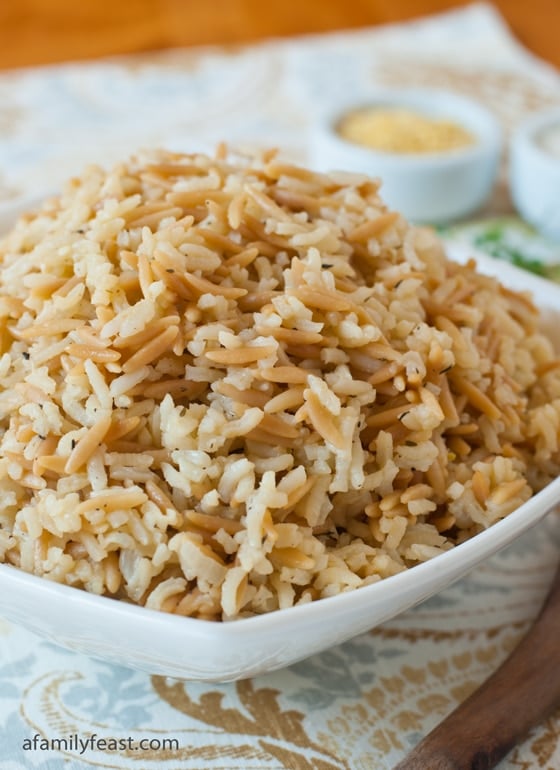 As bloggers and self-proclaimed foodies, Jack and I love to cook and share recipes for some fairly elaborate dishes.  Sometimes we're encouraging you – our readers – to try a new, exotic ingredient; other times teaching you a new cooking technique; other times walking you step-by-step through a recipe that results in a wonderfully impressive dish!
But I actually get equally excited when we can share classic recipes with you – like this one for our Rice Pilaf.  Recipes like this are so easy and delicious – but better yet – you probably already have all of the ingredients in your kitchen cabinet!
And, if you are like me, I often ate the rice pilaf that came out of a box with a pre-packaged seasoning mix.  Then Jack showed me how easy it is to make homemade rice pilaf – and I'll never buy a boxed rice pilaf mix ever again!
Rice pilaf by definition is rice which has been cooked in chicken stock or another flavored broth, and we've add toasted orzo pasta to the dish as well.  Add in some sautéed onions and other seasonings and you're done!  It's so simple and the flavors are just so much better than any boxed rice pilaf I've eaten before!
This rice pilaf recipe is actually one of the first dishes that Jack learned to cook back in school many years ago.  It's truly a wonderful, classic dish that anyone can make at home, and one that everyone should have in their recipe collection!
Print
Rice Pilaf
Depending on the saltiness of the chicken stock you use for cooking, the addition of some additional salt may or may not be needed.
Prep Time:

10 mins

Cook Time:

40 mins

Total Time:

50 minutes

Yield:

5 cups
Ingredients
½ cup uncooked orzo pasta
1 tablespoon extra virgin olive oil
3 tablespoons butter
1 cup chopped onions
1 cup uncooked long grain white rice
2 large cloves garlic finely minced
2 bay leaves
½ teaspoon dried thyme
¼ teaspoon black pepper
3 ½ cups chicken stock
Instructions
Preheat oven to 350 degrees.
In a Dutch oven over medium heat, dry toast the raw orzo stirring constantly with a wooden spoon until a light walnut color (3 to 4 minutes). Remove orzo to a bowl and set aside.
Add the olive oil and butter. Once the butter is melted, add the onions and rice. Sauté for five minutes stirring occasionally or until onions are translucent. If the rice starts to get brown, remove from heat before you proceed to next step.
Add garlic and stir for one minute. Then add bay, thyme, pepper and browned orzo. Stir and add chicken stock. Be careful – when the stock hits the pan, it will bubble up.
Stir once, cover and place in the oven for 30 minutes untouched.
Remove from the oven and discard bay leaves. Fluff rice with a wooden spoon and taste. Add salt to taste, as needed.
You may also like:
Nourishing Rice (Arroz con Sustancia)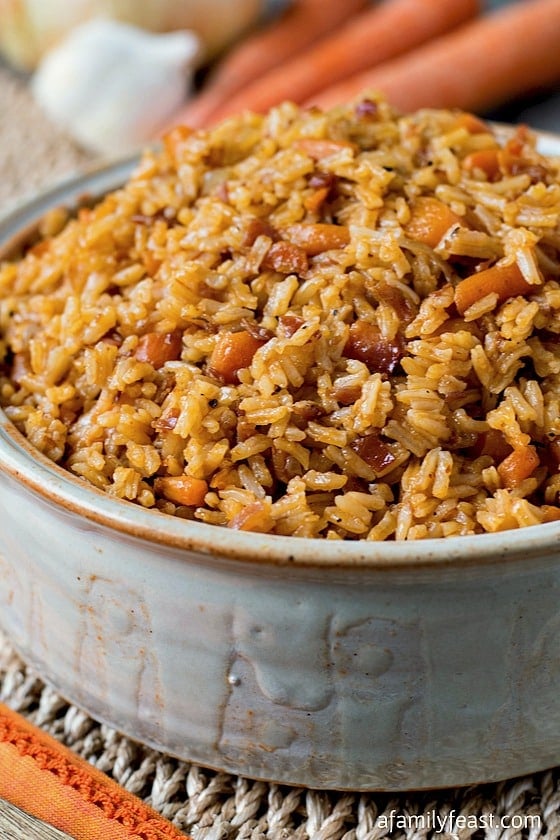 Garlic Lemon Shrimp with Savory Root Vegetable Rice Pilaf