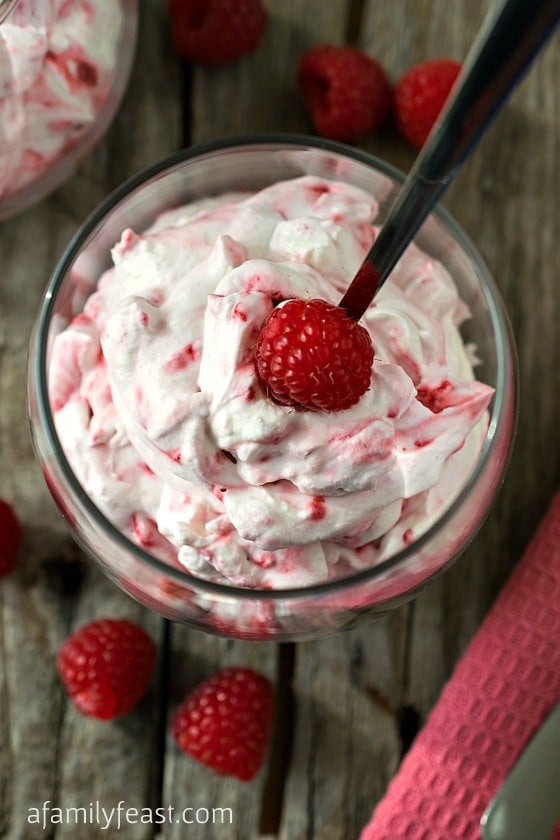 This recipe for Raspberry Fool is the first in our week-long series of recipes that require five ingredients or less to make a fantastic dish!  A memorable meal for your family doesn't always have to translate into a lot of time and effort or a lengthy shopping list!  This week, we will be sharing some of our favorite simple-to-prepare recipes where each of the few ingredients packs a ton of flavor into the finished, delicious dish!
My seven-year-old daughter got such a kick out of the name of today's recipe – a fool!  This classic British dessert dates back to the sixteenth century when puréed, stewed fruit (typically gooseberries back in those days) was folded into sweet custard.  The more modern versions, like our recipe, replaces the custard with whipped cream, and just about any kind of mashed or puréed berry or other soft fruit can be used!
According to the Joy of Baking, although British in origin – the name fool is believed to originate from the French word "fouler" which means "to mash" or "to press" – and that is exactly what we did with the raspberries used in this recipe!
We used thawed, frozen raspberries (fresh may be used when they are in season) and mashed them into a purée with the back of large spoon along with a little bit of sugar.  Then, we whipped some heavy cream into stiff peaks which was also sweetened with additional sugar.  Finally, the raspberry purée was stirred haphazardly into the whipped cream – just enough to see bright, beautiful ribbons of red against the white whipped cream like this:
Spoon the mixture into individual serving dishes, garnish with fresh raspberries if you'd like – and you're done!  How simple is that?
Print
Raspberry Fool
Prep Time:

1 hour 10 mins

Total Time:

1 hour 10 minutes

Yield:

4-6 servings
---
Description
Note: Fresh raspberries may also be used in this recipe but you will likely need more than what is called for in this recipe. Additional sugar may be needed. Also note: We did not strain the raspberry seeds out of the purée – but if you don't like the texture of the small seeds, feel free to strain the purée through a sieve before stirring into the whipped cream.
---
1 cup

frozen raspberries, thawed

3/8 cup

granulated sugar, divided

1½ cups

heavy cream
Fresh raspberries for garnish (optional)
---
Instructions
Place the thawed berries into a small bowl along with 1/8 cup of the sugar. Using the back of a large spoon, mash the berries against the side of the bowl until you have a purée and stir to mix well with the sugar. Set aside.
In the bowl of a stand mixer, pour in the heavy cream and remaining ¼ cup of sugar. Whip on high until stiff peaks form.
Fold the raspberry purée into the whipped cream in spoonfuls, stirring just until you see ribbons of raspberry throughout the whipped cream. (If you want, you can hold back stirring in some of the raspberry purée to get the ribbon effect you desire, and use any leftovers as a topping.)
Spoon into individual serving glasses and chill 1 hour before serving.
---
See the rest of our series of terrific recipes made with five ingredients or less: