Glenn's Sweet & Spicy Slow Cooker Chili is a uniquely delicious chili that starts out sweet, then delivers a spicy kick! Addictively delicious!
Glenn is a business partner of my husband Jack – and he recently told Jack that he makes a 'killer' chili! We're always up for trying new recipes, and today we're sharing Glenn's Sweet & Spicy Slow Cooker Chili.
Glenn's Sweet & Spicy Slow Cooker Chili is unlike any chili we've eaten before! One bite into it – and it starts out quite sweet thanks to the addition of brown sugar, plus some bourbon and brown sugar-flavored canned baked beans. Then a very spicy kick takes over – and your taste buds won't know what hit them! (In a good way of course!)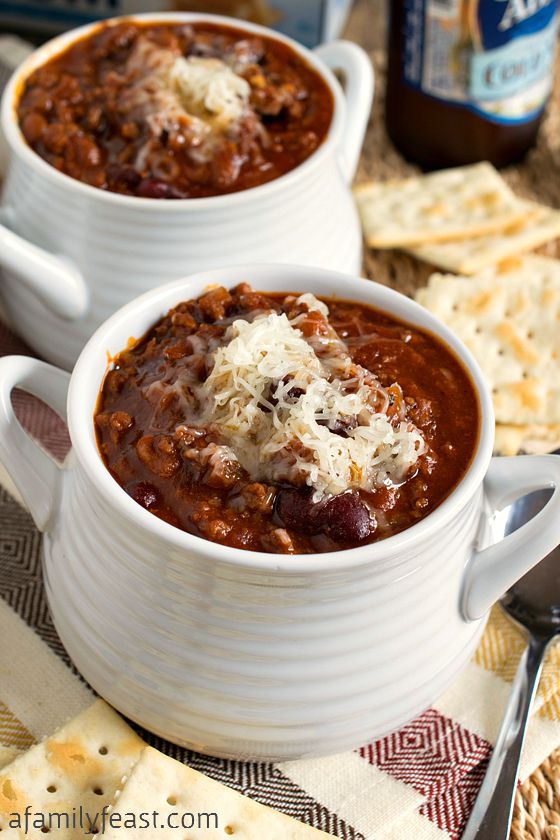 The texture of this chili is also perfect – and it's loaded with a mix of hot Italian sausage, bison (which you can find in most supermarkets these days) and ground beef, plus beans, bell pepper and onions.
Glenn's Sweet & Spicy Slow Cooker Chili is also super easy to make in the slow cooker, and I tell you – it is addictive and you'll keep going back for more! Glenn also says that serving this chili with shredded cheddar cheese on top, and Saltine crackers on the side is a must – so we stayed true to his recipe.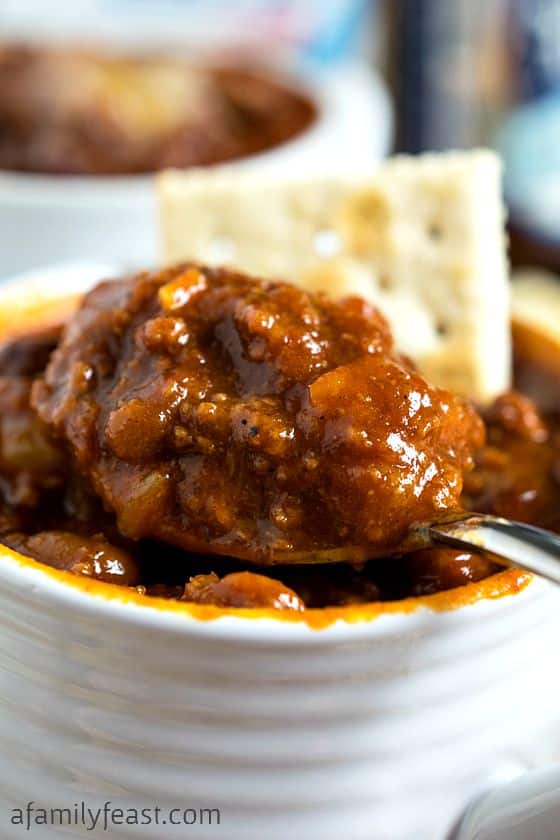 You can, of course, adjust the spiciness and the sweetness levels by adding in less of the red pepper flakes and less brown sugar than is called for in the recipe. But either way, you've got to try this unique and delicious sweet & spicy chili!
Award Winning Chili!
Update: Since we posted this recipe, we've had a number of readers write to us to tell us that they used this recipe as an entry in their local chili cook-offs – and they won! Glenn's Sweet & Spicy Slow Cooker Chili really is something special – and we keep telling Glenn that he needs to bottle and sell it!
Give it a try and let us know if you agree!
You may like these other Chili recipes:
Print
Glenn's Sweet & Spicy Slow Cooker Chili
Prep Time:

30 mins

Cook Time:

5 hours

Total Time:

5 hours 30 minutes

Yield:

6-8 servings
---
1 tablespoon

butter

4 tablespoons

extra virgin olive oil, divided

1

large orange bell pepper, diced

2 cups

sweet onions such as Vidalia, diced

2 tablespoons

garlic, minced

1

pound Italian hot sausage, removed from casing

1

pound 80/20 ground beef

1

pound ground bison (pre-packaged and available in most supermarkets)

2

6-ounce cans tomato paste

1

15-ounce can tomato sauce (Glenn recommended Contadina so we used that brand)

1

16-ounce can dark red kidney beans, rinsed and drained

1

22-ounce can Bush's Grillin' Beans (Bourbon and Brown Sugar)

1 cup

brown sugar

2 tablespoons

red pepper flakes (or less for less heat)

1 tablespoon

garlic powder

1 ½ tablespoons

paprika

1 tablespoon

chili powder

1 teaspoon

freshly ground black pepper

1 teaspoon

kosher salt

1 teaspoon

cayenne pepper (or less for less heat)
Juice from

one

lime
Shredded cheddar cheese, for garnish
Saltine Crackers to serve with chili (Glenn says this is a must)
---
Instructions
In a large sauté pan, melt butter in two tablespoons of oil over medium heat.
Add bell pepper, onions and garlic and sauté for 8-10 minutes to caramelize the vegetables.
Pour this into a large slow cooker.
Heat the pan to medium high and add the remaining oil.
Add sausage meat, ground beef and ground bison meat and cook until meat has browned.
Scrape all of this into the slow cooker with the vegetables.
Then add all other ingredients to the slow cooker except the lime, cheddar and crackers.
Stir, cover and set slow cooker to low and cook for five hours.
Stir after five hours and add lime juice into the cooked chili.
To serve, dish out into bowls, top with cheddar cheese and serve with the saltine crackers.
Disclosure: This post contains affiliate links.