We love hearing from our readers, and last week we received a request from a reader asking about a recipe for chili.  Our reader, Clare, was about to attend a chili cook-off and she wondered if we had a good recipe that we could share.  So – always happy to oblige – here is Jack's Chili recipe!
Over the years, Jack attended several chili cook-offs, and he's worked to recreate some of the best of the winning recipes.  (Interestingly, the most memorable of the winning recipes that Jack tasted had armadillo and snake meat in the chili – but given that neither of those ingredients are very readily available to the average home cook, he's uses beef and pork in this recipe.)
Jack's chili recipe is a combination of meats, vegetables, seasonings and other ingredients such as beer, cocoa powder and brown sugar – all combined to give this chili a deliciously, complex flavor.  Some of the winning chili aficionado's also argue against putting beans in their chili – so including them is optional – but we like our chili with some added beans.
You can also adjust the heat level of this chili by adding more chili powder, cumin and diced, hot fresh peppers.   This recipe is medium in heat – so feel free to adjust the spiciness up or down based on how you like your chili.
Serve Jack's Chili with our delicious cornbread, and top with shredded cheese, sour cream, or your own preferred topping.
Print
Jack's Chili
Prep Time:

10 hours

Cook Time:

2 hours

Total Time:

12 hours

Yield:

10-12 servings
---
1

pound boneless chuck or sirloin or venison if available, cut into cubes

1 tablespoon

Tabasco sauce

2 tablespoons

red wine vinegar

½ teaspoon

liquid smoke

1 teaspoon

garlic powder

2 tablespoons

extra virgin olive oil

1

pound ground chuck

1

pound ground pork (not sausage meat)

1 teaspoon

paprika (smoked if available)

2 cups

chopped onions

½ cup

chopped celery

2 cups

chopped green bell peppers

3

jalapenos chopped, seeds removed (or hotter peppers like cayenne or habanero, if you desire)

3

large garlic cloves, diced

1

bottle of dark beer or ale

2 tablespoons

chili powder

2 tablespoons

cumin

1 teaspoon

onion powder

1 tablespoon

dried oregano

1 teaspoon

cocoa powder

1 teaspoon

coriander

1 teaspoon

ground cayenne pepper

1 teaspoon

salt

½ teaspoon

freshly ground black pepper

1

can (28oz) crushed Pomodoro San Marzano tomatoes such as Cento or Pastene

1

can (28oz) diced Pomodoro San Marzano tomatoes such as Cento or Pastene (if you use whole canned tomatoes, just crush with your hand as you put them in)

1

can (14.5oz) diced tomato

1/3 cup

brown sugar

1

can (15 oz.) beef broth

1

can (14oz) kidney beans drained and rinsed (optional)

1

can (14oz) black beans drained and rinsed (optional)
For serving: cornbread, shredded cheddar cheese, sour cream, or chopped scallions.
---
Instructions
Place cubed meat, Tabasco, vinegar, liquid smoke and garlic powder in zip lock bag and marinate four hours or overnight. Drain and discard marinade. Pat beef dry with paper towels.
In a 10-quart heavy bottomed Dutch oven, heat olive oil over medium high heat. Brown beef cubes on all sides and remove from pan.
In same pan, brown ground beef and pork and remove from pan.
Add paprika, onions, celery, both peppers and garlic. Cook for 2 minutes and add beef cubes, ground beef and ground pork back in.
Add in beer and stir to remove any brown bits from bottom.
Add in all other ingredients except kidney and black beans. Place a heat diffuser between the pot and stovetop heat. (Using a heat diffuser will help prevent any burning on the bottom of the pot.) Stir to combine and simmer for 1 hour.
Add in both beans and simmer for an additional hour.
Check seasoning and adjust with more salt, pepper, chili powder or cumin. Cook five more minutes to blend flavors.
Serve with shredded cheddar cheese over top and cornbread. Or, serve with sour cream dobbed on top with chopped scallions.
---
You may also like: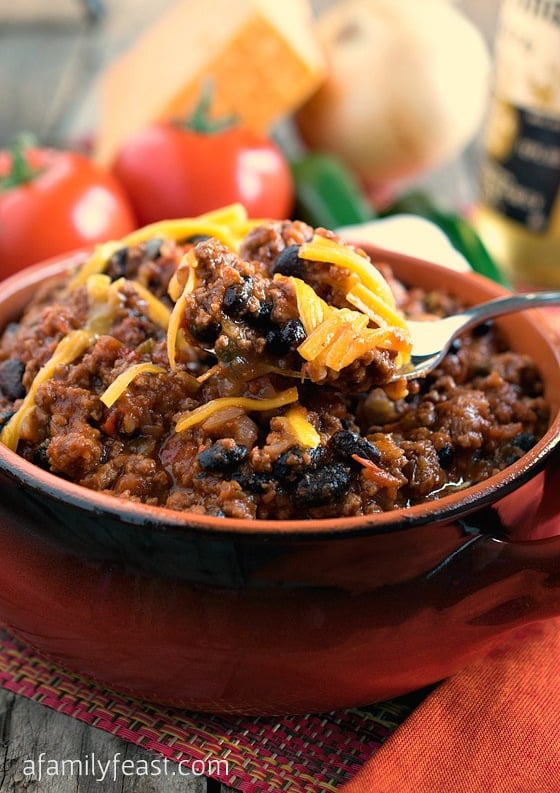 Butternut Squash and Sausage Chili