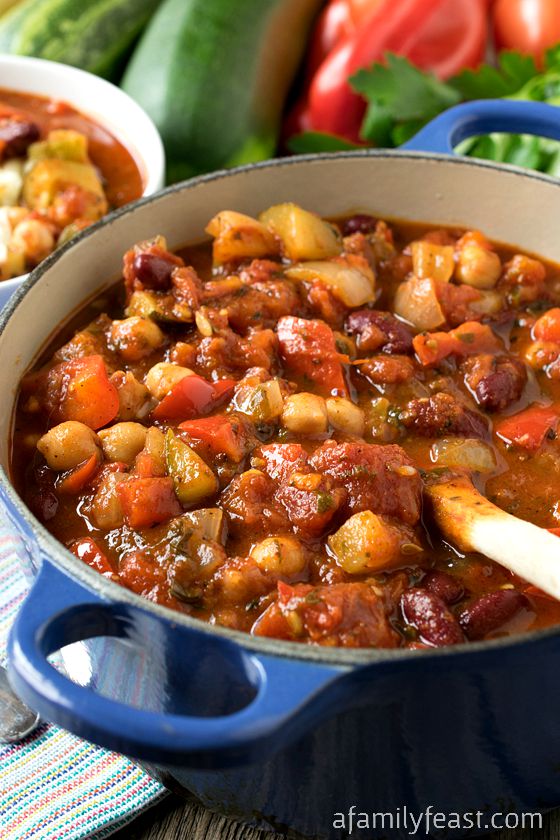 Today we're sharing a perfect, delicious recipe to feed a crowd – and another great way to cook with in-season, summer vegetables!
I've made this fantastic Vegetable Chili so many times over the years that the binder of my well-worn copy of this cookbook
is cracked and automatically falls open to the page where the original recipe is printed! In pen – written by me many years ago is the word EXCELLENT! (under scored twice) next to the title.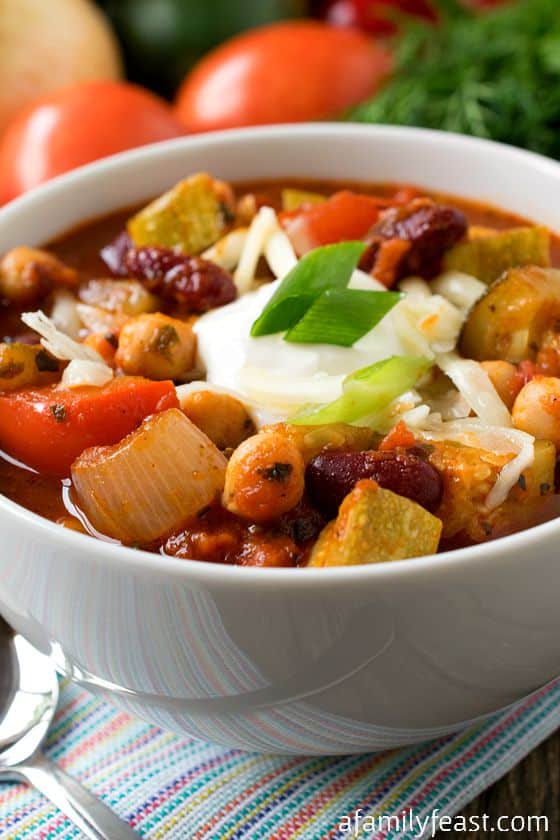 This very excellent vegetable chili is loaded with diced zucchini, onions, red bell pepper, garlic, canned and fresh tomatoes, as well as dark red kidney beans and garbanzo beans. A wonderful blend of dried spices and seasonings including chili powder, cumin, basil, oregano, black pepper, salt and fennel seeds gives this vegetable chili the perfect kick of flavor without being too spicy – and some fresh chopped parsley and dill plus freshly squeezed lemon juice add brightness to the flavors.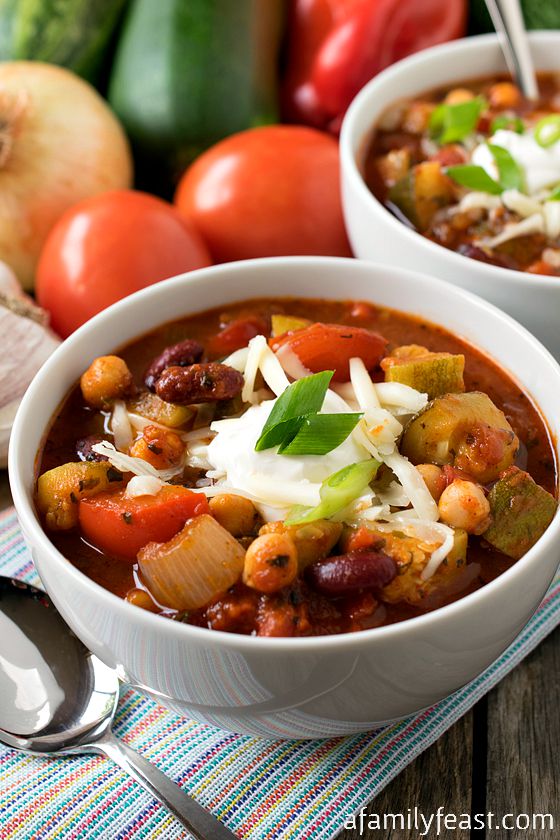 The original description of this recipe states, "This vegetable chili is just as gutsy as any made with meat." And – that is absolutely true! Served with a dollop of sour cream, and a sprinkle of shredded Monterey Jack and sliced scallions on top – this is a vegetable chili even the most ardent meat eater will love!
P.S. We think this vegetable chili tastes even better the next day so it can be made ahead and reheated – or any leftovers are great to pack up for lunch the next day!
Adapted from The New Basics Cookbook
Print
Vegetable Chili
Prep Time:

20 mins

Cook Time:

1 hour

Total Time:

1 hour 20 minutes

Yield:

8 servings
---
½ cup

extra virgin olive oil, plus ¼ cup more only if needed

2

zucchini, cut into ½-inch dice (approximately

1 1/3

pounds)

2

onions, cut into ½-inch dice (approximately

2 ½ cups

)

4

cloves garlic, finely chopped (approximately

3 tablespoons

)

2

large red peppers, cut into ½-inch dice (approximately

2 ½ cups

)

1

28-ounce can ground, peeled tomatoes (Pastene or Cento brands)

1

14.5 ounce can diced tomatoes

1

pound fresh, ripe plum tomatoes, cut into

1

-inch dice

1½

to

2

tablespoons chili powder

1 tablespoon

ground cumin

1 tablespoon

dried basil

1 tablespoon

dried oregano

2 teaspoons

freshly ground black pepper

1 teaspoon

salt

1 teaspoon

fennel seeds

½ cup

chopped fresh Italian flat-leaf parsley

1

15-ounce can dark red kidney beans, drained

1

15.5-ounce can garbanzo beans (chick peas), drained

¼ cup

chopped fresh dill

2 tablespoons

fresh lemon juice

1 cup

sour cream

2 cups

grated Monterey Jack cheese

4

scallions, sliced on the diagonal (white and green parts)
---
Instructions
In a large skillet over medium high heat, heat the olive oil. Add the diced zucchini and sauté 5 to 7 minutes or until just tender. Using a slotted spoon, transfer the zucchini to a large, heavy-bottomed dutch oven.
In the same skillet you used to sauté the zucchini (there should be enough oil remaining in the pan, but if not add up to ¼ cup more olive oil) sauté onions, garlic and bell peppers for about 10 minutes or until just wilted. Pour the entire mixture into the dutch oven with the zucchini.
Heat the dutch oven over low heat and add both kinds of canned tomatoes (including juices), fresh tomatoes, chili powder, cumin, basil, oregano, black pepper, salt, fennel seeds and fresh chopped parsley. Simmer uncovered for about 30 minutes, stirring frequently to avoid any sticking on the bottom of the pan.
After the 30 mintues are up, add the kidney beans, garbanzo beans, chopped dill and lemon juice and cook for another 15 minutes. Stir well and adjust seasonings as needed to suit your tastes.
Serve hot with sour cream, shredded Monterey Jack cheese and sliced scallions sprinkled on top.
---
Disclosure: This post contains affiliate links.
You may also like:
Butternut Squash and Sausage Chili