Today we're sharing another one of our quick and delicious dinner ideas for those days when schedules are completely hectic!  This Butternut Squash and Sausage Chili is super flavorful and cooks up in about twenty minutes!
It's a non-traditional but very good chili recipe made with sweet Italian sausage, freshly chopped sage and canned cannellini beans, and a jar of chunky-style chipotle salsa gives this chili delicious spiciness and flavor!  Then some pureed butternut squash (frozen store-bought squash is used for convenience and perfect for a quick meal prep!) and water combine to make a wonderful, creamy sauce.  This butternut squash and sausage chili is served with some crumbled goat cheese on top – which melts into the chili as you stir – adding a lovely cool, creaminess that perfectly balances the spicy flavors in this dish.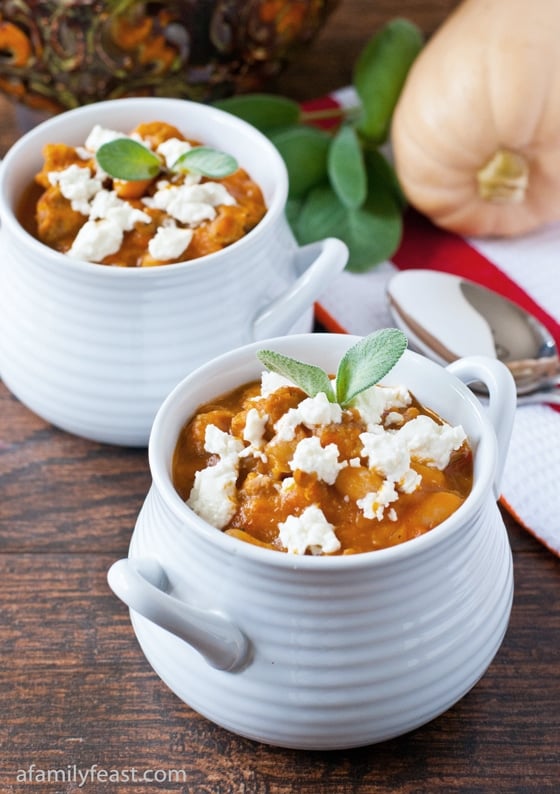 This recipe is adapted from the recipe you can find here, which was an "Everyday Easy" category winner in a Better Homes and Gardens magazine recipe contest.  The creator of this delicious recipe, Camilla Saulsbury of Nacogdoches, Texas originally used sage sausage in her recipe.  But we substituted sweet Italian sausage in our version, and instead added in fresh chopped sage while the sausage cooked so we didn't lose the original flavor profile.
Print
Butternut Squash and Sausage Chili
Prep Time:

5 mins

Cook Time:

15 mins

Total Time:

20 minutes

Yield:

4 servings
---
1

pound bulk sweet Italian sausage (or if you can only find sausage links, cut the casings and squeeze out the sausage meet before cooking

1 tablespoon

finely chopped fresh sage leaves

1

15-ounce can cannellini beans, rinsed and drained

1

12-ounce package frozen butternut (or winter) squash puree, thawed

1 cup

chunky-style chipotle salsa

1 ½ cups

water

1

3.5-ounce package goat cheese, crumbled
---
Instructions
In a large, heavy-bottomed saucepan, over medium-high heat, cook the sausage and fresh sage – breaking up the pieces of sausage as it cooks into small, bite-sized pieces. Cook the pork completely through until browned and no pink remains. Drain the excess fat, leaving the cooked pork and sage in the saucepan.
Add the beans, squash, salsa and water to the saucepan with the cooked sausage and bring to a boil, stirring frequently. Once the chili comes to a boil, lower the heat and simmer uncovered for 10-15 minutes (again stirring frequently) until the chili thickens.
Ladle the chili into individual bowls and sprinkle with goat cheese. Serve immediately.
---
Fall Harvest Vegetarian Corn and Butternut and Chowder