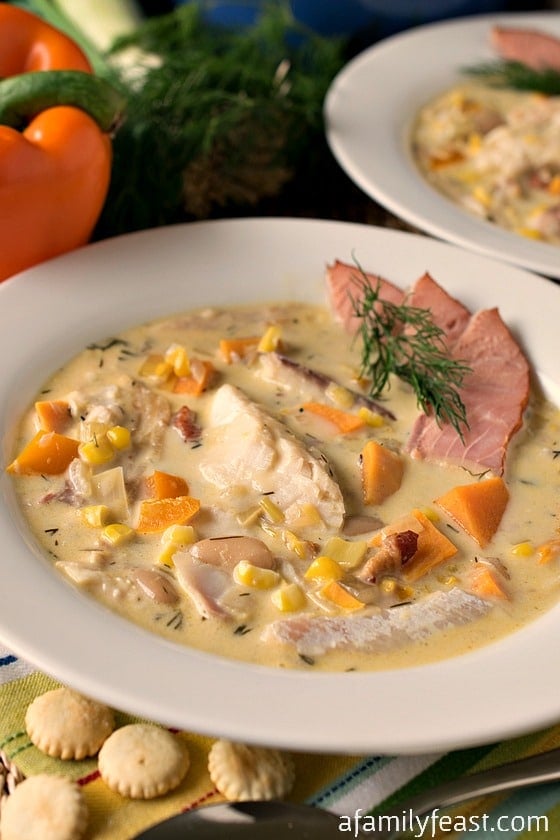 This Smoked Fish Chowder was created as part of a sponsored post for Morey's Fine Fish and Seafood. All opinions are 100% mine.
After a very mild Fall here in New England – with above-average temps well into December – I think the cold weather is finally here to stay! But we've got the perfect recipe to warm things up – this amazing Smoked Fish Chowder!
My husband Jack and I love to make and eat chowders. They're rich and creamy and chock full of all sorts of delicious ingredients – our idea of the perfect meal in a bowl! And in today's Smoked Fish Chowder recipe – the most delicious ingredients include some fantastic smoked fish from Morey's Fine Fish and Seafood!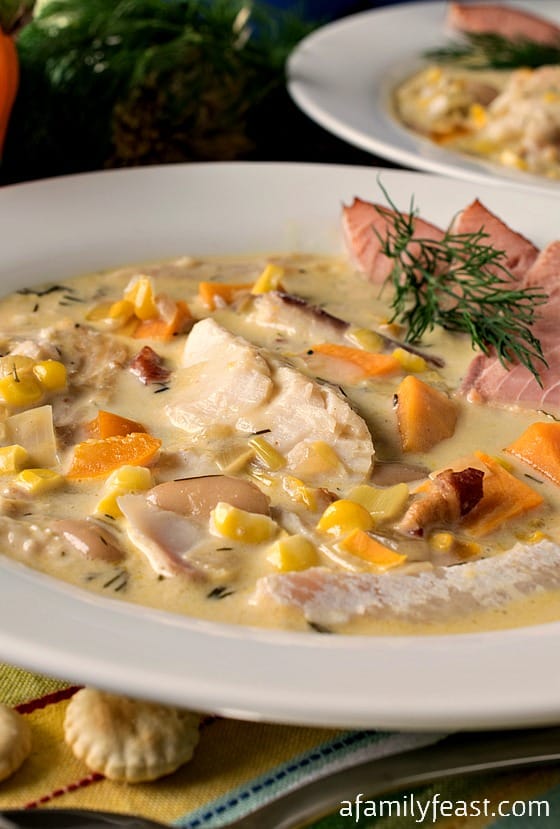 Seafood lovers that we are – Jack and I were so thrilled when Morey's asked us to sample and develop a recipe using their products, including the Smoked White Fish and their Wild Keta Smoked Salmon Sampler.
I have to say, Morey's is some of the best smoked seafood we've had! There's nothing worse than seafood that has been over-smoked – but Morey's has been in business for six decades so they've really perfected the process! And all of their smoked seafood is hot-smoked using 100% hickory smoked which seals in wonderful natural flavor.
Morey's Smoked White Fish is the star ingredient in today's Smoked Fish Chowder recipe. It is hot-smoked with 100% hickory smoke and has a white, moist flesh that is slightly firm. The delicious mild, smoked flavor of the fish is perfect in our chowder, and it is complemented by some pancetta, leeks, potatoes, creamed corn, and cannellini beans!
We topped our Smoked Fish Chowder with slices from Morey's Wild Keta Smoked Salmon Sampler (an optional garnish – but very highly recommended!). The Smoked Salmon Sampler pack is also hot smoked in Morey's signature style with a special blend of hardwoods and seasoned with four popular blends: Classic, Cajun, Peppered, and Tomato Basil.
Morey's Fine Fish and Seafood is sold throughout the United States at many food and grocery retailers. For more information, visit them on Facebook, Pinterest, Twitter and YouTube.
Print
Smoked Fish Chowder
Prep Time:

40 mins

Cook Time:

20 mins

Total Time:

1 hour

Yield:

8 servings
---
Description
Note: Prepare the white fish by removing and discarding skin and head. Since the fish has been smoked, the skin slides right off. Next turn the fish belly side up and press down to lay each filet flat. Grab the back bone and gently lift up. The bones on both sides should pull right up and off. If not, gently remove them trying to keep the fish as intact as possible. For the salmon, slice an eight ounce skinned filet into 24 slices so each chowder portion gets three slices, or one ounce. A little more or less will not matter.
---
2 cups

clam juice (

2

8-ounce bottles)

1½ cups

vegetable broth

½ cup

water

2 tablespoons

butter

6 ounces

pancetta, diced

2 cups

sweet onion, chopped (such as Vidalia)

1 ½ cups

leeks, diced (white parts cleaned of all sand)

1 cup

celery, chopped

2 tablespoons

fresh thyme (or

1 tablespoon

dried thyme)

2 tablespoons

fresh dill, chopped (or

1 tablespoon

dried dill)

1

large orange pepper, cut into ½-inch dice (about

one cup

)

½ cup

white wine

3 tablespoons

flour

1 teaspoon

white pepper

1 ½ teaspoons

Worcestershire sauce

1 ½

pounds peeled sweet potato, cut into bite-sized cubes

1

14-ounce can creamed corn

1

14-ounce can Cannellini beans, drained and rinsed

1 ½ cups

heavy cream

1 ½

pound Morey's Smoked White Fish (

1

pound after cleaned) – see note

½

pound Morey's Smoked Skinned Salmon (

1 ounce

to top each serving) – see note
Dill fronds for garnish
---
Instructions
In a medium pan, heat clam juice, vegetable broth and water until hot. Hold on low.
In a large heavy bottomed pot or Dutch oven, melt butter over medium high and add pancetta. Cook pancetta until crisp.
Add onion, leeks, celery, thyme and dill. Stir and cook for three minutes.
Add orange pepper and cook for an additional minute.
Add wine to deglaze and cook until wine has evaporated.
Reduce to medium and add flour. Stir and cook for two minutes over medium heat.
Add clam and vegetable broth mixture one third at a time whisking as you add each third. Add white pepper, Worcestershire sauce and sweet potato and bring mixture to a medium boil. Reduce heat and simmer until potatoes are tender, about ten minutes.
Add creamed corn and Cannellini beans and stir.
Add cream and heat just until hot but not boiling.
Add white fish and stir once, then remove from heat. Try to leave fish in large pieces.
To serve, place chowder in bowl and top with slices of smoked salmon and garnish with fresh dill.
---
You may also like:
Pineapple Mango Mahi Mahi and Vegetables Over Rice