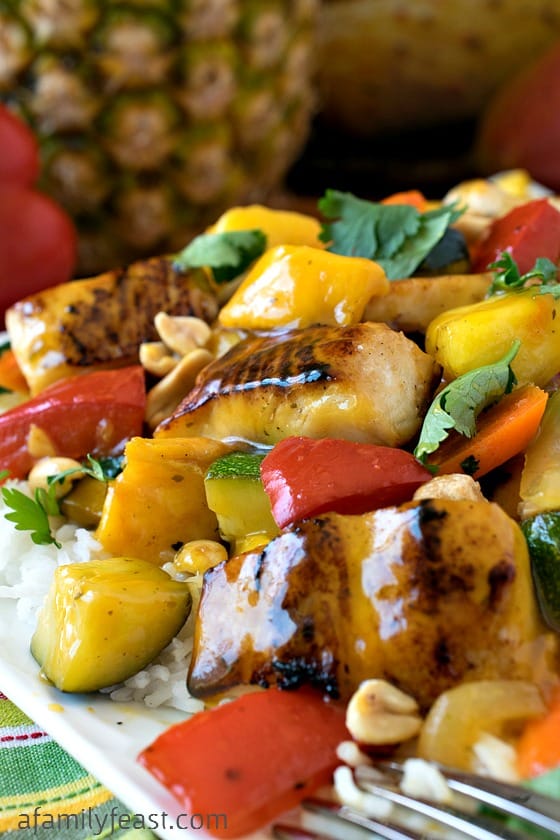 We created this Pineapple Mango Mahi Mahi and Vegetables Over Rice as part of a sponsored post for Morey's Seafood International. All opinions are 100% mine.
Living along coastal New England, our family is very lucky to have easy access to fresh, local fish and seafood from our local markets. But sometimes, we like to change things up and enjoy seafood that isn't typically caught here locally in Massachusetts.
So when Morey's asked us to try their Pineapple Mango Mahi Mahi and develop a recipe using that fish to share here on A Family Feast – we were happy to oblige! As you may remember from this recipe, we tried (and loved) some of Morey's products in the past. So we were confident that their line of ready-to-cook, marinated entrées would be equally delicious – and a great starting point for our Pineapple Mango Mahi Mahi and Vegetables Over Rice.
Today's meal starts with Morey's Pineapple Mango Mahi Mahi – fish that is marinated in a blend of pineapple with a hint of mango and other seasonings. Morey's Mahi Mahi is delicious and easy to prepare – and we can definitely appreciate taking some short cuts in the kitchen at times!
Mahi Mahi is a firm fish so after taking it out of the package, we cut the fish into chunks and seared it in a pan. We also used the marinade from the Morey's package to create a warm, mango jam and pineapple sauce. The cooked Pineapple Mango Mahi Mahi is served with a mix of sautéed vegetables and fruit over rice, and that delicious pineapple-mango sauce is spooned on top!
You can cook and enjoy all of Morey's products right out of the package – or added to a recipe like our Pineapple Mango Mahi Mahi and Vegetables Over Rice.
All of Morey's products are sold throughout the United States at many food and grocery retailers. For more information, visit them on their website, Facebook, Pinterest, Twitter and YouTube.
Print
Pineapple Mango Mahi Mahi and Vegetables Over Rice
Prep Time:

30 mins

Cook Time:

30 mins

Total Time:

1 hour

Yield:

4-6 servings
---
Ingredients
2 10-ounce packages of Morey's Pineapple Mango Mahi Mahi, thawed (4 filets total)
1 9.5-ounce jar mango fruit spread (or mango jam or mango preserves)
2 teaspoons rice vinegar
1 tablespoon sherry
1 tablespoon soy sauce
1 6-ounce can pineapple juice, divided
1 cup dry white basmati rice
3 tablespoons peanut oil, divided
1 teaspoon minced garlic
1 teaspoon minced ginger
½ large sweet onion cut into thick vertical strips, about 2 cups
1 large red bell pepper, stemmed, seeded and cut into thick vertical strips, about 1 ½ cups
2 medium carrots, peeled and cut into slices on the bias, about 1 cup
1 medium to large zucchini, ends removed and cut into large bite sized pieces, about 2 cups
½ fresh pineapple, cored and cleaned, cut into bite sized pieces, about 2 cups
1 whole mango, stone removed, skinned and cut into bite sized pieces, about 1 cup
¼ cup fresh cilantro chopped plus more for garnish
¼ cup shelled peanuts (raw or roasted) plus more for garnish
---
Instructions
Cut open each package of fish, slide out filet and squeeze marinade into a medium sauce pan. Then cut each filet into large pieces, about 6-8 per filet. Set fish aside.
Add mango spread, rice vinegar, sherry, soy sauce and ¼ cup of the pineapple juice to the pan with the Mahi Mahi marinade. Bring to a boil, then reduce to a very low heat.
Make rice by heating two cups of water to one cup of rice. Once rice is ten minutes from finishing, start next step.
Heat a wok or large skillet over medium high and place two tablespoons of the peanut oil. Once hot, add fish into oil but do not crowd pieces. Cook in two batches if needed. Cook about 1 ½ minutes per side and remove to a plate or platter and set aside.
Increase temperature to high. Add last tablespoon of oil and add garlic, ginger and onions and sauté for two minutes.
Add bell pepper and carrots and sauté for three minutes.
Add zucchini and remaining half cup of pineapple juice. Toss and stir for about five minutes or until vegetables are tender and juice has almost evaporated.
Add pineapple, mango, cilantro and peanuts, Stir in half of warm sauce, saving the other half to serve over dish.
To serve, place cooked rice on a platter, pour fruit and vegetable mixture over rice, place cooked fish over fruit and vegetables and pour remaining sauce over fish. (feel free to hold remaining sauce to serve on the side instead of pouring over top of finished dish)
Garnish with additional cilantro and peanuts.
You may also like this other recipe featuring Morey's Smoked White Fish and Smoked Salmon: