Our Pan-Seared Sirloin Steak is cooked over high heat, and basted with butter, garlic and herbs. This juicy, melt-in-your-mouth steak is amazing!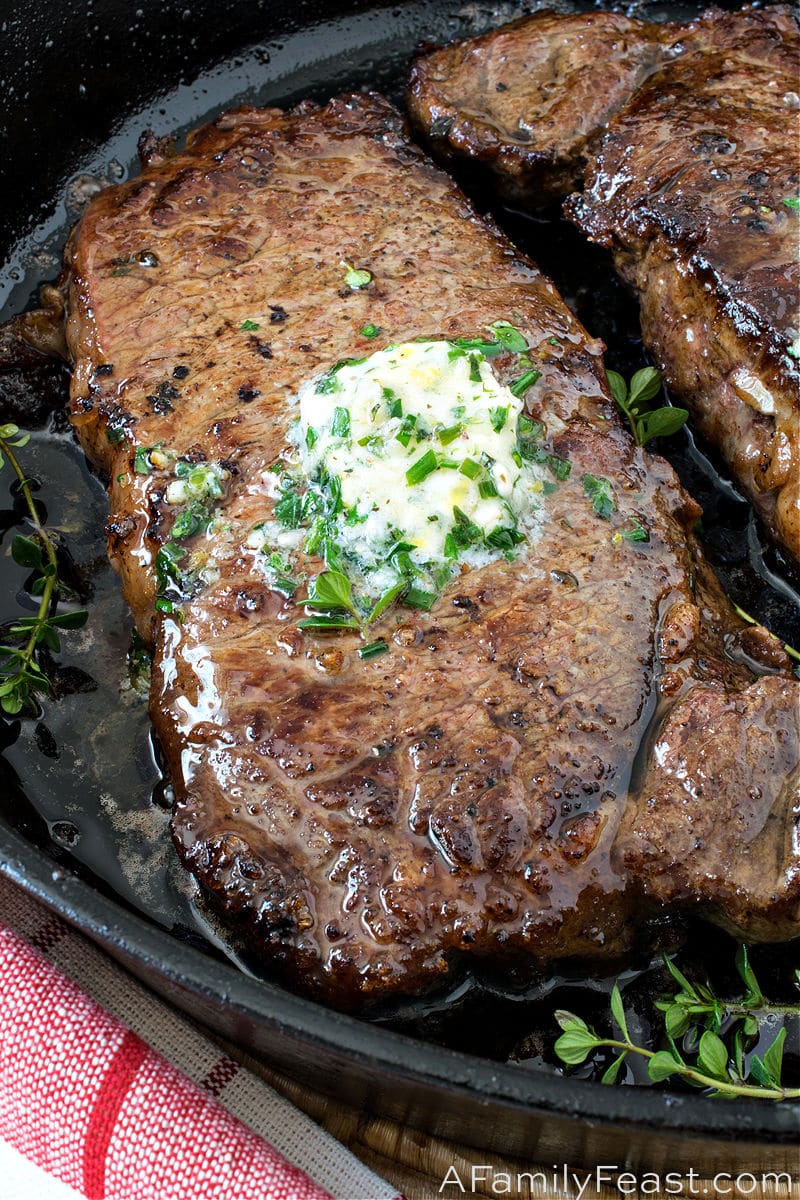 Today's Pan-Seared Sirloin Steak is one of those dishes that everyone should have in their go-to recipe collection.
If you follow all our tips and tricks below, your steak-loving dinner guests are sure to sing your praises – and you'll be forever-known as someone who knows how to cook a really great steak!
Chef's Tip

Our photos show a sirloin strip steak, but this cooking method works for any sirloin cut.
Steak-Buying Guidelines
The secret to achieving that pan-seared, masterpiece-on-a-plate is to buy a good quality cut of beef. Here's what to consider:
Marbling – These are the tiny spider veins of fat that run through the meat. When you shop for beef, it is labeled with 'grades' – from lowest to highest the beef ranks as Select, Choice, and Prime – and the grade reflects the amount of marbling.
The more marbling your steak has, the more tender and flavorful your steak will be.  Ideally, you should avoid cuts that have large pieces of fat on the outside, or gristle running through the meat as well.
Choice grade beef is the most widely available at supermarkets – and it's what we show in our photos. We found a great deal on sirloin strip steaks with nice marbling at our local club store. Having said that, if your budget allows, choose a hand-cut Prime steak, and/or look for Certified Angus Beef. The flavor will be even more delicious – but we can vouch for the very delicious flavors of the Choice sirloin strip steaks in our post today.
Cut – The cut of beef you choose will also impact the tenderness and flavor of your cooked steak.
Sirloin steaks are cut from the sub-primal posterior part of the animal – that's just a formal term meaning behind the rib cage moving toward the back legs of the steer. There are different names for the different types of sirloin cuts – short loin, sirloin, tenderloin, top sirloin, and bottom sirloin.
The strip steaks in our post today, typically come from the short loin, which is the front part of the sirloin just behind the ribs. Strip steaks are from a muscle section of the animal that works very little, so the meat is tender – and your pan-seared sirloin steaks (when cooked properly) will also be tender.
T-Bone or Porterhouse are steaks that have the strip and the tenderloin attached, with a bone in the center that forms the letter T. Porterhouse steaks are cut from the rear of the sirloin, and they have more tenderloin – therefore, they are more expensive than a T-Bone.
A New York strip steak is a boneless section that is cut from the top sirloin which is the section just below the tenderloin – these are considered some of the best steaks around. A bone-in strip steak from the same part of the animal is often called a Kansas City steak.
Thickness – We recommend a steak that is at least 1 – 1½ inches thick. You'll get a nice sear on the outside, and still retain the ability to cook the inside to your preferred level of doneness. (The recipe below is written for this thickness; if you buy a thicker cut the cooking time will be longer.)
Get Expert Advice – Your local butcher can help you choose the perfect cut based on your recipe and budget. Note that meat packaging at the supermarket is sometimes hard to decipher. In their defense, the different cuts of beef are confusing – and that can sometimes result in mislabeled packages. If you don't have a local butcher, try asking the meat counter associate at the supermarket to help you find the perfect cut. At the very least, look for 'choice' grade meats.
Aged Beef – If you don't mind paying top dollar for really superior meat, some specialty butcher shops sell aged beef. These cuts have been placed in a climate-controlled space for days, or sometimes up to weeks. This process of aging the beef removes excess moisture and results in a more intensely-flavorful steak.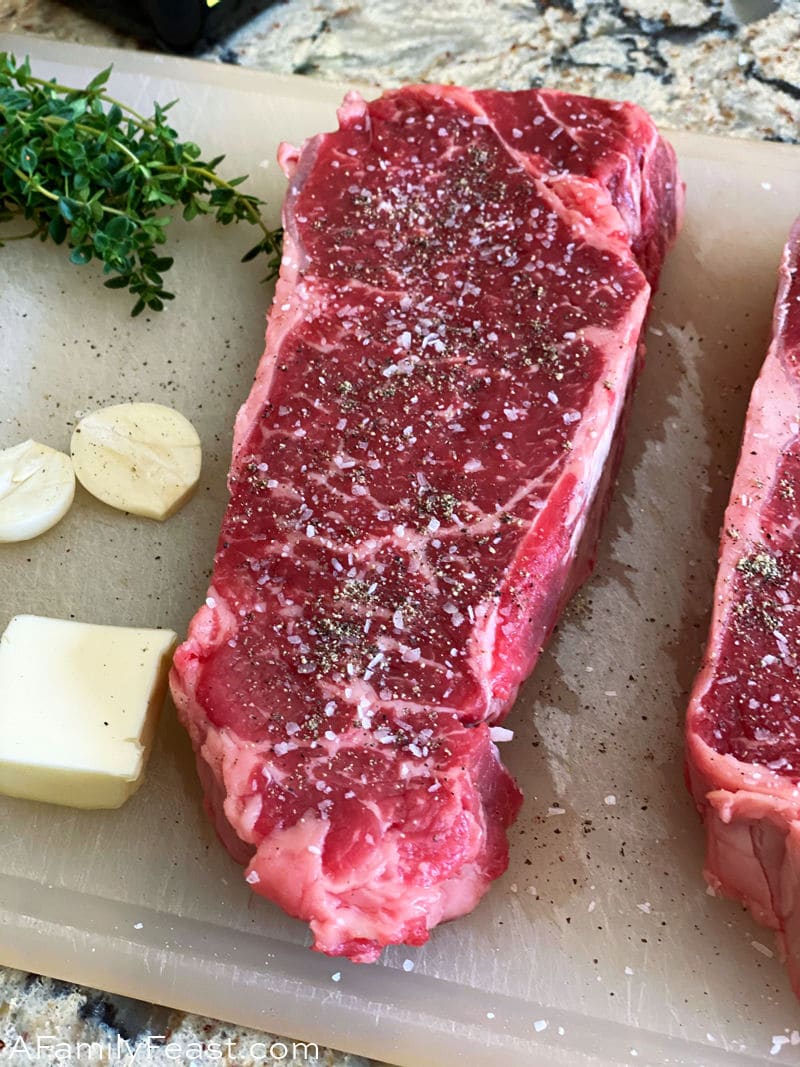 Why You'll Love Our Sirloin Steak Recipe!
It's easier than you think. With a little meat-buying know-how and following the steps below, this recipe will give you restaurant-quality steak every time.
Oh, that flavor! This is a tender, juicy sirloin steak with a ton of flavor. You won't be able to get enough.
No special ingredients required. Besides carefully choosing a great cut of meat, you probably have everything on hand for this succulent steak to become a reality.
Key Ingredients and Substitutions
The Beef – We used a sirloin strip steak for this recipe, but a top sirloin New York Strip Steak would also be fantastic. (If you follow the steak-buying guidelines we've offered, you'll come up with winning results!)
Butter and Oil – Typically, olive oil will start to scorch at very high heat, but mixed with butter, the milk solids will brown and help sear and flavor the meat without burning. We also use vegetable oil to brush the pan before cooking
Garlic and Thyme – We add halved garlic cloves and sprigs of fresh thyme to the pan as the steaks cook. This adds even more great flavor.
(Optional) Steak Butter – We serve our Pan-Seared Sirloin Steak with our homemade Steak Butter (see that recipe here). The fresh herbs and the salty butter are fantastic as a melted topping on the steaks.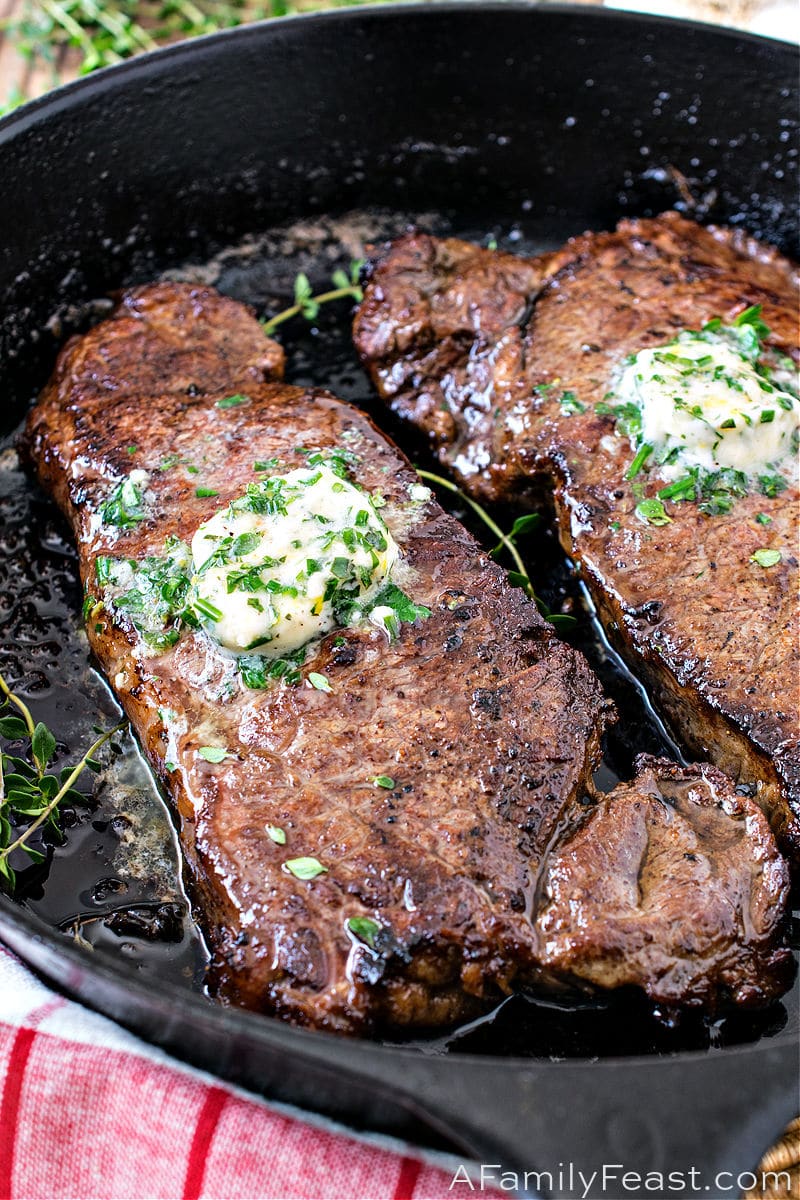 Special supplies needed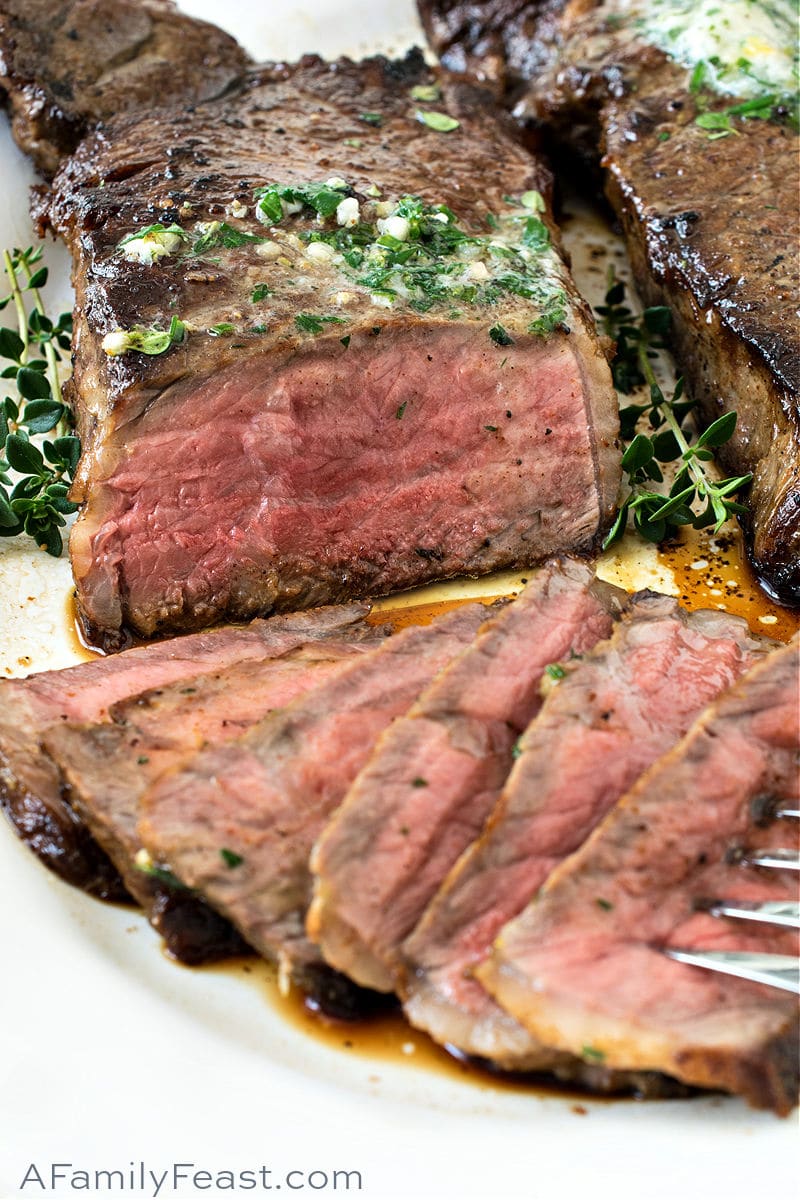 How Do I Make Pan-Seared Sirloin Steak?
After Shopping – Remove your steaks from the store packaging and place them on a paper towel-lined plate. Keep the plate uncovered in the refrigerator until you're ready to cook. This is essentially 'aging' your steak a bit by removing some of the excess moisture, allowing the flavors to intensify.
Before Cooking – Remove your steaks from the refrigerator and let them sit at room temperature for at least 30 minutes. Pat dry with paper towels.
Season – Simply season one side of your steak with salt and pepper.
Searing – Heat your skillet to smoking hot (and turn your hood fan on high while you're at it.) Brush the pan with some vegetable oil, then carefully place the steaks seasoned-side down. Sprinkle salt and pepper on the sides of the steak facing up in the pan.
Flip – After exactly two minutes, flip the steaks (use those tongs!), then add butter, olive oil, garlic and thyme. Cook for another two minutes, basting the steak with the melted butter and oil. (Carefully tilt the pan and use a large spoon to scoop up the melted butter and oil, then pour it over the steak as it cooks.)
Continue Flipping and Basting – Keep track of the cooking time on each side, you'll do a series of turns of the meat to ensure it cooks evenly on both sides, basting as you turn.
Test for doneness – Use a instant-read probe thermometer (or the poke test) to determine when the steak is cooked to your preferred doneness. *See the FAQ's below for a meat internal temperatures chart.
Rest – Once done, remove your steak from the skillet and let it rest on a plate, loosely covered with foil for ten minutes. This may be the hardest step in the process (you'll be salivating and ready to dig in!) – but don't skip it. Your steak needs a few minutes to redistribute the juices back throughout the meat. Note that the meat will also continue to cook a bit as it rests, so we typically take it off the heat at the lower end of the doneness chart temps.
Serve – Slice your steak in thin slices, then serve on a platter. Or, serve half a steak to each dinner guest with steak butter on top.
Frequently asked Questions
I don't own a cast iron pan, will another pan work? We recommend a cast iron skillet because it can handle the high heat you'll need to sear the steak. If you have another pan that can handle high heats, feel free to give it a try.
Can I use dried herbs instead of fresh? Yes! You'll just want to adjust the amounts you are using. The rule of thumb is to cut the amount down by half when substituting dried herbs for fresh.
Why is my sirloin steak so tough? We're guessing you've either cooked it for too long, or cooked it incorrectly. Hopefully this recipe (and all of the tips and tricks in the post) will help you prepare a perfectly-cooked sirloin steak the next time.
At what internal temperature do I remove steaks from the pan? For medium rare, remove at 130 – 135 degrees F and after sitting for 10 minutes, the internal temperature will have risen to around 145 degrees F. Remove sooner for rare and longer for medium or well.
Stop cooking when steak internal temperature reaches the following (assumes 10 minute rest before serving):

For Rare, stop cooking at 120-130 F. After resting for 10 minutes, the meat will be red inside.
For Medium Rare, stop cooking at 130-135 F. After resting, the meat will be pink inside.
For Medium, stop cooking at 135-145 F. After resting, the meat will have some pink and brown color.
For Well Done, stop cooking at 145-155 F. After resting, the meat will be mostly brown.
For Very Well Done, stop cooking at 155-165 F. After resting, the meat will be completely brown with no pink.
You may enjoy these other steak recipes:
Print
Pan-Seared Sirloin Steak
Author:

Prep Time:

35 minutes

Cook Time:

10 minutes

Total Time:

45 minutes

Yield:

4 servings

Category:

entree

Method:

pan-seared

Cuisine:

American
---
2 16-ounce sirloin strip steaks, each between 1 and 1 ½ inches thick
1 teaspoon kosher salt
1 teaspoon coarsely cracked black pepper
1 teaspoon vegetable oil to brush in skillet
3 tablespoons butter
1 tablespoon olive oil
1 small bunch fresh thyme
2 large garlic cloves, peeled and split in half
Steak Butter, for topping
---
Instructions
Remove steaks from the refrigerator 30 minutes before cooking. Let sit at room temperature until ready to cook.
Heat a seasoned cast iron skillet over medium high heat until smoking hot.
Brush the hot pan with the vegetable oil.
Salt and pepper one side of the steaks, then place seasoned side down into the pan. Season the other side (now facing up) with more salt and pepper.
Time the steaks for two minutes, then flip the steak with tongs. Add the butter, olive oil, thyme and garlic to the pan and cook two more minutes while basting continually with a long-handled spoon.
Flip again and cook for two more minutes, still basting as you cook.
Flip one last time and with tongs, remove and discard garlic and thyme.
At this point, pick a steak up with tongs and insert a probe thermometer in through one side.
Follow the temperature chart below and continue to cook to desired internal temperature while you continue to baste.  (Note that your steaks will continue to cook off heat as they rest.) Rest your steaks for 10 minutes.
For Rare, stop cooking at 120-130 F. After resting for 10 minutes, the meat will be red inside.
For Medium Rare, stop cooking at 130-135 F. After resting, the meat will be pink inside.
For Medium, stop cooking at 135-145 F. After resting, the meat will have some pink and brown color.
For Well Done, stop cooking at 145-155 F. After resting, the meat will be mostly brown.
For Very Well Done, stop cooking at 155-165 F. After resting, the meat will be completely brown with no pink.
Our one-pound steaks, 1 ¼ inches thick to start, reached 134 degrees F after seven minutes. We removed them to a platter, covered loosely with foil and set the timer for ten minutes. Then we moved them to our cutting board, and started slicing from one end to the other on a bias cut with a long-bladed slicing knife.
Any residual juice left in the platter should be poured or brushed over sliced portions.
If using our steak butter, place a slice of butter onto the steak when they are moved from the pan to the platter. Add another slice of butter as you serve if you'd like. Any melted steak butter from the serving platter can be poured over portions.
---
Keywords: pan-seared sirloin steak