Sometimes, my husband Jack goes a little over the top when he's cooking.  And in the case of this Steak Bomb Sandwich – that's a very, very good thing!
This recipe combines tender shaved steak, melted provolone cheese, caramelized onions, mushrooms sautéed in bourbon, and our roasted garlic aioli into one amazingly good steak bomb sandwich.
(Don't you want to take a bite out of this right now?)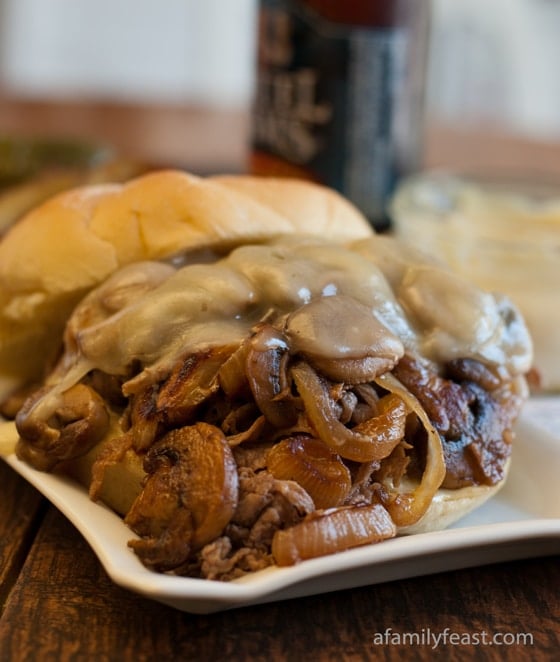 Just use your favorite sandwich roll for this recipe.  Here in New England we call these 'bulkie rolls' but any sub, Kaiser, Hoagie or soft crusty sandwich roll will do, as long as it can hold up to the juicy filling in this steak and cheese sandwich.
Also, don't be embarrassed to buy pre-shaved steak at the grocery store or butcher for making this steak bomb sandwich recipe.  Most home cooks (including us) aren't able to hand shave the steak thin enough for this type of sandwich.  Just be sure you buy shaved steak and not the pre-ground steak that is formed into strips – it's definitely not the same tender cut of beef that you want to use when making this steak bomb sandwich.
Served with our Roasted French-Style Potatoes (and a little Roasted Garlic Aioli on the side for dipping) – this is a hearty and delicious meal!
Print
Steak Bomb Sandwich
Prep Time:

15 mins

Cook Time:

30 mins

Total Time:

45 minutes

Yield:

4 servings
---
Ingredients
1 large peeled onion, sliced into five thick slices
1 8-oz package button mushrooms
3 tablespoons butter separated (or less as needed)
3 tablespoons extra virgin olive oil separated (or less as needed)
Pinch of sugar
1/8 cup bourbon
Pinch of salt
Few grinds of pepper
1 tablespoon extra virgin olive oil
1 pound shaved steak
¼ pound sliced provolone cheese
Bulkie or Sub rolls
---
Instructions
In a medium skillet over medium heat, melt one tablespoon of butter with one tablespoon of extra virgin olive oil. Place the onion slices into the pan and slowly sauté for 15-20 minutes until browned and caramelized, stirring and flipping occasionally. Add a pinch of salt, a few grinds of pepper and a large pinch of sugar and stir to combine. Cook on low for another 5 minutes. Remove from heat.
While onions are cooking, heat a large skillet over high heat with one tablespoon of butter and one tablespoon of oil. (Mushrooms will be cooked in two batches). Once butter mixture is hot, place half the mushrooms in and stir. Cook for 2-3 minutes and flip each slice and cook for another 2 minutes. Repeat with the last of the oil and butter and second half of mushrooms. (You may not need all of the butter and oil for the second batch.)
When the second batch of mushrooms are cooked, add first batch in with second batch and pull pan from burner. Add in bourbon and slowly place back on flame. The mixture should flame up and then burn off the alcohol. Season with salt and pepper and remove from heat.
At this point you can add cooked mushrooms in with the cooked onions and reuse the large skillet to cook the steak.
Heat large skillet over medium high heat and add one tablespoon of olive oil. Add in steak and with two wooden spoons, pull steak apart and turn and cook for 2-3 minutes until cooked through. Season with a little more salt and pepper.
Add onions and mushrooms to the steak, stir to combine and turn off heat. Place provolone slices over the steak mixture and cover pan to melt the cheese, about one minute.
Spread roasted garlic aioli onto bulkie roll. With a spatula slide a serving of the steak and cheese mixture onto each roll and enjoy. We served ours with Roasted French-Style Potatoes.
You may also enjoy:
Steak Tips with Caramelized Onions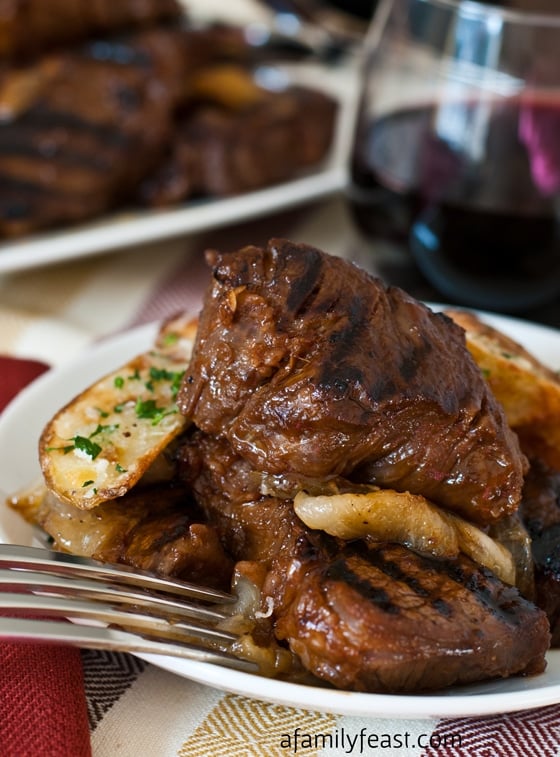 Steak au Poivre with Crispy Shallots