Meatball Subs are a great way to feed a hungry crowd on game day. Made with the most flavorful, tender meatballs ever, smothered in marinara sauce and cheese.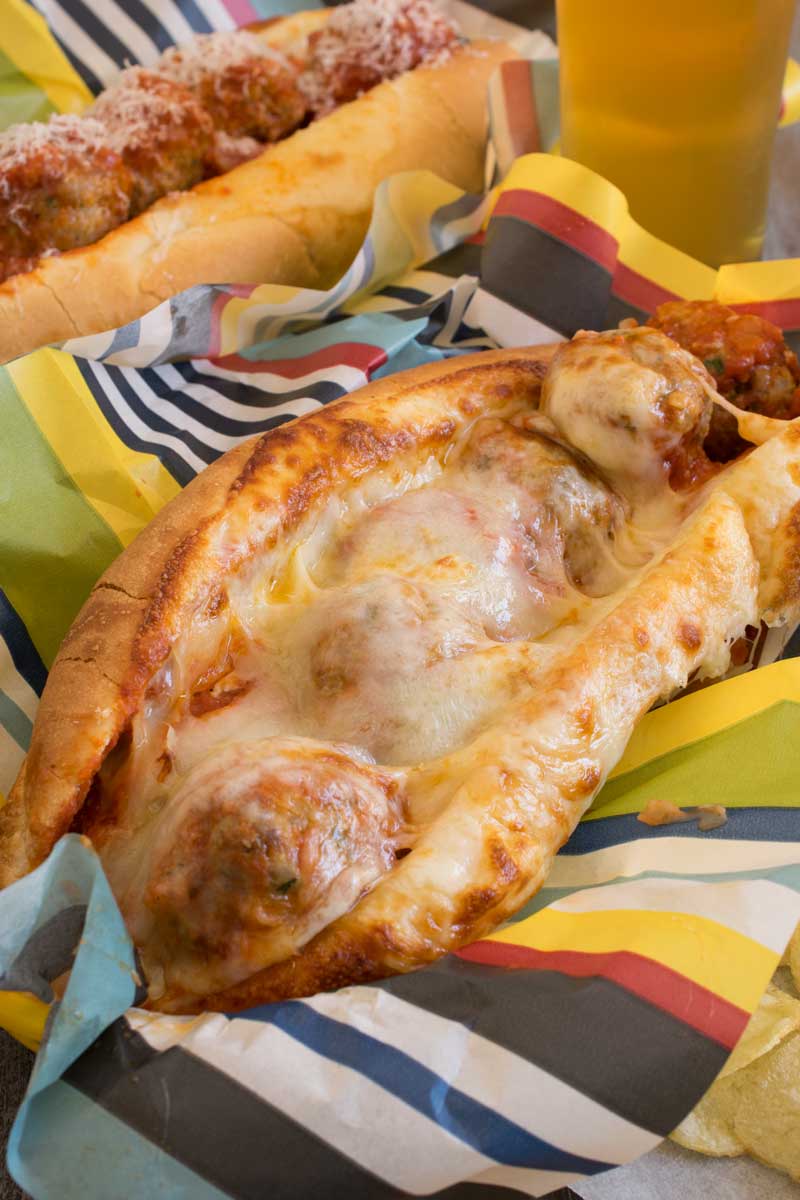 There seems to be as many meatball recipes as there are stars in the sky, and we've made a lot of very delicious meatballs over the years! Today, we're sharing one more really great meatball recipe so you can make these super delicious Meatball Subs.
Most meatball recipes start the same way: With some sort of ground meat, onions, garlic, spices and seasonings, a grated hard cheese such as Parmesan, a binder such as eggs, plus bread and some sort of dairy to soften the bread. Some cooks like to bake their meatballs, while others fry them, and some meatball recipes call for cooking them directly in a sauce.
The meatballs we used in today's Meatball Subs recipe uses a mix of beef, pork and veal. But – you can easily make these with just beef and pork, or just beef, depending on what you have available or what you prefer.
What makes these meatballs in these Meatball Subs stand out is the use of ricotta cheese as the dairy component to soften the bread. We typically use whole milk to soak the bread crumbs, but I have to say that using ricotta cheese added a creamy smoothness to the overall meatball mixture. So – even after being baked – these meatballs are soft and have wonderful texture as you bite into them.
After baking the meatballs, we made our Meatball Subs. After splitting the subs rolls – layer on the meatballs and cheese and bake in an oven to heat all the way through.
My husband Jack and I always debate – do we put the cheese on the bread UNDER the meatballs, or do you melt the cheese OVER the meatballs?  The choice is yours – and either way is delicious! And feel free to add extra sauce and grated Parmesan cheese on top if you'd like too.
One last note: We're calling this type of sandwich a 'sub' – named after the submarine-shaped roll we used to make it. But in other parts of the country, meatball subs are called meatball hoagies, heroes, grinders, wedges or spukies – all based on the name of the bread.
Print
Meatball Subs
Prep Time:

30 minutes

Cook Time:

30 minutes

Total Time:

1 hour

Yield:

8-10 subs
---
Meatball mixture
1¼ cups Italian-seasoned breadcrumbs
1 cup whole milk ricotta cheese
3 whole eggs
1½ tablespoons extra virgin olive oil
1 cup onions, minced fine
1 tablespoon fresh garlic, minced fine
½ cup Romano cheese, grated
¾ cup Parmesan cheese, grated
1½ pounds ground beef (80/20)
½ pound ground pork (or all beef)
½ pound ground veal (or all beef)
1 ½ teaspoons kosher salt
1 teaspoon freshly ground black pepper
¼ cup fresh Italian flat leaf parsley, chopped
Other ingredients
2 jars (typically 24 ounces each) of your favorite marinara sauce, or see our homemade Marinara Sauce recipe here
1 dozen Sub rolls (ours were 8-inch)
One pound of sliced provolone cheese
Additional grated Parmesan cheese to serve with the finished sub
---
Instructions
In a small bowl, mix breadcrumbs with ricotta cheese, eggs and oil.
In a large bowl, add all other meatball ingredients then add the breadcrumb mixture and gently work with your hands to combine.
Preheat oven to 350 degrees F and line a sheet tray with a piece of parchment paper
You will need a 1-once scoop and a small bowl of water. To validate the meatball size, make one meatball with scoop and weigh. It should be 1-once.
Hint: Scoop a large amount of meatball mix into your hand and use the scoop to scoop out the meatballs from your hand, rubbing the scoop edge on your palm. As the filling in your hand lessens, scoop another large amount into your hand. Make sure to dip the scoop in water every two or three scoops. Once you get this rhythm going, you can get pretty fast. I usually scoop them onto my cutting board and then pick each one up and roll in my palms and place neatly on the lined sheet tray.
The mixture should yield about 70 meatballs.
Bake in preheated oven for 30 minutes or until cooked through. Remove to cool if making ahead.
While meatballs are cooking, heat the sauce in a pan big enough to fit the cooked meatballs and the sauce. Also split the sub rolls.
Once the meatballs are cooked, use a slotted spoon or spatula and remove to the sauce.
Move oven temperature to 475 degrees F.
Line another sheet tray with foil.
Line up sub rolls on the tray and fill them with whatever quantity of meatballs and sauce you want. We fit seven per roll and made ten of them.
Sprinkle on some Parmesan and lay the sliced provolone cheese over each one, letting the cheese overlap onto the roll top.
Place uncovered in the preheated oven for 3-5 minutes until the cheese is brown and bubbly.
Remove to serving dishes and enjoy.
---
Disclosure: This post contains affiliate links.


You may also like: