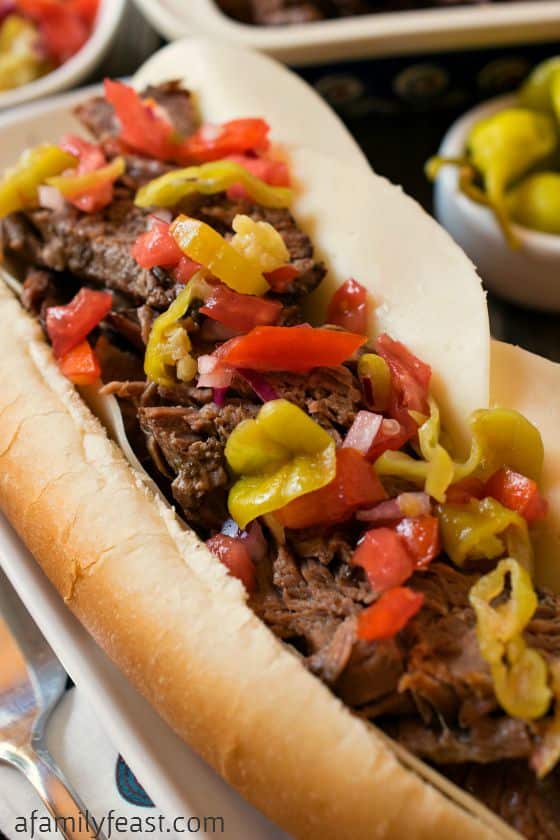 We developed this Slow Cooker Italian Beef as part of an ongoing Brand Ambassadorship with Peapod. All opinions are 100% mine.
Whether you are hosting a game day party at home, or traveling with your slow cooker to a tailgate party, today's recipe for Slow Cooker Italian Beef Subs is sure to become a fan favorite!
Italian Beef is a classic Chicago dish dating back to the 1930's. It also happens to be one of the very first recipes that my husband Jack learned to made way back when he first started his food service career – and he has been making it ever since!
Over the years, Jack has adapted this recipe for the slow cooker – and the beef comes out super tender from the long and slow cooking process. It's also super flavorful thanks to a blend of Italian seasonings, onions and fresh tomatoes. We like to eat it on a sub roll with provolone cheese plus a mix of chopped pepperoncini, tomatoes and onions on top!
You can find all of the ingredients to make these Slow Cooker Italian Beef Subs – as well as just about every other food you'll need for your next game day gathering, when you order your groceries from Peapod!
Peapod offers hundreds of weekly grocery specials that help you save money – and the convenience of having your groceries delivered to your home is a huge time saver!

See our delicious Italian Beef Sub recipe over on FromThePod.com by clicking here.
You may like these other recipes featuring Peapod groceries: