This New England Fish Fry is so good, it rivals some of the best seafood restaurants on Cape Cod!
Jack and I live just north of Cape Cod, Massachusetts – and over the years, we've eaten at many of the local seafood restaurants and clam shacks in the area. Most of the time, Jack orders the clam plate (whole bellies of course!) while I order the New England Fish Fry.
A typical New England Fish fry is most often haddock or cod that has been dipped in a light breading before it is fried.  The coating is more delicate than the one we used in this fish & chips recipe – and it really allows the tender flavor of the fresh fish shine through.
Over the years, Jack and I have tried to recreate the perfect New England Fish Fry coating at home – using flour, egg wash and bread crumbs. But I have to admit, we haven't come close at all – until today!
I recently spotted a fish fry recipe in Coastal Living magazine – showed it to Jack – and we immediately wanted to try it. The recipes uses Wondra flour, large amounts of corn starch, as well as baking powder in the dry mix (plus seasonings), and eggs and water in the wet mix.
Now – I could tell that Jack was ready to dismiss this recipe (and he will admit to that too), because it was very different than any other fish fry recipe we've tried making before. But that fish fry recipe was excellent! The haddock fried up light and crispy on the outside, and the inside was super moist and flaky. (Just like the New England Fish Fry at our favorite local seafood restaurant!)
In our recipe below, we did make some adjustments to the original recipe – scaling back on the salt, as well as the overall amount of breading. (It was just too much.)
The original recipe also included a homemade tartar sauce with pickles, mustard, lots of fresh dill, and lemon. It was delicious too – and a nice alternative to this homemade tartar sauce recipe we typically make. Serve with our homemade coleslaw, fries, fresh lemon, and malt vinegar.
Print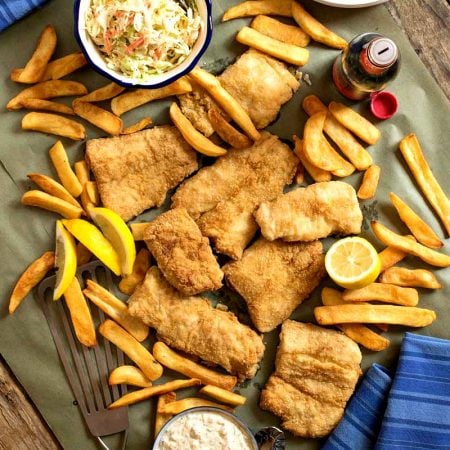 New England Fish Fry
Prep Time:

15 minutes

Cook Time:

15 minutes

Total Time:

30 minutes

Yield:

4-6 servings
---
Ingredients
1 cup Wondra flour or other fine flour
1 cup corn starch
2 tablespoons baking powder
1 tablespoon kosher salt
1 ½ teaspoons white pepper
3 whole eggs
¼ cup water
3 pounds white fish such as haddock, cod, etc. cut into 4–6 ounce pieces
Vegetable oil for frying
Tartar sauce
¾ cup mayonnaise
½ cup any mixed pickle mix or pickled vegetable, drained and minced
1 tablespoon fresh dill minced
1 tablespoon coarse mustard
1 ½ tablespoons fresh lemon juice
Pinch cayenne powder
Lemons, for garnish
Malt vinegar, for serving
---
Instructions
Preheat oven to 250 degrees F.
In a medium bowl, mix flour, corn starch, baking powder, salt and pepper with a whisk.
In a second medium bowl, mix eggs with the water also with a whisk.
Dip each piece of fish in the egg mixture then the flour mixture and lay out on a tray. Do not discard flour mixture yet.
Heat a large cast iron skillet filled about half way with vegetable oil and heat to 350 degrees F.
Once the oil is hot, dip each piece of fish in the flour mixture a second time, shake excess and gently lay three pieces in the hot oil. Fry for about four minutes until golden. They may float which will require you to turn them half way through cooking so each side gets crispy. Do this carefully with two spatulas. Thicker pieces will cook longer than thinner tail pieces.
Remove to a paper towel then onto a clean sheet tray lined with parchment and place in the oven while you cook the remaining fish. Keep cooking three pieces at a time adding to the pan in the oven.
To make the tartar sauce, mix all tartar sauce ingredients and serve alongside the fish. Garnish with lemon wedges. Serve with coleslaw and malt vinegar.
---
Disclosure: This post contains affiliate links.
You may also like: