Crispy on the outside, tender and flaky on the inside – you'll love our Tempura Fish Nuggets!
Years ago, when our (now-12-year-old) daughter was little, Tempura Fish Nuggets was one of her favorite dinners. Forget about eating chicken nuggets like every other kid…our little one wanted fish!
Fast forward to today, and these light and crispy Tempura Fish Nuggets are still one of her favorites.
What is Tempura?
Tempura is a Japanese dish of battered and deep fried seafood and vegetables.  According to Wikipedia, tempura-style dishes date back to the 16th century when fritter-cooking techniques were introduced by Portuguese residents living in Nagasaki, Japan.
How do you make Tempura batter?
Tempura batter is a thin batter that, when made correctly, fries up light and very crispy. The trick to achieving that super crispy texture is to have a very cold batter and very hot oil.
Additionally, we added selter water to the batter, plus a blend of both all-purpose flour and stone ground corn flour plus corn starch in our tempura batter. The combination gives these Tempura Fish Nuggets a wonderful texture, as well as delicious flavor. The fish inside is perfectly cooked, and moist and tender.
What kind of fish should I use to make Tempura Fish Nuggets?
Any firm, flaky white fish will work in this recipe.  We used cod in today's recipe, but haddock, catfish, flounder, sole or tilapia are other good choices.
Do I need a deep fryer to make Tempura Fish Nuggets?
If you have one, by all means use a deep fryer to make these Tempura Fish Nuggets.  But if you don't, just use a heavy-bottomed pan (such as a deeper dutch oven like this) filled with enough oil to cover the thickness of your fish nuggets.  A spider strainer is a great tool to use to when deep frying foods such as these Tempura Fish Nuggets.
How do I serve Tempura Fish Nuggets?
You can serve your Tempura Fish Nuggets with a sprinkle of salt and some homemade tartar sauce on the side. Or, they are delicious used to make fish tacos.  (Check out the recipes for those Pickled Taco Vegetables and that Mexican Crema you see in the photo above.)
You may enjoy these other fish recipes:
Print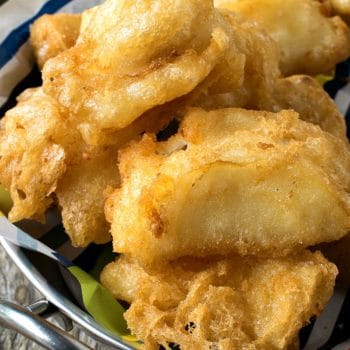 Tempura Fish Nuggets
Author:

Prep Time:

30 minutes

Cook Time:

10 minutes

Total Time:

40 minutes

Yield:

8 servings

Category:

entree

Method:

deep fried

Cuisine:

Asian
---
¾ cup plus one tablespoon all-purpose flour
¼ cup corn flour (not corn meal, use masa harina if you can't find corn flour)
1 tablespoon corn starch
½ teaspoon kosher salt
1 ½ cups seltzer water, refrigerated
2 pounds any flaky white fish such as cod or haddock, cut into 2–3 inch pieces *
Canola oil for frying (need oil depth to be higher than the thickness of your fish)
Table salt to sprinkle on cooked fish
---
Instructions
The trick to perfect tempura is to have extremely cold batter and very hot oil. The resulting fried product will have the perfect crispy light coating. Batter temperature and oil temperature are critical to success.
Take a small stainless-steel bowl and add both flours, corn starch and salt and whisk. Then put the bowl into the freezer for 20 minutes.
Heat oil in a wok or other pan to 375 degrees F and try to keep it at that temperature.
Once the oil is hot and the small bowl has chilled, fill a larger bowl with ice and insert the smaller bowl into the ice to keep it very cold, then whisk in the seltzer water. The batter will be thin.
Let it sit over the ice for five minutes then whisk again.
Dry the fish pieces with paper towels and then fry by dipping in the batter and dropping into the hot oil. (You may need to fry in batches to keep the oil at 375 degrees F.)
They will sink to the bottom and when fully cooked, will rise to the top and float, about 2-3 minutes depending on how thick the pieces are. You may need to dislodge them slightly from the bottom with tongs, a spider or strainer right after you drop them in.
Once they are cooked, remove using the spider to a plate lined with paper towels and sprinkle on a little salt. Scoop out all the cooked batter pieces* that float to the top before cooking the next batch.
*Full disclosure, the crispy batter pieces that float to the top are delicious. We devoured them.
Serve in baskets with tartar sauce, or make fish tacos.
---
Notes
*Realizing that a lot of people do not have access to fresh fish, I purposely made this with frozen cod loins found in the freezer case of my local supermarket. Haddock, catfish, flounder, sole or tilapia are other good choices.
Keywords: tempura fish nuggets