Our English-Style Fish and Chips have moist and tender, flaky fish with a super light and crispy coating and crispy fried potatoes served alongside.
Living in coastal New England, we are very fortunate to have access to fresh fish such as cod and haddock all year round!  And – one of my all-time favorites is this fantastic recipe for English-Style Fish and Chips!
My husband Jack served a LOT of fish to his customers during his food service career, and it was a regular on the menu most Fridays – but especially during Lent.  While a more traditional New England recipe for fish and chips would include fish coated in a flour and bread crumb batter – Jack has also perfected (in my humble opinion) the perfect English-Style Fish and Chips batter that we're sharing with you today!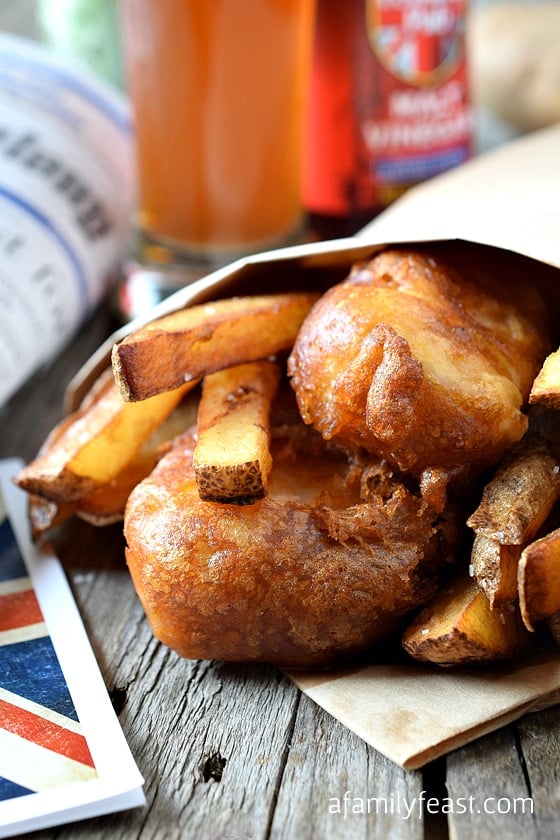 How do you create a light and crispy coating for fried fish?
The batter in this English-Style Fish is super light and crispy thanks to a combination of beer and seltzer and a splash of pickle juice (we used the juice from our pickled red onions) also gives it a great, bright flavor!  At the risk of offending any true Anglophiles among our readers – we prefer using a lighter beer in this batter (giving it a lighter flavor and color) rather than the more traditional English beer batter using a dark ale.  The choice is yours!
We also like our 'chips' served as thick fries – but really, you can prepare the potatoes any way you like (wedges or thinner fries).
To serve, load up the fish and chips into a cone made by rolling a piece of brown butcher's paper (or newspaper to be authentic – but you do run the risk of getting printers ink on your food).  Serve with malt vinegar for a traditional British condiment, or tartar sauce and ketchup for a more Americanized version.  Cheers!
You may like these other fried foods:
Print
English-Style Fish and Chips
Prep Time:

15 mins

Cook Time:

15 mins

Total Time:

30 minutes

Yield:

4 servings
---
1 ½

pounds fresh cod (thick filets, also called Captain's Cut, which are closer to the head), however the tail end can be used if that is the only fish available. Haddock is also an alternative to cod.

2 cups

flour, divided

1 ½ teaspoons

baking soda

½ teaspoon

salt

¼ teaspoon

freshly ground black pepper

2 tablespoons

malt vinegar

1 tablespoon

honey

¼ cup

beer (we like a lighter color beer such as Corona, but a dark ale is more traditional)

2 tablespoons

sweet pickle juice (We used juice from our pickled red onions)

1 ¼

to

1 ½

cups unsweetened lemon/lime seltzer (this is seltzer water flavored with lemon and lime, not diet lemon lime soda)

2

russet potatoes, skin on and sliced into thick fries or wedges
Canola oil for frying
---
Instructions
Cut the cod into strips about 8-10 inches long and about 2 inches around. We bought one large 1 ½ pound filet and cut eight equal pieces. (We cut the filet in half so we had two equal pieces and then cut four strips from each piece). Roll the cod strips in a half cup of flour in a medium bowl. Shake off excess and set aside.
In a medium to large bowl, place the remaining 1 ½ cups of flour, baking soda, salt, pepper, vinegar,
Add the honey, beer, and pickle juice. Beat with a whisk as you pour in the lemon lime seltzer until the batter is the consistency of a light pancake batter. Set aside.
Roll the cut potatoes on paper towels until dry.
Heat oven to 250 degrees.
In a cast iron skillet, fill ¾ full with Canola oil. (Whatever is not used can be strained later and reused for another recipe).
Heat the oil to 325 degrees using a candy thermometer to check the temperature of the oil. Cook the fries in two batches just until cooked but not browned, about four minutes per batch. Set aside on a plate, they will be crisped later.
Bring the oil to 350 degrees.
Dip the floured cod into the batter and with tongs, let drip slightly, then lay the battered fish into the hot oil gently. The fish will rise after a few seconds so don't drop the whole piece in, just hold half in while the submerged half rises, then let the other half gently slip into the oil. Cook on one side and then flip using tongs or spider; about four to five minutes total. Cook in batches so the temperature of the oil does not drop too far. As each batch cooks, place on a sheet pan and hold in the oven.
Once the last piece is cooked and the temperature of the oil is back up to 350 degree, drop in half the fries and cook until crisp. Place on the pan with fish and salt as they come out of the oil. Cook the second batch of fries and place with the rest on the pan.
---