For months now, my husband Jack and I have been saying to each other, "We need to share our Fish Taco recipe…" here on A Family Feast! And I'll share a little secret…I had ulterior motives for wanting to feature this recipe on our blog today.
I just really wanted fish tacos for dinner – I love them so much!
Our recipe takes a classic dish – but adds some wonderful, flavorful twists that make these fish tacos something really special!
Let's start with the fish. Jack used mahi-mahi (any firm white fish will do) that has been battered and fried in the ABSOLUTE PERFECT fish batter! It's made with unsweetened lemon/lime soda (*see below for a description) plus a small amount of pickle brine – and the fish fries up with a super light and crispy texture, as well as light and delicious flavor!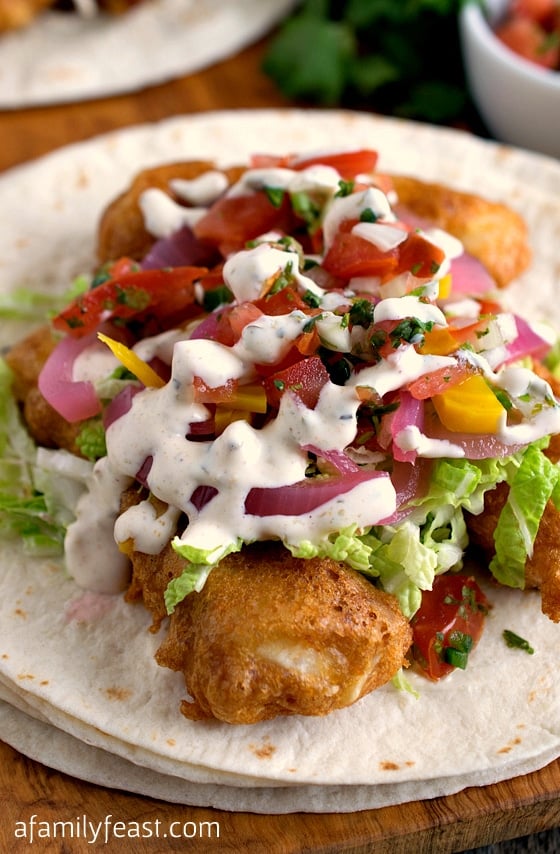 Next we layered the fried fish on a soft flour tortilla along with some shredded Napa cabbage, our awesome pickled red onions, fresh pico de gallo – and pickled beets!  All of these toppings add bright, fresh flavors that perfectly complement the fish and other flavors in these tacos!
Then the whole thing is smothered in a fantastic, creamy and zesty sauce made from Greek yogurt, mayonnaise, capers, sriracha (for just a hint of heat), more pickle brine (our new, not-so-secret ingredient!), plus oregano and cumin to finish things off.
All of the toppings for these fish tacos can be made in advance, so when it comes time for your meal – just fry up the fish right before serving and then assemble. With so many wonderful and unexpected layers of flavor in this recipe – and the contrasting textures as well – I predict these fish tacos will become one of your favorites – just like it's one of mine!
*Since publishing this recipe, we've been asked to clarify what unsweetened lemon-lime soda is that we used in our recipe.  We used our local supermarket's store brand of an unsweetened (not diet) lemon-lime soda water – essentially an unsweetened seltzer water that had lemon-lime flavoring.  A more expensive option would be the lemon flavored Perrier water.  If you can't find this, then an unsweetened seltzer water will work just as well.
Print
Fish Tacos
Prep Time:

15 mins

Cook Time:

5 mins

Total Time:

20 minutes

Yield:

4-8 servings
---
Description
The condiments are optional so don't feel obligated to make the pickled beets, pickled red onions or pico de gallo, however they are so easy, and they pair so well with this dish, that we feel it would be a shame not to include them! Also, don't feel limited to using mahi-mahi for your fish tacos. You could also use tilapia, red snapper, halibut, catfish or any other firm white fish. Note: Prep time listed above does not include time it takes to prepare the pickled condiments. Allow extra time for that preparation.
---
1 ½

pounds mahi-mahi

8

seven inch soft flour tortillas

2 cups

shredded Napa cabbage

1 cup

pickled beets (see recipe here)

1 cup

pickled red onions (see recipe here)
Pico de gallo (see recipe here)
For the Sauce
¼ cup

Greek yogurt

¼ cup

mayonnaise

1 teaspoon

capers chopped fine

½ teaspoon

Sriracha sauce

½ teaspoon

coriander

1 tablespoon

liquid from pickled red onions (or any pickled brine from jarred pickles)

½ teaspoon

dry oregano

¼ teaspoon

cumin
For the Fish Batter
1 ½ cups

flour, divided

1 ½ teaspoons

baking soda

½ teaspoon

salt

¼ teaspoon

freshly ground black pepper

2 tablespoons

liquid from pickled onions (or brine from any jarred pickles)

1 ¼ cups

unsweetened lemon/lime soda (such as lemon Perrier, or an unsweetened seltzer will work too)

2 cups

canola oil for frying
---
Instructions
Skin fish and rove all traces of bones and dark meat. With my 1 ½ pound filet, I had a little over one pound after cleaning the fish. Cut into small strips about 2-3 inches long and about ½ inch wide. In a bowl of pie plate, roll fish strips with ½ cup of the flour. Shake excess and hold refrigerated until you are ready to cook.
The best method for preparing this dish is to have all of the ingredients prepared in advance so that the last thing you do is make the batter and fry the fish.
Slice the beets into thin strips and set aside along with the red onions and shredded Napa cabbage.
Mix all of the ingredients for the taco sauce in a small bowl and set aside.
In a wok or heavy bottomed pan, heat canola oil to 350.
While oil is heating mix all batter ingredients to a smooth thin pancake batter like consistency.
Line a plate with paper towels. Using tongs, dip each floured piece of fish in the batter, let excess drip off and place in hot oil. Cook a few minutes on each side until golden brown and crispy. Remove to paper towels to drain.
If you prefer, wrap tortilla shells in wet paper towels and microwave for a few seconds on high to heat them up. Use oven mitts to remove as wet towels will produce steam and get hot.
To assemble, place a little sauce onto warmed tortilla, and then lay two to three pieces of fish and top with shredded cabbage, slivers of beets, red onions and pico de gallo. Drizzle some additional sauce over the top, fold and enjoy.
---
You may also like: