One of the easiest ways to add new and exciting flavors to a dish is by using a compound butter.   Compound butters are very easy to make yourself – they are simply softened butter that has been blended with fresh herbs or other ingredients.
In the case of today's recipe for Rosemary Compound Butter, we blended softened unsalted butter with finely chopped rosemary and shallots and seasoned the mixture with kosher salt and peppercorns. Once everything is mixed together, roll the mixture into a log and wrap it in plastic wrap – then chill until firm.
Then you can cut the rosemary compound butter into coins and sauté with it, serve it on top of steaks, toss with vegetables, or use to add flavor to a roasted chicken (see our recipe coming tomorrow!).
If you have any leftovers, simply freeze the sliced rosemary compound butter coins on a parchment-lined cookie sheet – then once frozen, the coins can be stored in the freezer in a zipper seal bag for up to three months. Then – use as needed to add great flavor to your dish!
Print
Rosemary Compound Butter
Prep Time:

10 mins

Total Time:

10 minutes

Yield:

24-36 coins
---
½ cup

fresh rosemary removed from stem

1 teaspoon

kosher salt

2

peppercorns

½ cup

shallots roughly cut

2

sticks (1 cup) softened unsalted butter
---
Instructions
In a food processor, place rosemary, salt and peppercorns. Blend for about one minute or until rosemary is chopped fine. Add shallots and blend again until shallots are minced fine. Add butter and blend to combine.
Cut two pieces of plastic wrap about eight inches long.
Divide the mixture between the two pieces and spread almost to each end in the shape of a log.
Roll into a log shape wrapping plastic around as you roll. Push ends in to form an even end then fold plastic under.
Refrigerate until hard, about one hour.
If you are using for a dish, remove plastic and cut into coins and either melt over the top of cooked roasted meats and fish or use as part of a recipe calling for compound butter. It can also be used to start a sauté in place of plain butter.
If you will not be using right away, line a pan with parchment paper. (The pan should fit in your freezer). Cut the hardened rolls into coins and lay out on parchment paper not touching. Place in freezer.
Once frozen, cut parchment into pieces that will fit in a gallon-sized zipper seal bag. Lift each piece with coins attached and layer in the zip lock bag. Keep frozen and just pull what you need for recipes.
---
You may also like: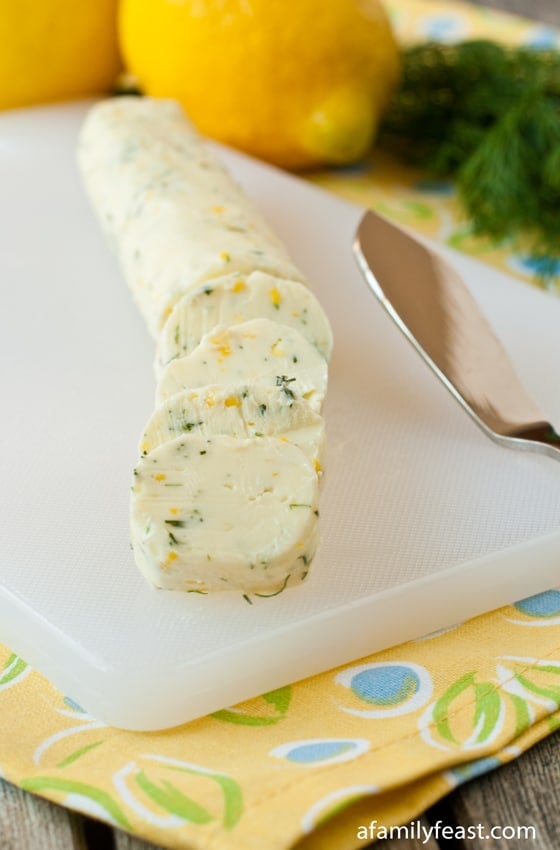 Grilled Corn on the Cob with Roasted Red Pepper Butter