Our Crispy Oven-Roasted Potato Wedges cook up perfectly-crisp on the outside and soft and creamy on the inside.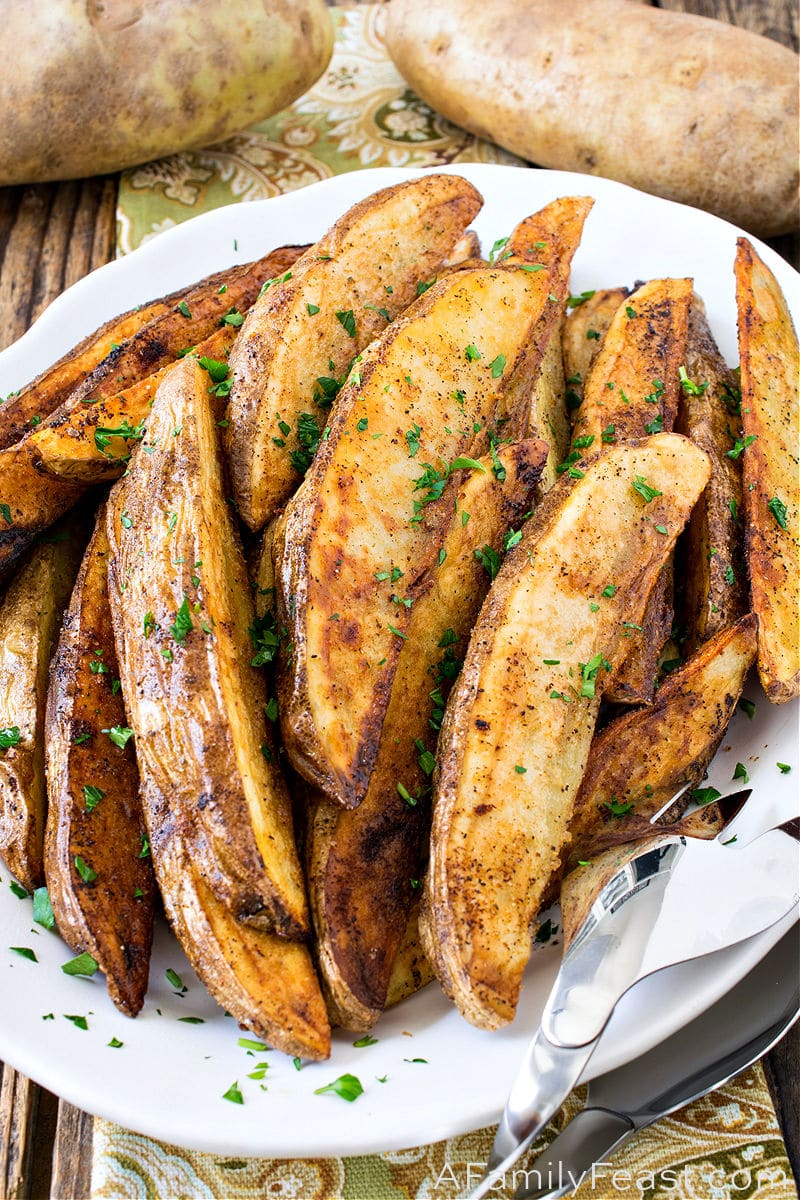 One of our favorite, local steakhouses serves incredibly Crispy Oven-Roasted Potato Wedges alongside their amazing steaks and other entrees. We love them so much, we set out to recreate them ourselves!
Admittedly, this is more of a cooking technique than a recipe – but either way, you can serve steakhouse-quality, crispy oven-roasted potato wedges at home too!
It all starts with picking the right potato variety, then a super-simple prep and cooking method that anyone can do at home – and you won't have soggy potato wedges.
Chef's Tip – Never buy bulk bags of potatoes! Always hand select loose potatoes to make sure you are getting the best possible ones. With pre-bagged, you almost always end up with a few rotten ones or a few green-skinned potatoes – which are not safe to eat. Throwing those away will negate any savings you might have thought you were getting when you bought in bulk.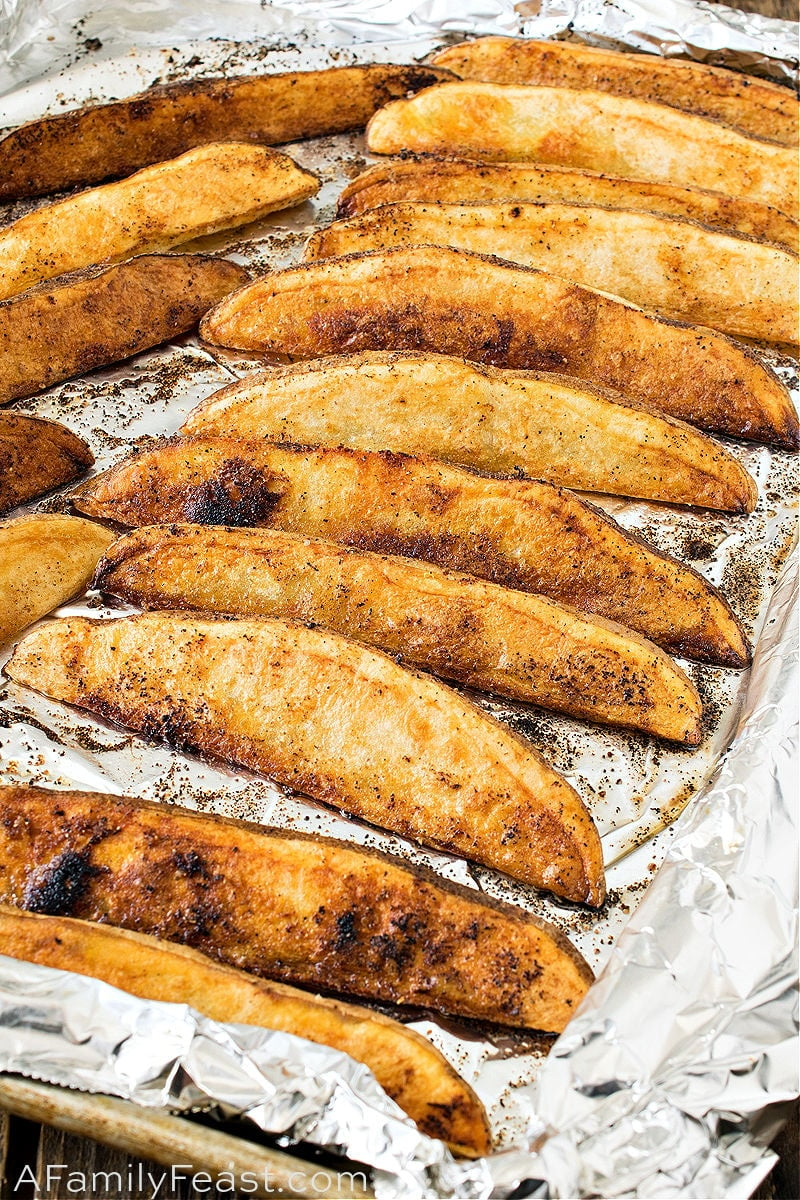 Key ingredients and Substitutions
Russet Potatoes – As in our Perfect French Fries, russets are a must for this recipe as well. No other potato variety will cook up as crispy on the outside and creamy in the middle. They have the best high starch to lower water ratio, plus their long shape is ideal for cutting into wedges. Avoid buying potatoes that have any hint of green in them.
Baking soda – To achieve ultimate crispiness, baking soda in the soaking water helps break down the cut flesh, which will help them crisp up in the oven.
Corn starch – Also used to help with crispiness, corn starch mixed with the cooking fat and seasonings will assist in a crispy outer surface – plus it helps the seasonings adhere to the outside of the potato wedges.
Fat – Ideally – choose an animal fat such as rendered bacon fat, schmaltz (aka chicken fat), or duck fat if you can find it. These fats will be combined with some olive oil as well, and together they help with flavor as well as crispiness. If you prefer, you can use just the olive oil.
Seasonings – Keep it simple with just salt and pepper, plus both garlic and onion powder.
Parsley (Optional Garnish) – We added a sprinkle of finely-chopped Italian flat-leaf parsley for garnish and appearance. This is a totally optional step.
A note on green potatoes.
Potatoes that have a green outer skin should be avoided when selecting potatoes at the market. Green skin means that the potatoes were not cured properly after picking and/or exposed to light incorrectly during storage. The green is from the potato producing chlorophyll which is a natural process. However, when not handled properly, produces high levels of toxins such as solanine and other glycoalkaloids.
The green skin has been shown to be harmful to humans. Peeling green skins removes most of the toxins, but not all. Boiling does not remove the toxins but there are some reports stating that frying does remove the toxins. To be safe, discard green potatoes, or better yet, don't buy them in the first place.
Special supplies needed
Two sheet trays (12X18-inch – also known as half sheet trays)
Foil for lining the pan for easy cleanup
Large pot or bowl to soak potatoes
Colander or large strainer for draining the soaked potatoes
How do I make Crispy Oven-Roasted Potato Wedges?
Scrub the potatoes (a brush like this works great) in cold water to clean off any debris on the skin.
Cut each potato lengthwise into wedges.
Soak the wedge in hot tap water, salt and baking soda.
Drain, then pat completely dry.
Combine olive oil, fat, and seasonings in a small bowl.
Coat potatoes in the oil mixture, then lay out in a single layer on two foil-lined sheet pans.
Bake in a very hot, preheated oven, flipping halfway through the roasting time.
Serve immediately to maintain their crisp texture with the (optional) parsley on top.
Chef's Tip – To reheat leftovers, lay out on a foil lined pan and brush both sides with olive oil and roast in a 475 F degree oven for a few minutes per side.
Frequently asked Questions
Can I make Crispy Oven-Roasted Potato Wedges ahead of time? You can, but you will need to reheat the same way they were prepared, in a very hot oven brushed with oil or fat.
How do I reheat leftovers? Lay the already-baked potatoes in a single layer on a foil-lined sheet tray. Brush both sides with olive oil and roast in a 475 F degree oven for a few minutes per side.
How do I store leftovers? Cover and refrigerate for up to three days.
Can I freeze the leftovers? Cooked potatoes, including these, freeze fairly well, but when reheated, they do lose some of their original luster. If you do decide to freeze these potato wedges, freeze in a single layer on a sheet pan, then bag once they are frozen-solid.
You may enjoy these other Potato recipes:
Print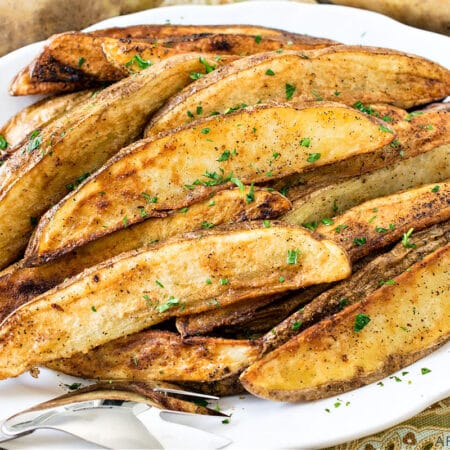 Crispy Oven-Roasted Potato Wedges
Author:

Prep Time:

30 minutes

Cook Time:

30 minutes

Total Time:

1 hour

Yield:

8 servings

Category:

side dish

Method:

oven-roasted

Cuisine:

American
---
4 large russet potatoes (look for long, potatoes of a similar size, with a nice brown exterior and no green)
Hot tap water
2 teaspoons kosher salt
1 teaspoon baking soda
¼ cup fat such as bacon, duck or chicken (or you could use all olive oil)
1 tablespoon corn starch
¼ cup extra virgin olive oil (1/2 cup if not using animal fat)
2 teaspoons sea salt
1 teaspoon freshly ground black pepper
1 teaspoon garlic powder
1 teaspoon onion powder
Fresh parsley, chopped for garnish (optional)
---
Instructions
Scrub potatoes with cold water to clean off any visible dirt.
Cut each potato in half lengthwise, then each half in half (always cut the long way), then again to yield eight wedges per potato, 32 pieces total.
Place into a large pot or bowl and cover with hot tap water.
Sprinkle in the two teaspoons of kosher salt and the baking soda and mix a little with a whisk to dissolve.
Preheat oven to 475 degrees F with two racks in the one third and two thirds' positions.
After soaking for ten minutes, drain into a colander and pour potatoes out onto paper towels and pat dry.
Rinse and dry the pot or bowl and place the dried potatoes back in.
In a small glass measuring cup, melt the fat in the microwave.
In a small bowl mix corn starch with a little of the olive oil to dissolve then add to the bacon fat along with the remaining oil, salt, pepper, garlic powder and onion powder. Whisk with a fork and pour all over the potatoes, tossing gently to coat.
Line two sheet trays with foil, shiny side up and divide the potatoes between the two pans (16 per pan) by lifting and setting each potato into place, making sure they do not touch each other and cut side down.
Use the oil left in the pot or bowl to brush half of it on the exposed halves, saving the rest of the oil during the flip half way through roasting.
Roast for 20 minutes and remove from oven. Turn each potato over to the other cut side and flip pans around and rotate racks and brush the exposed sides with the remaining oil and bake for another 15-20 minutes until crispy.
Ovens vary so check five minutes prior to each bake time to make sure they are not browning too quickly.
Remove from oven and sprinkle with chopped parsley and serve immediately.
Sprinkle on additional salt as needed depending on your taste.
---
Keywords: Crispy Oven-Roasted Potato Wedges
PIN THIS RECIPE NOW!