Learn how to bake Perfect Baked Potatoes. It's easy, but you just have to know a few tips and tricks!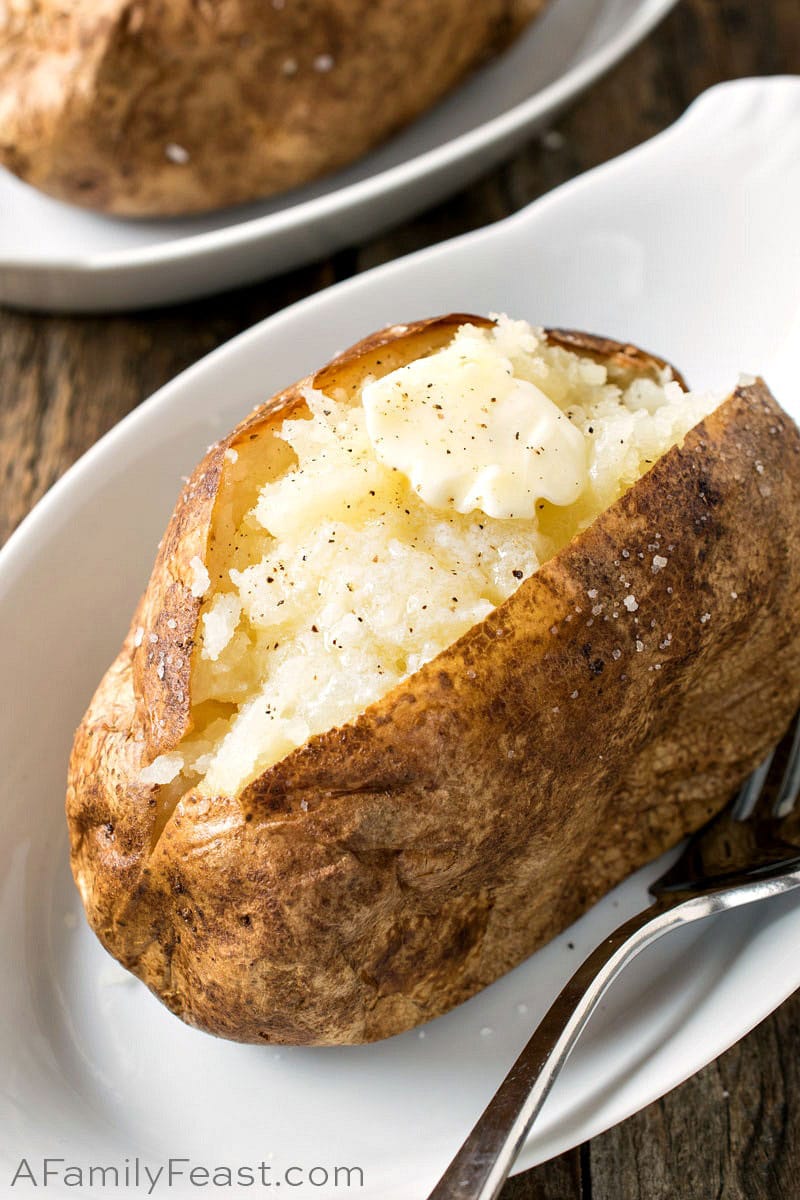 There's nothing better than a perfectly-baked potato served alongside a perfectly-cooked steak at a  steak house restaurant. Turns out, it very easy to make the same Perfect Baked Potatoes at home – and today we're telling you exactly how to do it.
Choose russet potatoes for Perfect Baked Potatoes
That's right – using the right kind of potato makes all of the difference in the world when cooking a baked potato!
Russet potatoes are some of largest potatoes you'll find at the supermarket, with a thick, dark brown and almost dusty-looking skin.
When you bake russets, the inside becomes white and dry, and it fluffs easily with a fork – a perfect place for all of your favorite baked potato toppings.
The best way to bake Perfect Baked Potatoes
Perfect Baked Potatoes need high oven heat and good air circulation.  Start by placing one oven rack in the center of the oven, with the other rack directly below it. Place a large piece of foil on the lower of the two racks. Then, preheat your oven to a high heat or around 425 degrees F.
While some people like to wrap their russets in foil to bake, we recommend baking them without wrapping them in foil so the heat of the oven circulates around the potato and really crisps the skin – that's why we have you place that foil on the lower rack.
Scrub your potatoes to clean, then dry with a paper towel. Coat your russet potatoes in olive oil, then season the skin all over with kosher salt.
When the oven is up to temperature, place the potatoes right on the top centered rack. Make sure the potatoes are not touching each other. Also make sure that the piece of foil is below the potatoes – that will catch any oil drips as the russets bake in the oven.
How can I tell when my Baked Potato is cooked through?
A baked potato will be fully cooked when the internal temperature is 210 degrees F. (Use an instant read thermometer to test.) An average-sized russet potato will take about an hour to reach 210 degrees.
You can also squeeze the potato (carefully – it's hot!) to see if the inside feels soft. This method isn't as accurate however, because sometimes the outer flesh feels soft but the inside is still undercooked.
Once the inside of the potato is cooked through – if you prefer your baked potatoes to be nice and crispy on the outside (like my husband Jack) – leave the potatoes in the oven for longer. But don't go more than 30 minutes longer – otherwise, the inside of the potato could start to overcook and dry out.
How to serve Perfect Baked Potatoes?
A perfectly-done baked potato is very delicious served right out of the oven – and we like a combination of butter, sour cream, and a sprinkle salt and pepper.
You can, of course, load your baked potatoes up with many more kinds of toppings such as chopped chives, shredded cheese, chili, bacon, and more!
Do I eat the skin of a baked potato or not?
My husband Jack always eats the skin of his baked potatoes – and he's definitely on to something! This article here talks about nutritional value of baked potato skins vs the flesh of a baked potato. The skin has lots of fiber and nutrients – so your best bet is to eat both!
You may like these other Potato recipes:
Print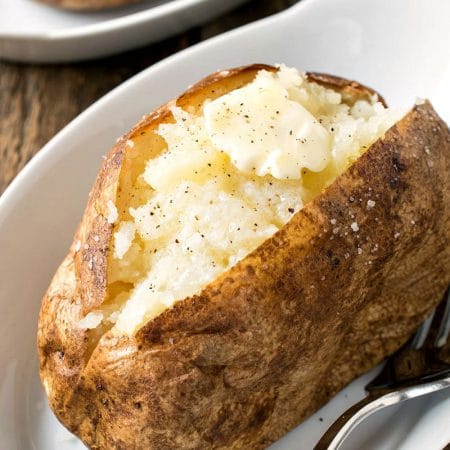 Perfect Baked Potatoes
Author:

Prep Time:

5 minutes

Cook Time:

1 hour 30 minutes

Total Time:

1 hour 35 minutes

Category:

side dish, vegetable

Method:

baked

Cuisine:

American
---
---
Instructions
High heat is needed with open air flow so preheat oven to 425 degrees F and place two racks in oven, one in center and one just below the first. On the bottom rack, place a piece of foil large enough to catch drips from above.
Scrub potatoes under cold water, rubbing with your hands. Dry completely with paper towels.
Place potatoes on a tray and rub all over with olive oil, then sprinkle all over with kosher salt.
Once the oven is hot, place the potatoes directly onto the center rack (no pan, right on the rack) so that any drips, drip down to the foil.
The potato is done when the center reaches 210 degrees F which usually takes about an hour, depending on the thickness of the potato. However, this is where you can change the outside texture by continuing to bake longer.
Jack says: I like my outside skin to be crispy so I leave the potato in for another 30 minutes after it reaches 210 degrees F. The crispy outside skin is actually my favorite part of the potato. This does not hurt or overcook the inside, it stays at about 210 F and restaurants do this all the time. But at some point, they will overcook and dry out so you shouldn't go more than a total of 1 ½ hours. If you like the outside skin soft, by all means, remove at 210 degrees at about the one-hour mark.
You can also tell when they are done by squeezing the center. If it gives, it is done. If it doesn't then they need to cook longer.
Slit the top and with a fork, mash up the inside and add pats of butter, a dollop of sour cream, salt and pepper or any of your other favorite toppings.
---
Keywords: perfect baked potato, how to bake a potato