How to bake tender, perfectly cooked sweet potatoes – plus a sweet, spiced, cinnamon butter topping!
Sweet potatoes are a delicious vegetable that many people reach for these days. Sweet potatoes are rich in nutrients, a good source of fiber, and are considered a low-glycemic food – so they won't cause a spike in blood sugar. All of this is beneficial to people who are looking to lose weight, or maintain a healthy diet. (And if you are looking to stock your pantry these days, sweet potatoes will keep fresh for several weeks in a cool, dark place.)
As food bloggers, Jack and I often get asked for some basic cooking advice – including, "What's the best way to cook a sweet potato?"
We think the best way to cook a sweet potato is to bake it in the oven. No other cooking method yields the same soft and fluffy flesh or the same sweet, rich caramelized flavor. Below we share all of our best tips and tricks to teach you How to Bake a Sweet Potato.
Buying Sweet Potatoes
At your local market, chose small to medium-sized sweet potatoes (ours were 12-14 ounces) that are reddish brown in color. Select sweet potatoes that are firm and have a smooth skin.
For baking, we also try to select sweet potatoes that are fairly uniform in size so that they cook through at around the same time.
How to Bake Sweet Potatoes
Line a sheet pan with foil and place a rack over the foil. Place cleaned sweet potatoes on the rack, then poke several holes in each potato with a fork. Also remove any stray root strands.
Bake the sweet potatoes in a hot 425 degrees F oven – until an internal temperature of 195 degrees F is reached, using an instant-read thermometer. (For our 12-14 ounce sweet potatoes, this took about an hour.) If you don't have a thermometer, carefully squeeze the center of the potato – if it's soft, then the potatoes are ready. Also look for caramelized bubbles coming out of the fork holes you poked in the skin of the potatoes before baking.
How do I serve baked sweet potatoes?
Slice the potato open lengthwise – and dig in!
Oven baked sweet potatoes are very delicious on their own, but adding butter, salt and pepper or other favorite savory seasonings is also delicious.
In our recipe below, we include a sweet butter topping you can scoop onto your sweet potatoes. This is similar to the sweet buttered sweet potatoes that some popular steakhouses serve.
Alternately, you can scoop the cooked flesh out of the skins and mash the sweet potatoes.
Should I wrap the sweet potatoes in foil?
No – we don't recommend doing so.  When sweet potatoes are wrapped in foil and baked, the skin actually steams inside the foil, and it can get almost sticky/gooey against the cooked flesh of the potato.
You may like these other sweet potato recipes:
Print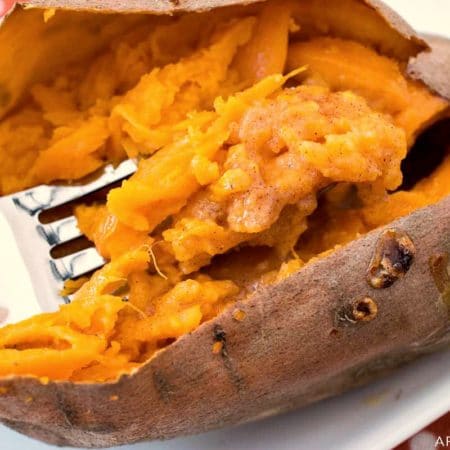 How to Bake a Sweet Potato
Author:

Prep Time:

5 minutes

Cook Time:

1 hour

Total Time:

1 hour 5 minutes

Yield:

4 potatoes

Category:

side dish

Method:

bake, roast

Cuisine:

American
---
4 sweet potatoes (12–14 ounces each on average)
Sweet butter
½ cup butter, softened
1 tablespoon brown sugar
½ teaspoon ground cinnamon
½ teaspoon ground ginger
Few grinds of fresh nutmeg
¼ teaspoon salt
---
Instructions
When shopping for sweet potatoes, try and find those that are uniform in size (even thickness from end to end). When they bake, if you are baking more than one at a time, they will all be ready at the same time. Also, if they are not even thickness, the ends will overcook before the center is done.
Line a sheet tray with foil and place a rack over the foil. The foil catches drips and the rack helps circulate the heat.
Preheat oven to 425 degrees F with rack in center of oven.
Lay out the potatoes on the prepared pan, not touching.
Poke each potato with a fork a few times across the top and bake for one hour.
To test for doneness either stick a probe thermometer into the center and look for 195 degrees F., or simply squeeze in the center to check. If it is soft when squeezed, it is done. If still hard, bake for ten-minute intervals until done.
Ovens vary and the size of the potato will determine the length of the bake.
Slice across the top and add melted butter or our sweet butter. Or peel skin off and mash the potato.
To make the sweet butter, combine softened butter with sugar, cinnamon, ginger, nutmeg and salt and spread over the hot potato.
---