These Sweet Potato Pancakes are so good – they will have you eagerly looking forward to the day AFTER your Thanksgiving feast when you can finally make them! Made with leftover sweet potato casserole, these Sweet Potato Pancakes are a deliciously decadent breakfast.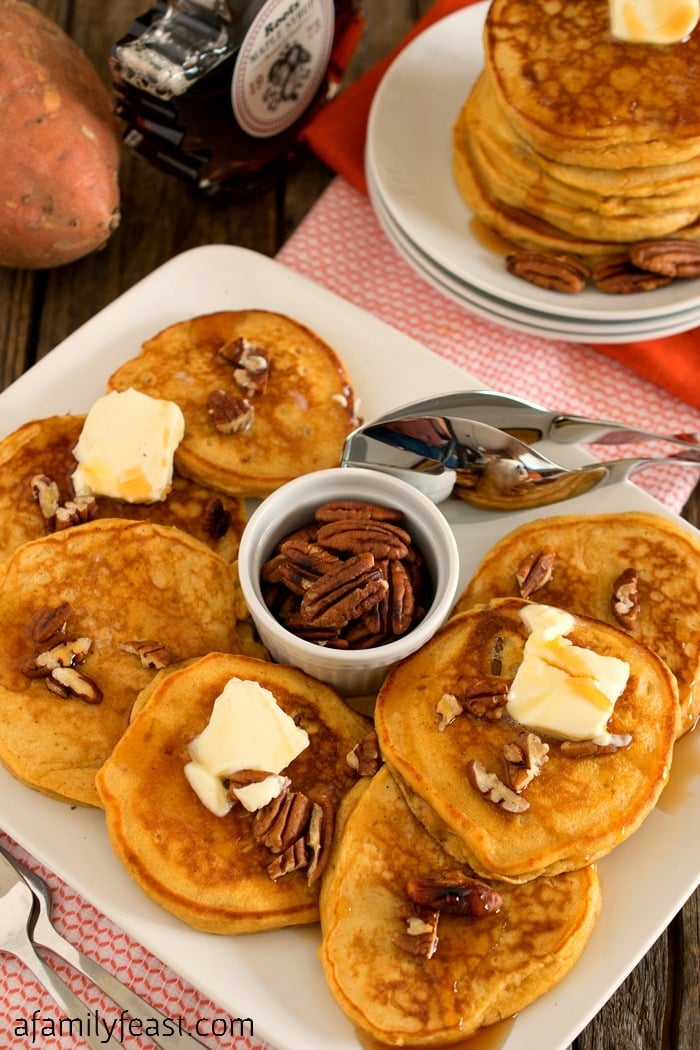 After Jack and I made this Ginger Maple Sweet Potato Casserole recipe a couple of weeks ago, we were brainstorming ideas for recipes that we could make with the leftovers.  As luck would have it, this month's issue of Coastal Living Magazine had just arrived in the mail – and it included this Sweet Potato Pancakes recipe. So we decided to give it a try.
We always say that we KNOW we have a winning recipe on our hands when we can't speak as we take the first bite. And that's exactly what happened with these pancakes!
One bite of these heavenly sweet potato pancakes – and my eyes rolled into the back of my head with absolute taste bud bliss! And Jack was practically purring as he took his first bite. 🙂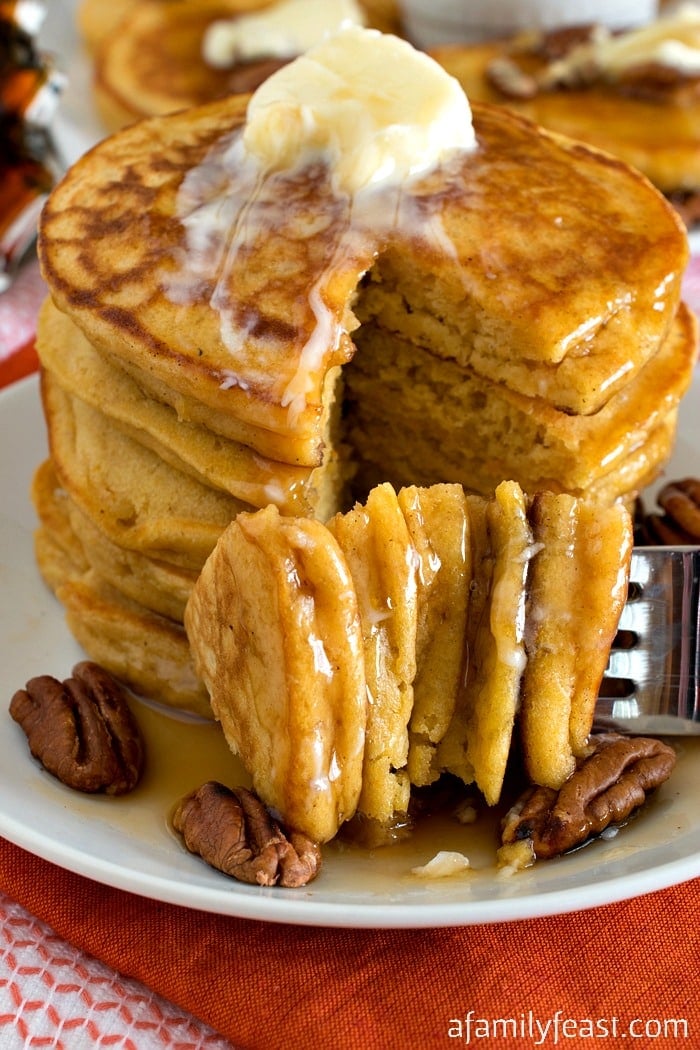 These Sweet Potato Pancakes are actually very easy to make – simply mash up some leftover sweet potato casserole (you can use our casserole recipe, or your own) and mix it with from-scratch pancake ingredients you probably have in your kitchen cabinets.  After sprinkling some toasted, chopped pecans and a drizzle of maple syrup on top – dig in!
Print
Sweet Potato Pancakes
Prep Time:

15 mins

Cook Time:

15 mins

Total Time:

30 minutes

Yield:

20 pancakes
---
Description
Note: Depending on how thick or soft your own sweet potato casserole is, you may need more flour or milk. Our recipe for sweet potato casserole is thick so I used about a quarter cup more milk to get a pancake batter consistency.
---
2

large eggs

1½ cups

whole milk

¼ cup

butter melted, plus more to butter the griddle

1½ cups

leftover sweet potato casserole, see our recipe here

1¾ cup

all-purpose flour or more, see note

2 tablespoon

light brown sugar

1 tablespoon

baking powder

½ teaspoon

ground cinnamon

½ teaspoon

kosher salt

¾ cup

pecans
Pure maple syrup, for serving
---
Instructions
In a large bowl beat eggs with butter and milk. Stir in the sweet potato casserole. (It's OK if a little topping gets mixed in; pecans and brown sugar topping from the casserole)
In a separate bowl, mix flour, brown sugar, baking powder, cinnamon and salt.
Add dry to wet and stir just to combine.
Preheat oven to 200 degrees to keep pancakes warm while you cook the entire batch.
Heat one or two griddle pans to medium low and grease each with butter. (Make sure the pan is completely up to temperature before adding the butter)
Use a quarter cup measuring cup and scoop the batter onto the pans, about four per pan. Cook until the edges start to dry and the bottom is browned then flip, about 2-3 minutes. Cook on the other side until brown and place on a cookie sheet then place the cookie sheet in the oven to keep warm while you continue to cook.
While the pancakes are cooking, heat a small sauté pan over medium and add the pecans. Dry toast for about five minutes until browned, tossing often. Set aside to cool and coarsely chop or leave whole.
To serve, drizzle with maple syrup and top with toasted pecans.
---
Disclosure: This post contains affiliate links.
You may also like:
Ginger Maple Sweet Potato Casserole
Pumpkin Pancakes with Maple Pumpkin Butter