Our Ginger Maple Sweet Potato Casserole takes the traditional Thanksgiving side dish – and makes it even better!  I know – it's hard to believe that just about everyone's favorite side dish could get any better – but with our recipe – it does!
Today's scrumptious Ginger Maple Sweet Potato Casserole recipe takes few extra steps along the way to add even more great flavor to this rich and decadent casserole.
Starting with the sweet potatoes – we roasted them in the oven to give them deep caramelized flavor before mashing them for the casserole assembly.
We also browned the butter – an easy extra step that adds a fantastic nutty, toasted flavor.
And we added maple syrup and ground ginger to the sweet potato mixture – two wonderfully complementary flavors that go so well with the earthy sweetness of the sweet potatoes.
Once the mashed sweet potato mixture is layered in the casserole dish, we topped it with a pecan and brown sugar topping that has extra flavor and sweetness from the addition of crystallized ginger in the mix.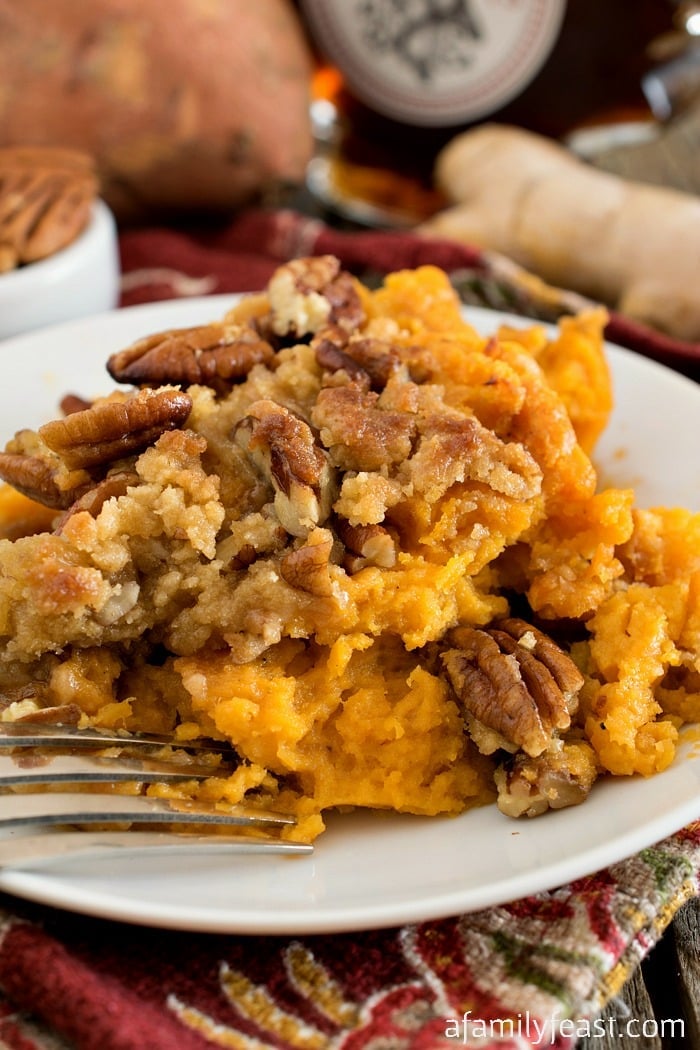 Seriously – this Ginger Maple Sweet Potato Casserole is so good – just give me a plateful of this for my Thanksgiving meal and I'll be very, very happy! 🙂 Enjoy!
Print
Ginger Maple Sweet Potato Casserole
Prep Time:

20 mins

Cook Time:

1 hour 20 mins

Total Time:

1 hour 40 minutes

Yield:

8-10 servings
---
2

pounds sweet potatoes (about

two

large potatoes)

2 tablespoons

extra virgin olive oil

1 teaspoon

kosher salt

¼ teaspoon

freshly ground black pepper

½ cup

butter (

1

stick)

½ cup

whole milk

½ cup

granulated sugar

3 tablespoons

maple syrup

2

whole eggs

½ teaspoon

dry ginger

½ teaspoon

salt
Butter to grease a two quart casserole dish
Topping
4 tablespoons

butter, melted

1 tablespoon

crystallized ginger, finely minced

½ cup

brown sugar

½ cup

all-purpose flour

1 cup

pecans, coarsely chopped
---
Instructions
Preheat oven to 475 degrees F. This high temp is necessary to get a nice browned surface on the outside of the potatoes.
Peel the sweet potatoes and cut into ½ inch thick slices.
Toss potato slices with oil, salt and pepper and pour onto a foil lined sheet pan.
Roast for 30 minutes turning halfway through to tender.
Note: Ovens are different. Yours may cook the potatoes in less than 30 minutes so please check after 10 minutes to gauge cooking time. They should be golden brown on the outside and soft in the center. Place in a food processor and discard the oil left in the pan.
Reduce the oven to 350 degrees F.
While the potatoes are cooking, put the stick of butter in a sauce pan and bring the heat to medium to medium low. The butter will melt, then start to turn brown as it cooks. The milk fat will settle to the bottom and look like it is starting to burn there. Once the butter is deep brown (about 15 minutes or more), remove and strain the mixture through a fine sieve. Cool slightly. Discard solids and add the browned butter to the food processor with the cooked potatoes.
Add the milk, sugar and maple syrup and pulse to combine the ingredients.
Add the eggs, ginger and salt and run the food processor until the mixture is thick and creamy.
Butter a two quart casserole dish and pour in the potato mixture.
In a medium bowl, mix all of the topping ingredients and sprinkle over the potato mixture.
Bake uncovered for about 45-50 minutes or until hot and bubbly and browned on top.
Serve immediately.
You may also like:
Mashed Sweet Potatoes with Kale and Boursin Cheese