Once you learn how to cook bacon in the oven, you'll never cook it any other way!
There are lots of different ways to cook bacon, and over the years, we have tried most (if not all) of them. For a long time, we used a wide, flat countertop griddle – and while it works great, it's very messy to clean up.
Pan-frying bacon is easy, but also messy – plus the pieces of bacon curl up, and the cooked bacon won't be flat and a consistent shape on your plate.
Another popular method for cooking bacon is in a microwave – placing the bacon on a paper towel-lined plate. But microwaves don't cook evenly, and you can often find hot spots where one part of your bacon is over-cooked, while the rest is still under-cooked. Plus, the texture (in my opinion) comes out like cardboard.
The best way to cook bacon is in the oven!
After all of our trial and error, we think the best way to cook bacon is in the oven. It's easy to prepare a pound of bacon in very little time, the texture is nice and crispy, and your bacon comes out flat and even.
The trick is to bake your bacon in a hot oven, flat on a baking sheet that has been lined with parchment paper. (Buy the sheets of parchment – it's easier than rolls of parchment paper and already perfectly sized for a sheet pan.)
Cooking bacon in the oven is the way professional kitchens do it. In fact, in food service, bacon is sold already laid out on parchment paper so that the chef just lifts out the sheets from a box and places them on sheet pans to bake.
Cook bacon on a rack or no rack?
We are in the 'no rack' camp when it comes to cooking bacon in your oven. In our experience, when you bake the bacon on a rack, it dries out – and in some cases, it even takes longer to crisp up. (Plus the bacon often sticks to the rack and it will tear apart as you try to remove it for serving.)
Baking bacon directly on the parchment paper allows it to cook right in its own rendered fat – and that yields perfectly crisp bacon.  It also lifts off easily for serving.
Then – just toss the greasy parchment paper in the trash once it has a chance to cool.
All of the details to teach you How to Cook Bacon in the Oven are below.
You may like these Bacon recipes:
Print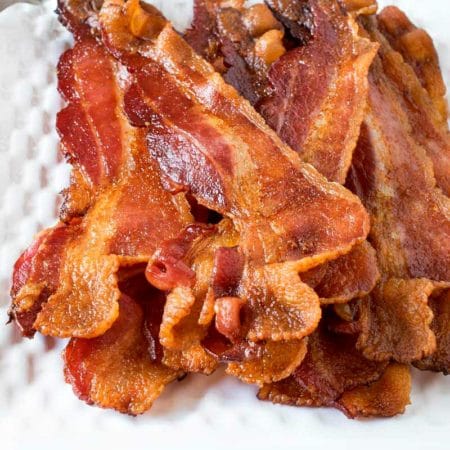 How to Cook Bacon in The Oven
Author:

Prep Time:

10 minutes

Cook Time:

15 minutes

Total Time:

25 minutes

Yield:

12-16 slices per pound

Category:

cooking lesson

Method:

baking

Cuisine:

American
---
1 pound of bacon (your choice of thickness and flavor)
---
Instructions
Start by preheating your oven to 400 degrees F and place two oven racks at the bottom third and top third positions. Keep the bacon chilled until the oven is up temperature.
Line two sheet pans with parchment paper. (These pre-cut sheets are much easier to work with than rolls of parchment paper.)
Open one pound of bacon and lay out slices of bacon – half on one sheet and half on the other, making sure they do not touch each other or the edge of the pan.
Place the two pans in the oven at once and set your timer for 10 minutes.
After 10 minutes, rotate pans and also switch rack position – move bottom pan to the top rack and vice versa.
Set timer for 5 minutes.
After five minutes, inspect the doneness of your bacon slices and decide if you want them to be crispier. Then check every minute up to 20 minutes.
Thin cut bacon will most likely be crisp in 15 minutes. Thin cut is typically 16 pieces per pound.
Thick cut bacon needs up to 20 minutes. Thick cut bacon is typically between 12 and 13 slices per pound.
Our thick cut bacon was 13 pieces for a 1-pound package and cooked crisp in 19 minutes. But – oven temperatures vary greatly so please check every minute after 15 minutes to avoid burning.
---
Keywords: how to cook bacon in the oven