This popular Broccoli and Bacon Salad has tender pieces of broccoli, crispy bacon, red onion and shredded cheddar cheese, all tossed in a sweet and tangy dressing.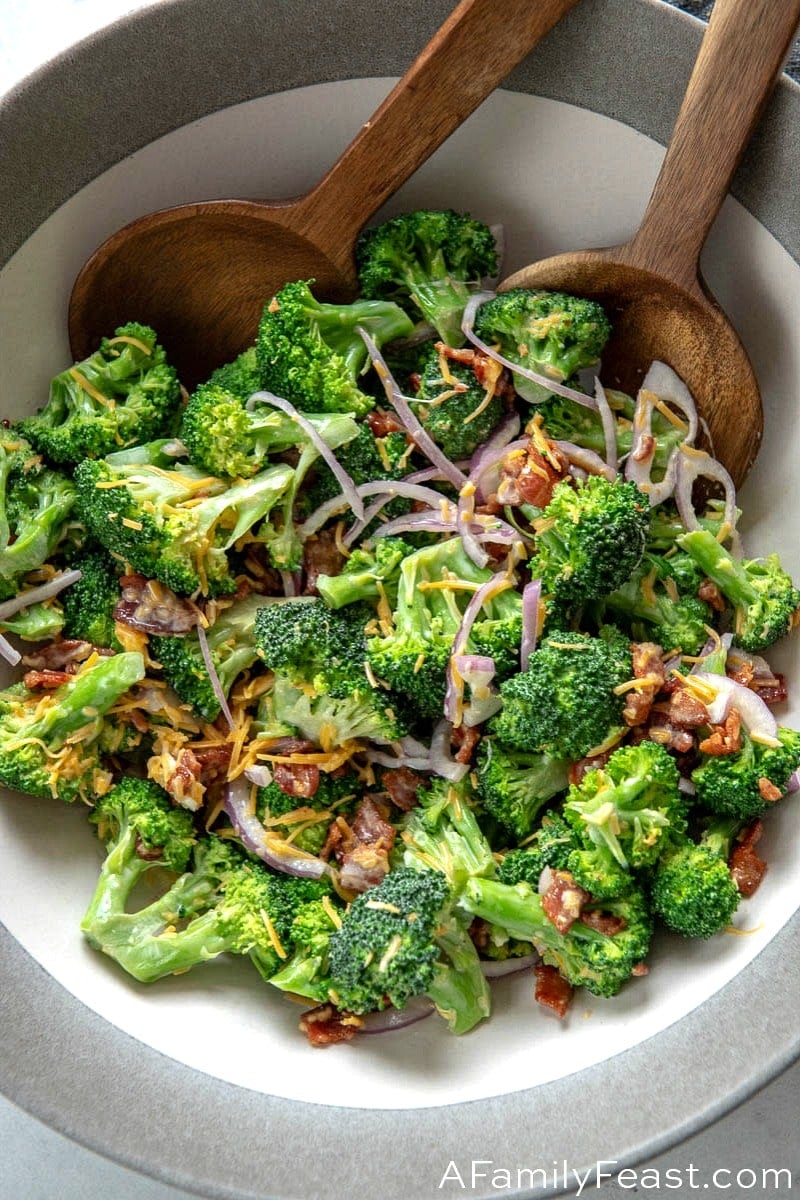 Cookout season is officially here and invitations to neighborhood barbecues are starting to arrive! So we're starting to dig out some of our favorite recipes that are perfect to bring along to parties and picnics, and this Broccoli and Bacon Salad is definitely on that list!
Forget all of the other dishes at the neighborhood barbecue – just give me a big bowl of this Broccoli and Bacon salad and I'll be quite happy! (I think you will be too!)
To this day, I still remember the first time I had this delicious salad – and it was love at first bite!
My sister-in-law Pam originally shared this Broccoli and Bacon Salad recipe with me a long time ago, and it's been in my recipe box ever since then. (Yes – this is the same sister-in-law Pam who shared that Best Apple Cake Ever recipe with us, as well as her amazing Whoopie Pies. So you KNOW this is a good recipe!)
How do you make Broccoli and Bacon Salad?
You'll start by lightly blanching bite-sized florets of fresh broccoli in boiling water – just long enough to remove the rawness of the broccoli, but you don't want to actually cook it.  Then, scoop the broccoli out of the pot with a spider strainer or long-handled slotted spoon, and immediately plunge the broccoli pieces into an ice bath to stop the cooking process. (An ice bath is essentially a bowl full of ice water. It's often used to 'shock' vegetables in some recipes, so the vegetables stop cooking and retain their bright, fresh color.)
Once the broccoli is cooled and drained, combine it with chopped, crispy, cooked bacon, shredded cheddar cheese, and thinly sliced red onion. Top the salad with a sweet and creamy dressing made with sour cream, mayonnaise, vinegar, and a little bit of sugar.
Can I add nuts, raisins or other vegetables to my Broccoli and Bacon Salad?
Sure – in fact, there are lots of variations of this Broccoli and Bacon Salad around. Some have chopped walnuts or pecans added, others added raisins or dried cranberries, and some versions add cauliflower too.  Those are all great options, although I tend to stick to this original recipe.
Your taste buds will dance and sing after one bite of this addictively-good Broccoli and Bacon Salad!  The fresh broccoli, the smoky-salty bacon, the creamy shredded cheese, and the fresh bite of the red onion are perfectly complemented by the sweet, creamy dressing with a little bit of 'zing' from the added vinegar.
You may enjoy these other Summer salads:
Print
Broccoli and Bacon Salad
Prep Time:

20 mins

Cook Time:

10 mins

Total Time:

30 minutes

Yield:

6-8 servings

Category:

salad

Method:

stovetop

Cuisine:

American
---
1 large or 2 small heads of broccoli
1 teaspoon salt
12 slices bacon, (3/4 of a one pound package)
½ cup red onion, sliced into thin small pieces
½ cup shredded sharp cheddar cheese
¼ cup sour cream or crème fraiche (your choice)
½ cup mayonnaise (we recommend Hellman's or homemade mayonnaise)
2 tablespoons white wine vinegar
¼ cup sugar
---
Instructions
Cut off the thickest part of the stem of broccoli and discard. Cut the remaining head into small florets. Heat a medium pot with water and bring to a boil, then salt the water.
Fill a medium to large bowl with ice water. Once the pot of water is boiling, drop the broccoli florets into the boiling water and count 30 seconds. Immediately drain off the water and plunge the broccoli into the ice bath.
Drain the broccoli and lay out on a large sheet of paper towels. Start rolling the paper towels and broccoli around and around like a jelly roll then squeeze out the water. Repeat a second time until the broccoli is completely dry and drained of all water. Place the broccoli in a large bowl and refrigerate until after the bacon is cooked.
Cook the bacon until crispy and then crumble. Discard bacon fat (or save for other recipes if you wish).
Remove the broccoli from the refrigerator and add cooked, crumbled bacon, red onion and cheddar cheese.
In a small bowl mix the sour cream, mayonnaise, vinegar and sugar.
Add the mayonnaise mixture to the broccoli mixture, combine and serve.
---
Keywords: broccoli and bacon salad