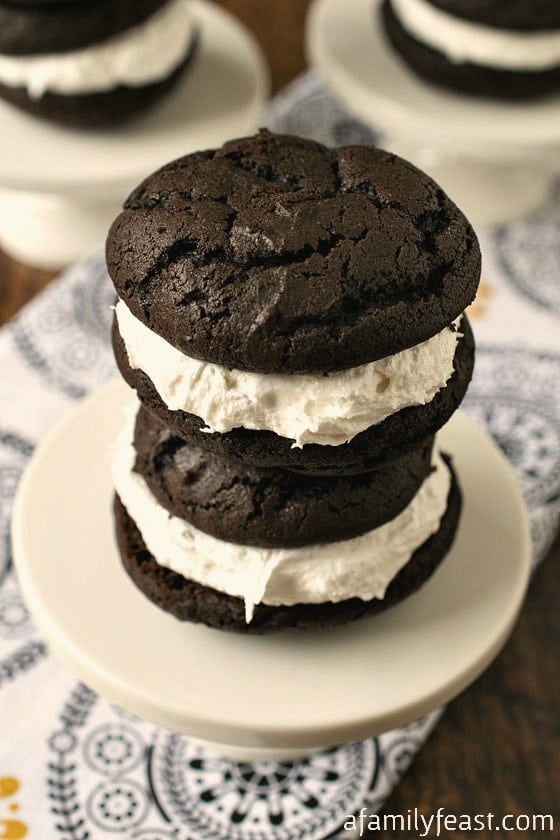 Whenever my side of the family gets together for a visit, I always look forward to the delicious Whoopie Pies that my sister-in-law Pam brings along for dessert! This is one of Pam's signature recipes (as well as this and this) – and when she sent me the recipe to share here on A Family Feast, she described these as the best whoopie pies ever!  (She's tried a number of different recipes over the years – so she knows!)
I have to agree! Soft, rich, dark chocolate mounds of cake sandwich a light and creamy marshmallow fluff filling. (I personally think this particular recipe for whoopie pies is the best because it isn't too sweet! )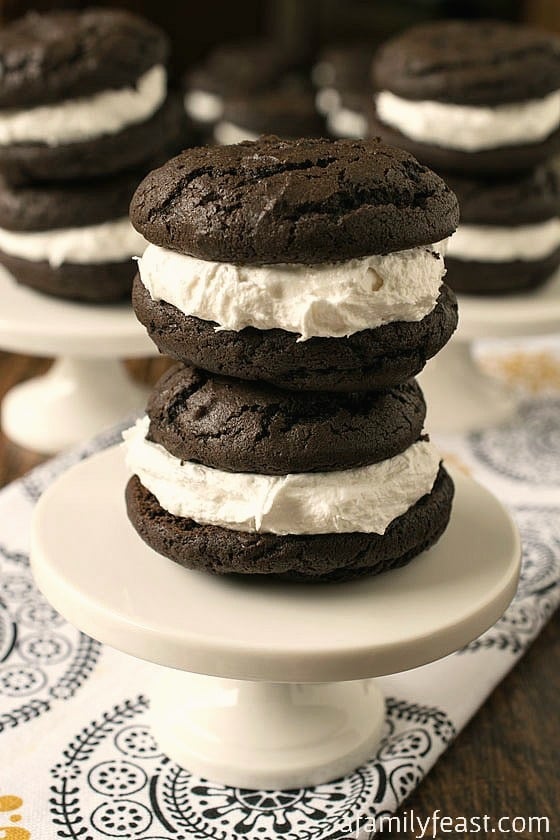 The history of whoopie pies (sometimes also called 'gobs') is interesting to read – and according to What's Cooking America they are "…considered a New England phenomenon and a Pennsylvania Amish tradition… According to Amish legend, when children would find these treats in their lunch bags, they would shout "Whoopie!" (You can read more of the history here.)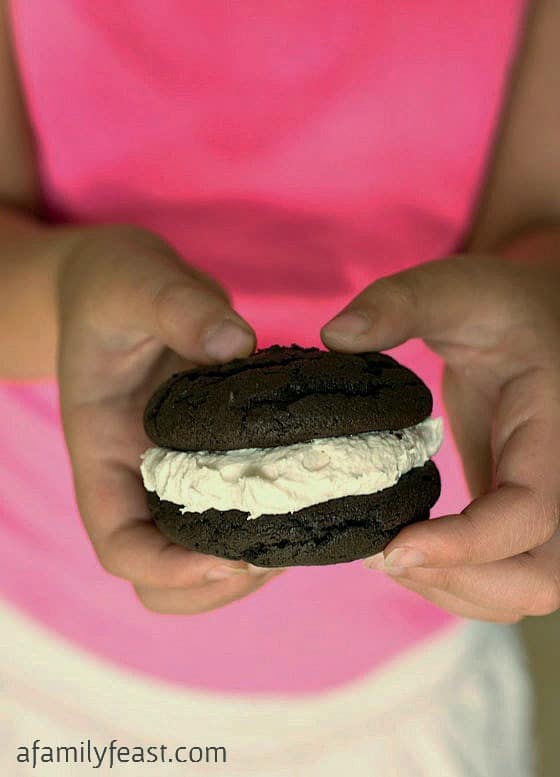 And – before I share Pam's delicious Whoopie Pie recipe, I wanted to take a quick moment to thank all of you!  Today, A Family Feast officially turns two years old! Back then, Jack and I never dreamed that this little spot of ours on the web would grow into what it is today and we couldn't have done it without you – our loyal and appreciative readers! We're so excited to be starting another year of sharing great recipes and stories with all of you!
Print
Whoopie Pies
Prep Time:

10 mins

Cook Time:

7 mins

Total Time:

17 minutes

Yield:

16 pies
Ingredients
For the Batter
½ cup unsweetened cocoa (we used Nestle's Special Dark)
2 cups all-purpose flour
1 ½ teaspoons baking soda
½ teaspoon baking powder
½ teaspoon salt
½ cup vegetable shortening (we used Crisco)
1 cup sugar
1 egg
1 cup whole milk
2 teaspoons vanilla extract
For the Filling
8 ounces marshmallow fluff (half of a 16-ounce container)
1 cup confectioners' sugar
½ cup vegetable shortening (we used Crisco)
¼ teaspoon vanilla extract
Approximately 1 tablespoon milk (to get filling to good consistency)
Instructions
Preheat the oven to 450 degrees. Line two cookie sheets with parchment paper.
In a medium bowl, combine cocoa, flour, baking soda, baking powder and salt. Stir to mix. Set aside.
In the bowl of a stand mixer with the paddle attachment, cream together the shortening and sugar. Add egg, milk, and vanilla extract and mix well.
Slowly add dry mixture to the mixing bowl with the wet mixture and mix well.
Using a medium (1½ ounce) scoop, place scoops of the batter onto the prepared cookie sheets (about 12 per sheet).
Bake one cookie sheet at a time for 6-7 minutes (they may look a little bit wet on top but that is OK). With a spatula, remove immediately to cool on a wire cooling rack.
Once the cake mounds have cooled completely, prepare the filling by combining the marshmallow fluff, confectioners' sugar, shortening and vanilla extract in the bowl of a stand mixer and mix until completely combined. Add milk as necessary to get to a soft (but not too soft consistency.)
Using a scoop, place a dollop of the filling in the center of the flat side of one cake. Place a matching piece of cake against the filling and push to spread the filling evenly between the two halves. Repeat until all of the pies have been filled.
Disclosure: This post contains affiliate links.


You may also like: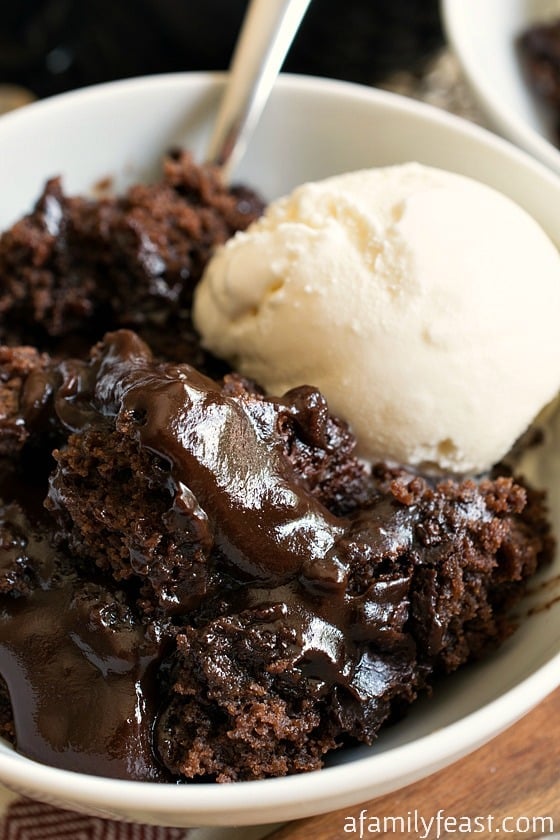 Chocolate Chip Cookie Dough Bars
White Chocolate Banana Cream Pie